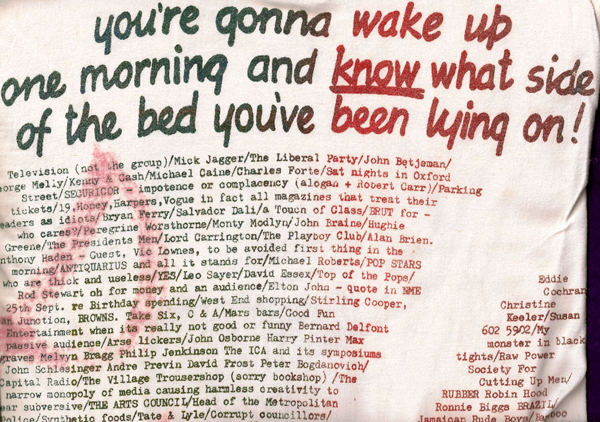 "It didn't matter what side of the bed you were lying on, as long as you were lying on it. Everybody from (author/actress) Anne Lambton to (Sex Pistols guitarist) Kutie Jones to (socialite and writer) Anthony Haden-Guest – they were all flattered. Just goes to show how everyone loves to have their moment – good, bad or indifferent."
Malcolm McLaren, The Look, 2006
It's coming up to five years since I posted my marathon dissection – including extensively researched links to sources and references – of the divisive 1970s punk manifesto t-shirt design You're Gonna Wake Up One Morning And Know What Side Of The Bed You've Been Lying On!
Here is a new version of that post, revised and updated with fresh links.
Enjoy!
Sixty years after Blast, the You're Gonna Wake Up list t-shirt adopted a similarly truculent tone in an attempt to ring the alarms amid a culture rendered flaccid by the failure of the 60s dream.
You're Gonna Wake Up – which went on sale in Malcolm McLaren and Vivienne Westwood's boutique Sex at 430 King's Road in the autumn of 1974 – was conceived by fellow traveller and soon-to-be manager of The Clash Bernie Rhodes and realised with contributions from McLaren and their friend Gerry Goldstein.
Of course, it is best known for carrying the band name McLaren had recently granted to a bunch of teenagers hanging around the shop: "Kutie Jones and his SEX PISTOLS".