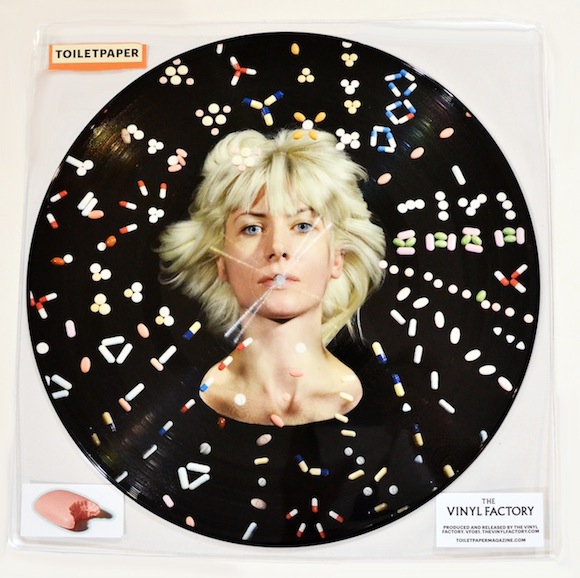 I Always Remember A Face, Especially When I've Sat On It is the arresting title of a great 14-track vinyl-only compilation from artist of the fantastical,  Maurizio Cattelan.
This is the tracklisting:
A Side
1 Bernard Herrmann – Brave New World (Excerpt)
2 The Cheers – Black Denim Trousers & Motorcycle Boots
3 Pierre Schaeffer – Etude Aux Chemins De Fer (Excerpt)
4 Judy Garland – The Trolley Song
5 Coldcut – Stop This Crazy Thing (Excerpt)
6 Malcolm McLaren – Miss Belle
7 Gene Vincent  – Jezebel
B Side
1 Les Paul & Mary Ford  – Bye Bye Blues
2 Hoosier Hot Shots – I Like Bananas Because They Have No Bones
3 The Dorsey Brothers  – Lullaby Of Broadway
4 F.T. Martinetti & A.Guintini – Sintesi Musicali Furutiste (Excerpt)
5 Malcolm McLaren  – Ride A Fashion Horse Pt.2
6 Cornelius – Fantasma
7 Ozzie Nelson And His Orchestra  – Dream A Little Dream Of Me
The LP – produced under the auspices of his online magazine Toilet Paper, marks Cattelan's current show at Basel's Fondation Beyeler. See here.
A collaboration with The Vinyl Factory, I Always Remember A Face, Especially When I've Sat On It has been produced in a limited edition of 1,000 copies and is available here.
Read Toilet Paper here.
Listen to the comp here: