Bravura + brilliance: Tommy Roberts, February 6 1941 – December 10 2012
Sad to note the anniversary today of the death of Tommy Roberts, flamboyant design entrepreneur and subject of my book Mr Freedom.
Here – with a selection of images from Mr Freedom – is an extract from an essay I have written about Roberts' role in the development of design in Britain for Chris Breward and Ghislaine Wood's book British Design: Tradition & Modernity, which will be published by Bloomsbury next year.
It is arguable that wider recognition for Tommy Roberts' audacious innovations in the promotion of street style, furniture, gastronomy, home-wares, interiors and collectables was undercut by his refusal to observe the sensitivities of England's post-war design world.
Roberts adopted an ebullient public persona to match his stout physique and broad Cockney accent. "I'm the most vulgar man in fashion, darlin'!" Roberts proclaimed to the no-less outrageous Sunday Times fashion editor Molly Parkin in the heyday of his Pop Art fashion and objects emporium Mr Freedom.
Such impudence was combined with a lifelong enthusiasm for the role of the traditional but nevertheless adventurous independent shopkeeper. The beginning of Roberts' career coincided with the great British boutique explosion centred on his home turf of London in the 60s, and he continued to champion the calling despite the depredations of the economic recessions of the 1970s – during which decade he was forced into bankruptcy – and the formalization and subsequent homogenization of the British retail landscape which occurred in the 80s and 90s and was all-but complete by the dawn of the 21st century.
A year before his own death in 2010, Malcolm McLaren – another unpindownable figure to whom Roberts may be compared – told an interviewer: "Tommy Roberts is a character out of an Ealing comedy, a jovial, lovable creature, a really brilliant icon of London."
That spirit is invoked at the outlet Roberts opened in partnership with his son Keith at the start of the 00s: Two Columbia Road remains an important British art and design outlet, drawing visitors and buyers in pursuit of excellence, quality and quirkiness as a testament to Roberts' brilliance and bravura.
British Design: Tradition & Modernity Since 1948 is published in October 2014. Read about it here.
Copies of Mr Freedom: Tommy Roberts – British Design Hero are available here.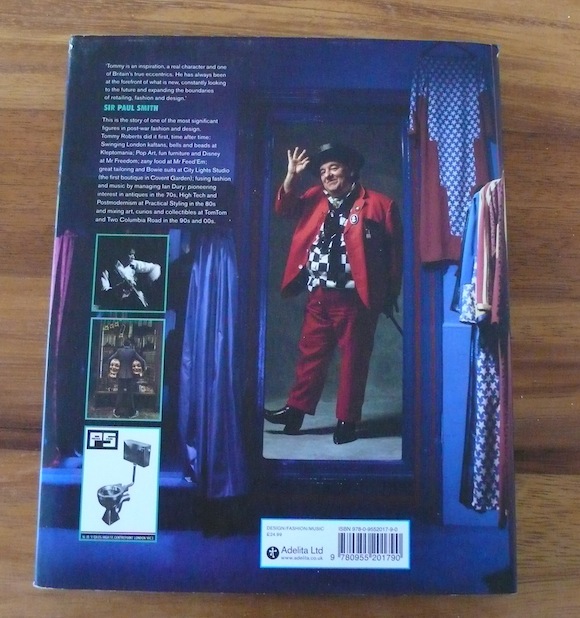 Author:
Paul Gorman
/ Published:
Dec 10th, 2013
/ Category:
1970s
,
430 King's Road
,
Books
,
Boutiques
,
Carnaby
,
Chelsea
,
King's Road
,
London
,
Malcolm McLaren
,
Postmodernism
,
Retailing
,
Tommy Roberts: Mister Freedom
/ Comments:
1
One Response to "Bravura + brilliance: Tommy Roberts, February 6 1941 – December 10 2012"
Thanks for posting that Paul. I really miss Tommy.
[pinterest]