Hawkwind + Barney Bubbles among influences in Le Gun's exhibition Space is Deep
Tomorrow sees the opening of Space Is Deep, the latest exhibition from art collective Le Gun.
The show, at London's Daniel Blau gallery and featuring contributions from fellow travellers such as Wildcat Will Blanchard, Andrzej Klimowski and Will Sweeney, marks a departure for the group; for the first time work in colour is included alongside Le Gun's trademark monochrome representations.
"We felt the time was right to introduce some colour and started off by making two technicolour free-form 'nightmare paintings', says Robert Rubbish, who founded Le Gun in 2004 with fellow artist/illustrators Bill Bragg, Chris Bianchi, Neal Fox and Stephanie von Reiswitz and designers Alex Wright and Matt Appleton.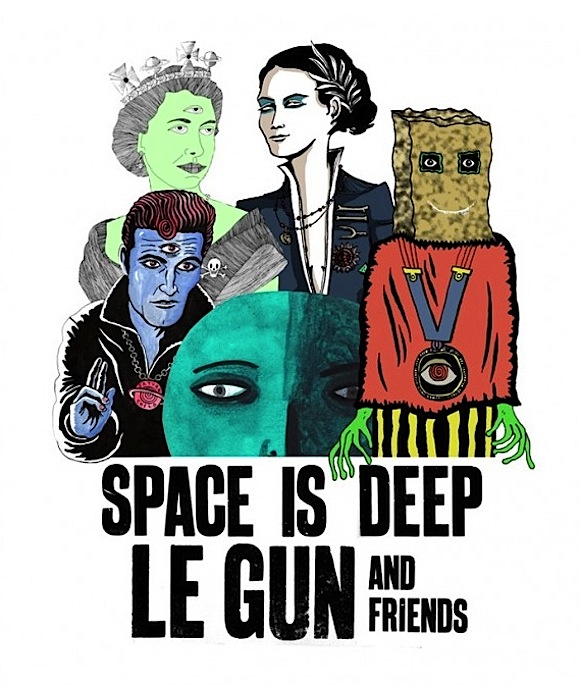 "Then we reassessed our approach, fine-tuned our colour pallet and made three space-inspired paintings, taking references from the likes of (horror/scifi comic artist) LB Cole and  Tintin's adventure Explorers On The Moon."
The exhibition title pays homage to the Dave Brock track which appeared first on his band Hawkwind's 1972 LP Doremi Fasol Latido and then in expanded form on the epic 1973 release of their live extravaganza The Space Ritual.
"The song found its way onto the Le Gun playlist over the years, and the slogan/statement  has appeared in our group drawings as a recurring motif," says Rubbish. "The more I think about it, the more mind-blowing and profound it is. I am sure it must have caused a lot of explosions of minds while tripping."
The tri-fold Space Ritual album sleeve was one of the series of releases by the band designed  and packaged by Barney Bubbles.
"We all like the ideas Hawkwind played with – drugged-out freaks creating cosmic space rock from the hub of London's counterculture," says Rubbish. "Since Barney Bubbles shaped the visual identity of the 'Wind for sure I was influenced by the strong look he created. When researching reference material we looked at his Hawkwind covers. In particular, the use of black as a background with bright colours on the cover of In Search Of Space has filtered into Le Gun's group drawing consciousness.
"BB's work represents a very powerful canon of visual ideas which still look fresh today; he'll continue to influence me, Le Gun and many artists, designers and image-makers because he was a one-off whose thought processes were constantly evolving."
Rubbish's contribution to Space Is Deep includes new work. "I've collected together a mix of my styles and interests from a painting of a lady with a pink squid hairdo to a nude study of an oversize-appendaged German sailor which was inspired by a trip to Tate Britain's watercolour show in 2011. I like to think my work and myself always sail close to the absurd."
Find Out more about Space Is Deep here.
Le Gun will be marking their 10th anniversary with a number of activities in 2014, including "the mother of all shows" and their next exhibition, Drowning On Dry Land, which will be held in "a building off Stoke Newington Church Street" in north London.
Keep in touch with them here.
Visit Robert Rubbish's site here.
Read about LB Cole here.
Read an obituary of Josette Baujot, the colourist of Herge's Tintin books, among them Explorers On The Moon.
[pinterest]