Mr Freedom designs at the V&A: 'When what has been considered bad taste is suddenly found to be invigorating'
"There is a moment when 'good taste' becomes dead; what has been considered 'bad' is suddenly found to be invigorating. Fashion today has little to do with la mode and the tacky is often accepted as an essential part of the necessary 'total' look. It can be fun."
Cecil Beaton, introduction to the catalogue for the 1971 V&A exhibition Fashion: An Anthology
Recent visits to the V&A's Archive of Art & Design have proved fruitful, particularly a viewing earlier this week of the collection of  Pop Art clothing sold through London boutique Mr Freedom in the late 60s and early 70s.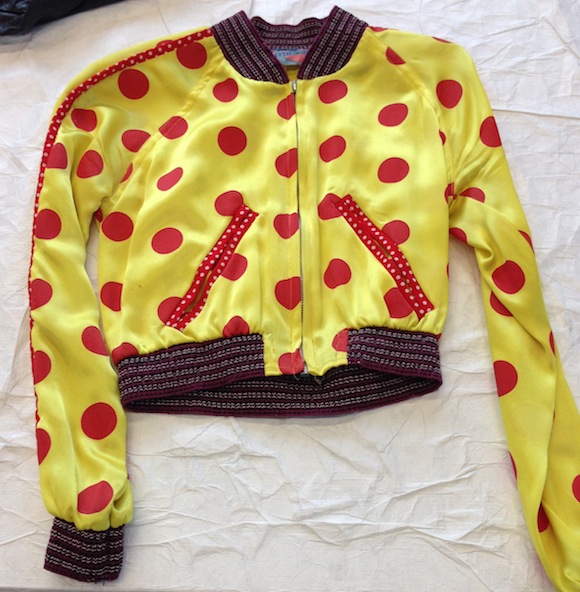 As you can see here, designers such as Diana Crawshaw, Christopher Snow and Dinah Adams were given free reign to run wild with their imaginations by the Mr Freedom founders Trevor Myles and Tommy Roberts during the life of the store, which was situated at 430 King's Road in Chelsea's World's End from September 1969 to December 1970 and at 20 Kensington Church Street, London W8,  from December 1970 to March 1972.
Crawshaw designed the God Bless Woolworth's jersey long-sleeved t-shirt seen here, as well as the Mongolian lamb collar and cuff "Sizzler" coat.
From the Royal College of Art came Jim O'Connor, who realised such ambitious garments as his multi-coloured boiler suit and winged boots (both sported in performance by Elton John). O'Connor's sometime partner Pamla Motown came up with the University Of Wishful Thinking top – as worn by Felix Dennis in court as a defendant in the infamous Oz obscenity trial of 1971 – as well as the number-adorned vinyl Bingo Jacket.
The bulk of the clothes were acquired by Cecil Beaton for inclusion in Fashion: An Anthology, the huge exhibition he curated at the museum in the autumn of 1971. Some were also displayed in the V&As 1974 show The Fabric Of Pop, curated by Michael Regan.
The impact of the Mr Freedom designs is heightened by their box-fresh condition; the most surprising is the Artist's Smock designed by the late Roberts especially for the Beaton show.
Visit the archive online here.
Author:
Paul Gorman
/ Published:
Dec 20th, 2013
/ Category:
1970s
,
430 King's Road
,
Archives
,
Art Schools + Colleges
,
Boutiques
,
Catalogues
,
Collections
,
Exhibitions
,
King's Road
,
London
,
T-Shirts
,
The Look
,
Tommy Roberts: Mister Freedom
/ Comments:
2
2 Responses to "Mr Freedom designs at the V&A: 'When what has been considered bad taste is suddenly found to be invigorating'"
What a great post Paul! So many Mr.Freedom pieces which I'd never seen and as you say, in box- fresh condition! Hope you have a Happy Christmas and see you in the New Year.

Glad you like Ian; they are fabulous "in the flesh" as it were. Happy Christmas to you; look forward to catching up in '14.
[pinterest]