Malcolm McLaren: After Pharrell, Westwood and Dries is he the disappearing man of fashion?
Long-standing revisionism is not unusual on the breakdown of a partnership, and there has been much rewriting – not least by the parties themselves – of the history of who did what, where and to whom in the three decades since the dissolution of one of the most potent creative collaborations in the history of popular culture: that between Malcolm McLaren and Vivienne Westwood.
It will be a while before we understand whether their achievements together will leap the boundaries of the still-bouyant decorative arts and the now-dessicated form of popular music into true and lasting cultural significance, but for the time being the couple's combined impact on fashion design and the development of musical genres from punk to hip-hop and world music continues to draw in contemporary performers and designers.
QV the ballyhoo around Pharrell Williams' recent sporting of a Westwood reissue of the so-called Buffalo Hat, a design produced by the pair for the Worlds End 1982 Buffalo collection. This coincided with the opening of their last retail environment Nostalgia Of Mud and also provided a major element in the visual identity of McLaren's debut solo album, the towering pre-digital cross-genre pop masterpiece Duck Rock.
The hat, like the rest of the Buffalo collection, was undeniably a product of their collective resources. It may have been his concept – taken from images of traditional Peruvian dress discovered during research for Duck Rock – but it was their combined realisation.
This was true to the pattern established with Let It Rock at 430 King's Road in the early 70s. McLaren – occasionally working with input from others including Westwood – was the partnership's domineering art and fashion director, generating ideas, graphics, silhouettes, text slogans and content, styling, detail and concepts.
He also led the sourcing of materials and location of suppliers of ready-made clothing and was responsible for the naming and design of the successive shop environments (including Nostalgia Of Mud, which was opened at 5 St Christopher's Place in London's West End when Westwood balked at his wish to restyle 430 King's Road again. This would have meant dismantling Worlds End, a commercially suicidal move at the point when the pair's work was at last receiving widespread recognition).
Westwood was McLaren's equal, the supreme technician, senior design partner, sounding board and production head, supervising manufacture via tailors, shoemakers, knitters and other outworkers.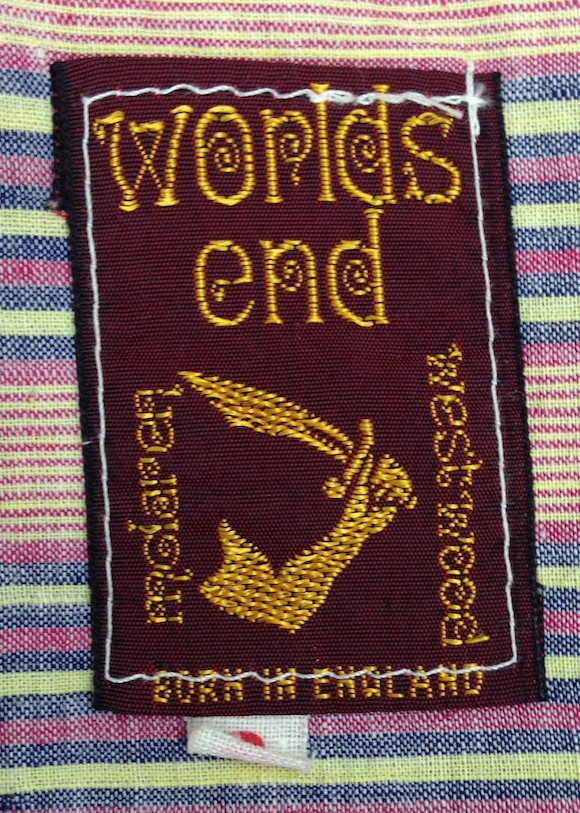 McLaren's art education and development as a visual artist was applied with Westwood's intuitive and sophisticated technical skills, so when the Worlds End venture was unveiled towards the end of 1980 he chose and adapted the pirate Thomas Tew's Saracen sword and arm flag insignia for the label logo which was bookended by both surnames making the dual authorship overt.
While their personal relationship collapsed and he travelled the world recording and scavenging multi-cultural references, the pair continued to conduct a design exchange through the six seasonal collections they realised together: Pirate, Savages, Buffalo, Hobo-Punkature, Witches and Worlds End 1984 (which Westwood revived on her own in summer 1984 as Hypnos). McLaren was heavily involved in all stages, for example using the book Voodoo & Magic Practices as the driver behind the concept behind Witches. Of course, he also tracked down, worked with and commissioned artist Keith Haring to provide graphics for the same collection.
"Before the catwalk shows in Paris and London, Malcolm used to gather everyone together and give us a rousing team talk, going through the ideas behind the clothes and getting us all steamed up," recalls the make-up artist Yvonne Gold. "He was very much the equal partner."
The split in 1983 was subsequently confirmed by a formal dissolution but it is important to note that neither party relinquished authorship over their work; Westwood has repeatedly revisited designs from the early 70s onwards and has for some time been selling a "Mountain Hat" which is made to slightly different specifications. It was one of these which Williams picked up a few years back.
McLaren undertook one venture into fashion in 1994/5. These collections, Dead In England and Ancien, revived key designs including the Buffalo Hat.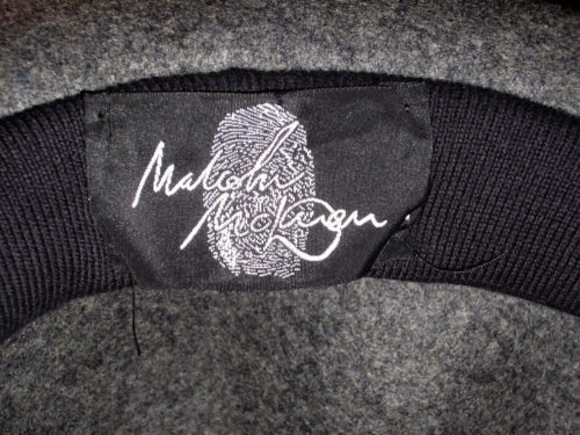 If nothing else, history is a series of shifting perspectives, and these days Westwood is the dominant force in the wider conversation, bolstered by a highly commercial brand which falls into line with industry orthodoxies, for example selling pre-collections (the non-catwalk inter-seasonal lines that now make up the bulk of most brands' sales).
Her eccentric persona enhances rather than dilutes the strength of the offer: sales achieved by just one of the companies in the group – Vivienne Westwood Ltd – topped £30m with pre-tax profits rising ten-fold to £5m last year. Small beer in terms of the major global players but nevertheless impressive for a relatively small independent navigating international fashion's fickle waters.
The intelligence on McLaren's achievements has yet to shift, and Westwood's media ubiquity has resulted in an almost willing ignorance of his contribution during the years which continue to define her as a designer.
Even when Williams haltingly credited McLaren for the Buffalo Hat he wore in performance at this year's Grammys – "This gentleman by the name of Malcolm McLaren…huge history…I just liked it" – headlines around the world screamed: Pharrell Williams 'Just Liked' GRAMMY Hat, Designed by Vivienne Westwood.
And when Westwood herself gives due credit – "Malcolm McLaren and myself invented punk" – the banner is condensed to 'Westwood tells us she 'invented punk':
So news that McLaren/Westwood Worlds End pieces – including, inevitably, a Buffalo Hat – in the recently opened Dries van Noten exhibition Inspiration were credited solely to Westwood was unsurprising, though disheartening.
By all accounts this show is a strongly-curated must-see. The occurrence of such a basic inaccuracy is curious, particularly since the designer himself holds the man in such regard that he chose McLaren's final work – a highly affecting soundscape produced in the last weeks of his battle with cancer – for the DvN autumn/winter 2010 catwalk show in Paris.
Could it be that the Westwood organisation's loan of the clothes to Inspiration was conditional on McLaren not being credited?
Or maybe the team there actually believes that he is not due the equal billing per the very labels on the original garments; certainly the designer's website eradicates him from any ownership of or input into the Buffalo collection in the Mountain Hat sales pitch, for example.
This is in line with Westwood's attempt a decade ago to eradicate McLaren from authorship of the 1981-83 collections in the grand V&A retrospective show; a furious McLaren was forced to threaten legal action to achieve even the museum's basic remedy of running up a set of new cards printed with his name and positioned in front of certain garments.
"Through this exhibit, the V&A is effectively erasing my life and destroying my career and legacy," McLaren wrote to the museum in 2004.
Major collections around the world, including the V&A and NY Met, are only now correcting archival credit to reflect the fact of joint ownership over this intellectual property, so disavowal of McLaren's input at Inspiration is par for the course.
So why has this revisionism endured? One reason is that  – like everyone's favourite mad-eyed uncle Johnny Rotten – Westwood has now achieved the respectability conferred by the bone-chilling status of "national treasure"; both individuals are regular reference points in such spectacles as the 2012 Olympics opening ceremony.
Coming up to the fourth anniversary of his death, national treasure-hood is not likely to be bestowed upon McLaren any time soon. His presence in the cultural landscape stays spiky, uncomfortable, unco-optable, essentially untameable.
To quote Mel & Kim, Malcolm McLaren ain't ever gonna be respectable. And remains all the more powerful for it.
Dries van Noten Inspiration is at Les Arts Décoratifs, Paris, until August 31. Info here. Charlie Porter was given a tour of the show by DvN and the curator Pamela Golbin – read his account here.
Dries has lunch with the FT here.
4 Responses to "Malcolm McLaren: After Pharrell, Westwood and Dries is he the disappearing man of fashion?"
McLaren's image as a magpie wide boy trickster may have hurt him when it came to getting his proper dues

No doubt truth in that Lee. To the end of his life Malcolm was genuinely taken aback that people had believed him…but nevertheless it doesn't excuse incorrect attribution of credit. These clothes have both names on the original label for a reason.

Hi Iv got the hat Malcolm wore, right here on my head. its a bit tattered but that now its appeal.

Send a photo
[pinterest]