Jim French BC: Before Colt (+ before the SEX shop Naked Cowboys)
Prior to Jim French launching his homoerotic imprint Colt Studios, the venerable American illustrator and photographer made his bones on Madison Avenue in the 1950s and 60s producing work for such clients as Columbia Records and scarf and handkerchief designer Tammis Keefe.
Now a selection of French's artworks from this period are going on display in an exhibition at Palm Springs gallery Nat Reed.
The portraits of such performers as Johnny Cash, Patsy Cline, Johnny Mathis, Frank Sinatra and Barbara Streisand were produced for the powerful mail-order Columbia Record Club, which was formed in 1955 and within 10 years commanded 10% of all US record sales.
Signed pigment prints of French's Longhorns Dance illustration – which formed the basis for Malcolm McLaren's notorious Naked Cowboys t-shirt – are also for sale at Jim French – Before Colt, which opens at Nat Reed Gallery on May 17. Details here.
Read more about Tammis Keefe here.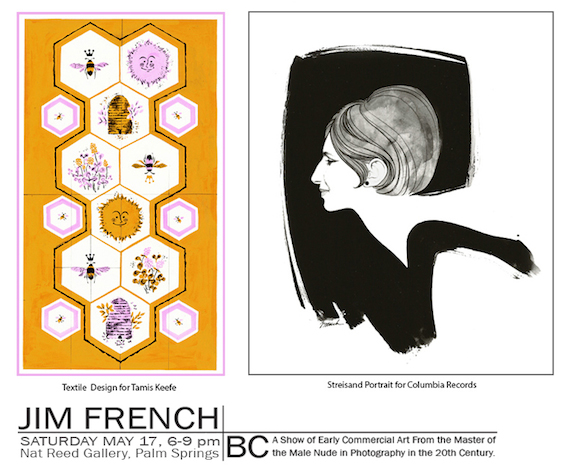 [pinterest]