Let It Rock – Malcolm McLaren exhibition in Copenhagen next month
In the shop's various incarnations I made clothes that looked like ruins. I created something new by destroying the old. This wasn't fashion as a commodity; this was fashion as an idea.
From his foreword to The Look: Adventures In Rock & Pop Fashion, Malcolm McLaren, 2001
The first exhibition to examine the late cultural iconoclast Malcolm McLaren's engagement with fashion in the 70s and early 80s is to be held next month in Copenhagen.
Let It Rock: The Look Of Music The Sound Of Fashion – curated by Young Kim of the Malcolm McLaren Estate and me – is being staged from August 3-6 as part of the Copenhagen International Fashion Fair; creative directors Pierre Tzenkoff and Arnaud Vanraet have commissioned the show in conjunction with an exhibition entitled Industrial by Nature by streetwear guru Virgil Abloh.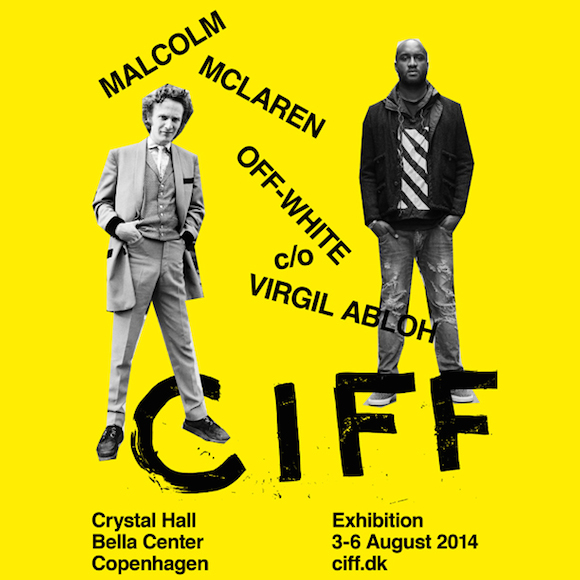 Let It Rock will investigate McLaren's deep roots in fashion (his mother + stepfather operated the womenswear brand Eve Edwards in the 50s and 60s and his grandfather was a master tailor's cutter) and will also demonstrate how he drew on his art-school investigations into environments to become the progenitor of the pop up shop concept.
Let It Rock revolves around an installation dedicated to the shop from which it takes its title, complete with a recreation of the frontage in black corrugated iron and pink rock&roll signage McLaren designed when he opened the premises with Vivienne Westwood in 1971.
The exhibition is divided into six sections each dedicated to the manifestations at 430 King's Road as well as Nostalgia Of Mud, the outlet operated by McLaren and Westwood at 5 St Christopher's Place in London's West End from 1982 to 1984.
These  sections will all feature rarely-seen and never previously publicly-exhibited clothing designs, photography, sketches, notes, magazine spreads and even pages from McLaren's notebooks.
Among the exhibits is McLaren's own 'I Groaned…" t-shirt from Sex, the Chico hat and grey Crombie coat he wore in the famous portrait for the Witches collection taken by Steven Meisel for Vogue in 1983, the short sheepskin jacket worn through the Buffalo Girls and Duck Rock period and a Let It Rock drape suit fitted personally by McLaren for guitarist songwriter Marco Pirroni.
Ben Kelly – who realised the design for the exterior of Seditionaries in 1976 and is now professor of interiors & spatial design at University Of The Arts London – is contributing photographs taken of his work at the time for his portfolio and there is a very special leather t-shirt bearing a Let It Rock label during the transition in 1974 to the incarnation as Sex.
Contributors also include photographers Robyn Beeche, Bob Gruen, the David Parkinson Estate and Sheila Rock as well as others close to McLaren during his game-changing adventures in  the fashion world.
Find out more about the show on the CIFF site here.
Author:
Paul Gorman
/ Published:
Jul 9th, 2014
/ Category:
1970s
,
1980s
,
2010s
,
430 King's Road
,
Archives
,
Art
,
Art Schools + Colleges
,
Collections
,
David Parkinson
,
Events
,
Exhibitions
/ Comments:
None
[pinterest]