The Look and Vivienne Westwood: A question of attribution
Jenni Murray: You've said 'clothes were politics long before fashion'. What did you mean by that?
Vivienne Westwood: I have no idea.
Jenni Murray: Was it something you said to Ian (Kelly) and now you've forgotten?
Vivienne Westwood: No…is that what it says in the book?
Jenni Murray: Yes
Vivienne Westwood: Well then, he might have got a misquote from somewhere.
Woman's Hour, BBC Radio 4, October 14, 2014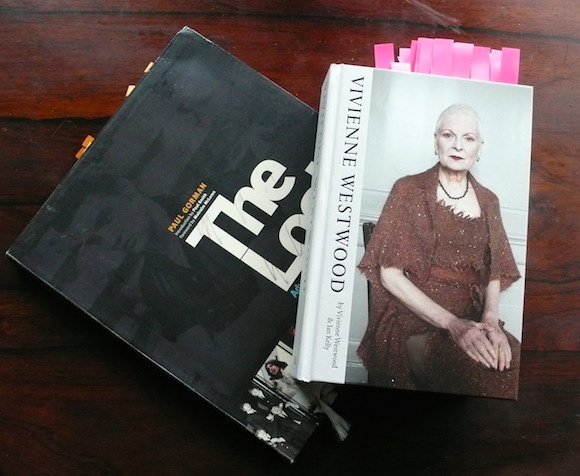 I respect Dame Vivienne Westwood's achievements; she has been a significant figure in shaping our collective visual identity.
As someone who is driven to investigate and interpret visual culture, that is important to me. I dedicated a chapter and sections to Westwood's contribution to fashion with and without Malcolm McLaren in the 2001 and 2006 editions of The Look: Adventures In Rock & Pop Fashion.
But she is ill-served by the sloppy new book Vivienne Westwood, recently published by Picador and written by actor/author Ian Kelly.
This is not just because it is riddled with shameful inaccuracies and poor attention to detail:
• "Jimmy" Hendrix
• Pete "Townsend"
• Scott "Crowley" (Crolla)
• Eric "Emmerson"
• Jeremy "Healey" (Healy)
• "…the first Paris show, the Buffaloes collection in 1981" (Pirate was the first show in 1981)
• "…McLaren was just 56 when he died" (he was 64)
• "…on November 6 1976 Vivienne attended the first concert by the Sex Pistols" (performed precisely a year earlier)
• "…the Soho gay bar frequented by punks was "Louisa's" (correct spelling: Louise's)
• "…Quentin Crisp was living at NYC's Chelsea Hotel when she and McLaren stayed there in August 1973" (Crisp first visited in 1978 and lived there from 1980), etc.
The book also contains several outright claims without base. As we know, John Lydon has picked up on the notion floated that Westwood came up with the concept and the title of the Sex Pistols' clarion call Anarchy In The UK, while there is a suggestion that she named The Who back in 1964, and even that her first husband managed that group.
Meanwhile sections of the book insinuate that such Sex and Seditionaries designs as Cowboys, Cambridge Rapist, Smoking Boy, Destroy, Cash From Chaos and You're Gonna Wake Up were solely created by Westwood without input from McLaren nor anyone else (I imagine The Clash manager Bernie Rhodes – who came up with YGWU but is not mentioned – will have something to say about that).
Then there is the fact that the book uses without permission and credits to the Vivienne Westwood Archive (or "Collection") many images which belong to at least 10 photographers, such as:
• the exterior shots of 430 King's Road taken by Bob Gruen (p137) and Masayoshi Sukita (p122);
• the portraits of Westwood with Malcolm McLaren by Barry Plummer (p193 and pp204-5);
• photos of Westwood either on her own or with others by Alain Dister (p167), Norma Moriceau (p182), David Dagley/Rex Features (p159) and David Parkinson (pp115, 142);
• the photo of shop assistant Debbie Juvenile in Seditionaries by Ku Khanh (p187);
• the architectural sketch for Worlds End by David Connor (p238);
• Worlds End catwalk photography by Robyn Beeche (pp37);
• and the photo of staff and exterior of Nostalgia of Mud also by Beeche (p254).
Such willingness to ignore the intellectual property rights of at least a dozen images – some of them well-known photographs taken by internationally renowned photographers – speaks to an astoundingly poor respect for the copyrights of others by a mainstream publishing house.
Meantime, as reported in British fortnightly Private Eye, the book also presents serious libels in Westwood and Kelly's maligning of a former employee of Westwood's on the basis that he is dead. Apparently he is not, and nor is the married individual asserted to have been his boyfriend.
My objection, and one which I am pursuing, is that the author helped himself freely to content from The Look, which is on reading lists for University Of The Arts London fashion courses (I am currently preparing the third edition). In a couple of instances, astonishingly, words written and spoken by McLaren for that book are attributed in direct and indirect quotes to Westwood. There are eight passages alone from McLaren's introduction to The Look.
These and many other excerpts – more than 40 I warrant – bear too close a resemblance to text in The Look to let pass. My book is credited with 10 references in the chapter 'Notes' section at the back of the book. Of these:
• 2 are not my work and not in The Look;
• 6 are given the wrong page numbers in The Look – if the reader were to look them up they would arrive at entirely different subject matters or, in a couple of cases, full-page illustrations of fashion businesses which have nothing to do with Westwood;
• 1 (the quote on p85 at the top of this post) is negated by the attribution to Westwood in the text.
The impression given that these are words uttered by Westwood to Kelly – as opposed to the truth of the matter, which is that McLaren spoke them to me in the bar of the London School Of Economics during his London mayoral campaign of the early 00s (I have all my notes in my archive) –  is reinforced by the fact that it, along with all the other passages based on my material, is voiced in Westwood's accent by actress Paula Wilcox in the audiobook published in the UK and US.
It is troubling that this leaves just 1 correct attribution out of the 10 which name me and the other 30 which do not. Yet even this sole example is problematic: confusingly, this note references the second edition of The Look  – the substantially different first edition is cited in the Vivienne Westwood bibliography.
I am also named among those whose work has been helpful to Kelly. No kidding. Such acknowledgment I am advised does not justify the substantial (and the legal definition relies on qualitative rather than quantitative factors) borrowing.
As Private Eye reports, I'm not pleased. Nobody likes to have the product of their skill and labour appropriated, apparently quite casually. Another reason is professional. Like the kid with the pin and the inflatable cricket team, Kelly has let the side down.
I have published memoirs with such outspoken characters as Boy George and Goldie. They, and Westwood, are entitled to say what they want, particularly during the process of building books; it is the author's job to protect them by steering and refining the material all the while ensuring the story remains a) accurate and b) free from potential claims of libel, plagiarisation, etc. If it is also well-told – and the turgid nature of this text presents an uphill struggle for even the most dedicated Westwood fan – then so much the better.
But in not ensuring points a) and b) are met, Kelly and Picador have seriously undermined the verity of the entire enterprise.
Of course, the publisher takes the primary role in all this, and I would hope that Picador – part of the worldwide Macmillan Group – asks of itself the relevant questions about how, to use one media lawyer's professional opinion of the Westwood book, such "a dog's breakfast" has been allowed to hit the shelves.
Whatever, the fact is that this opportunity to present a cracking tale of a fascinating individual (as delivered in Jane Mulvagh's 1999 Westwood biography An Unfashionable Life) has been scuppered by several factors, including an over-reliance on "misquotes from somewhere".
Author:
Paul Gorman
/ Published:
Oct 15th, 2014
/ Category:
1970s
,
2010s
,
430 King's Road
,
Books
,
Chelsea
,
Libel
,
Malcolm McLaren
,
Plagiarism
,
The Look
,
Tommy Roberts: Mister Freedom
/ Comments:
2
2 Responses to "The Look and Vivienne Westwood: A question of attribution"
[…] Robyn was a gentle, spiritual person who almost single-handedly documented Westwood's rise as a fashion force in the early 80s. It seems incredible that, given this second chance in the paperback, the designer, her publisher and her co-author did not choose to recognise this fact (it was pointed out last year here). […]

Shame on them Paul. Your will and tenacity shall triumph in the end, of that I have no doubt.
[pinterest]