From the vaults: Paul Smith on the threat to the High Street (Guardian 1988)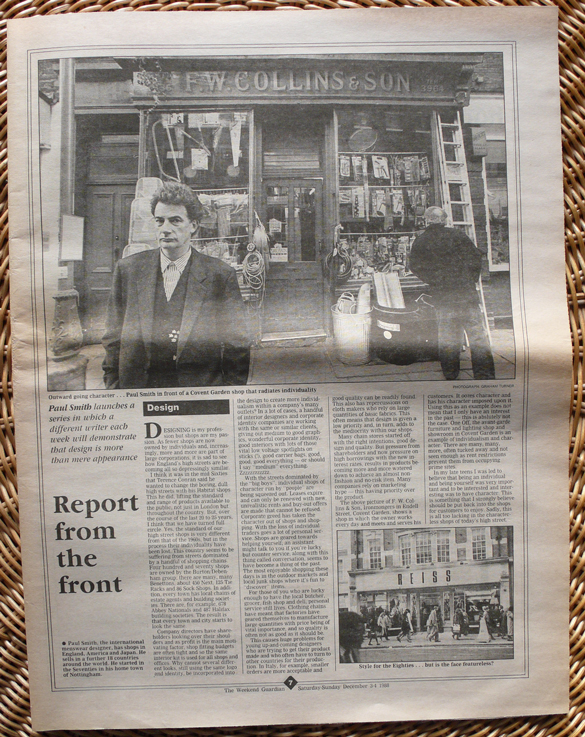 Publication: The Guardian Weekend supplement, Dec 3-4, 1988.
I have collected and kept magazines, newspapers, fanzines and all sorts of publications for decades.
From the launch edition of The Weekend Guardian, this was the first in a series of think pieces by prominent people on aspects of design.
Paul Smith could tell what was coming; the desecration of Britain's High Streets – and thus independently operated, individual and often idiosyncratic retail outlets – at the hands of the giant chains of faceless stores.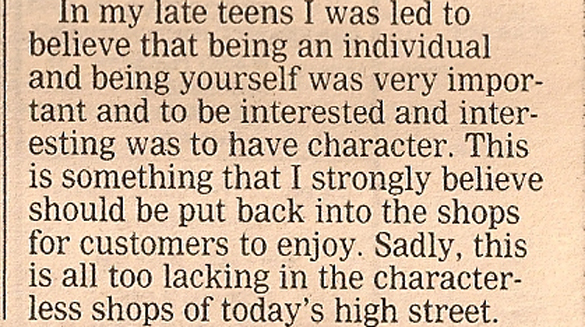 23 years down the line Smith thrives, as a result of astute international partnerships and adherence to guiding principles.
FW Collins & Son – which had traded since 1835 – continued until two years ago, when the premises were taken over by The Vintage Showroom.
4 Responses to "From the vaults: Paul Smith on the threat to the High Street (Guardian 1988)"
[…] This post was mentioned on Twitter by Paul Gorman, Mrs Gorman. Mrs Gorman said: RT @PJGorman: ARCHIVE – Paul Smith predicts the desecration of UK high streets, Guardian 1988: http://www.paulgormanis.com/?p=1272 […]

Hi Paul, I love this piece for obvious reasons. I am one of the owners of the Vintage Showroom and thought I had seen most of the old images of the shop, but this was new to me and what a great photo, I love it.

We had been fans of FW Collins long before we took the space on, and it was undoubtedly sad to see it go. Our landlord is the last owner/proprietor of the shop, and we have some great images and stories from him about the store. We still have some pictures up of how it was, and are very sympathetic to what it represented as one of the last of its kind of London shop fronts. We will do our best to keep some of that legacy going and keep it an independant for a while yet.

I hope that Sir Paul Smith would still find that it radiates individuality.

All the Best Doug

Dear Doug

Thanks for getting in touch; I too was a long-term fan of FW Collins and was amazed to find it went back to 1835.
Don't know if you can see but the photo credit is Graham Turner who will no doubt be traceable.
If you would like a large scan of the piece I can send it.

[…] We found the article on Paul Gormans blog. You can read more of the original article by clicking here : http://www.paulgormanis.com/?p=1272#more-1272 […]
[pinterest]