Astounding Barney Bubbles rarity: An amazing Hawkwind drumhead
A rare design by the late graphics master Barney Bubbles has come to light after four decades; the psychedelic sci-fi drumhead was painted for Hawkwind when the space rocking Sonic Assassins undertook tours around the world following their success with the Silver Machine single in 1972.
The design of a snarling apparition – a so-called 'Hawklord' as depicted on the group's album Doremi Sofal Latido – was one of a pair which adorned the front of the twin bass-drums in Simon King's kit during this period.
Bubbles – charged with "Optics" and effectively the group's art director – applied an integrated approach to the collective far beyond the remit of just creating album sleeves, posters and other promotional material.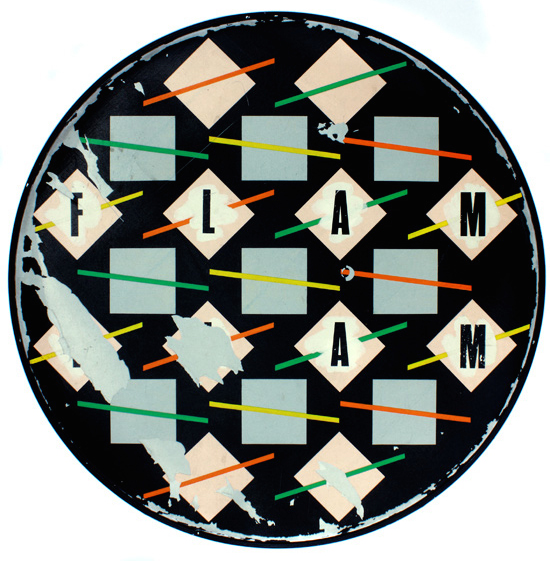 //3 x Barney Bubbles drumheads: Top two for Pete Thomas (1974 and 1977) and above for Glen Colson (1983)//
As mentioned in my Barney Bubbles monograph Reasons To Be Cheerful, the visual impact of painted drumheads appealed to Bubbles; as well as these for Hawkwind, he designed others for Pete Thomas (of Chilli Willi And The Red Hot Peppers/The Attractions), Will Birch (Kursaal Flyers/The Records) and his publicist friend Glen Colson.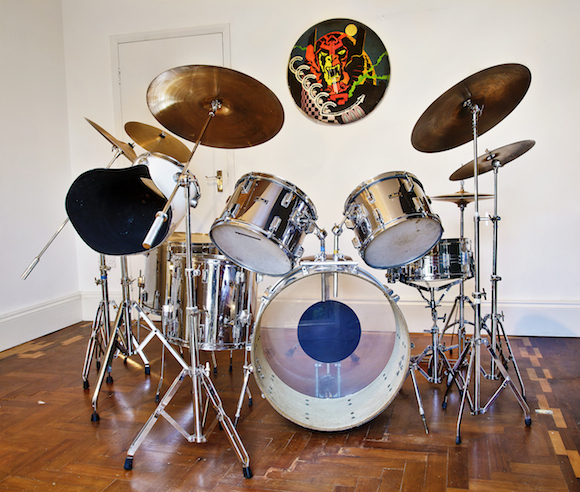 The current owner of the amazing Hawkwind drum-head has treasured it for a number of years.
The owner also has the original drumkit, for which offers are being welcomed. These should be directed via the contact mail on this site (in the About Me section).
2 Responses to "Astounding Barney Bubbles rarity: An amazing Hawkwind drumhead"
At least *one* passing mention of Jack Kirby as the obvious influence behind nearly all the pieces of art presented here would have been nice. Like, the helmet worn by this gorilla is straight out of Mister Miracle, published two years earlier. It's worn by a character named Big Barda, a mountain of a woman, kinda like Stacia Blake :

https://i.pinimg.com/736x/07/23/ef/0723efc715f1744a9565e8ef05a6127a–jack-kirby-demons.jpg

And Hawklord is straight out of a Jack Kirby comic too.

You make a very good point; I shall make sure in the future that Kirby's influence is acknowledged.
[pinterest]