The post-hippie/glam/space rock mix-up: Alun Anderson's beguiling photographs from the 1973 Windsor Free Festival
"When these photographs were taken, everything about them was everyday and unexceptional. These were the clothes we wore, the Hawkwind festivals that filled our summers, the drugs we took, the love we had, the way we moved. Only looked at from a distance does something extraordinary seem to emerge. Whether it is possible to live in the present with this view of what is around you, I don't know."
Alun Anderson, 2015
Don't believe the bores: British youth culture in the early 70s – the pre-punk period which is depicted as grey and charmless by know-nothings – was happening, exuding an earthy sexiness and replete with gritty street-style if you knew where to look for it, from youth clubs, discos and house-parties to the scenes revolving around space-rock stalwarts Hawkwind and captured in these images.
Alun Anderson's beguiling photographs from the free music festival held in Windsor Great Park to the west of London over the August Bank Holiday of 1973 provide proof-positive, from Hawkwind dancer Stacia Blake relaxing in full make-up among the stage gear and the band's Dik Mik in full flight to the glam girl hitching up her tights as her smoking pal glances insouciantly at her finger nails, the top-hatted dude in patched jeans strolling through the crowd with his feather-cut partner and model/photo-journalist Carinthia West immaculate in halter-neck, patched cut-off Levi's and green Wellies.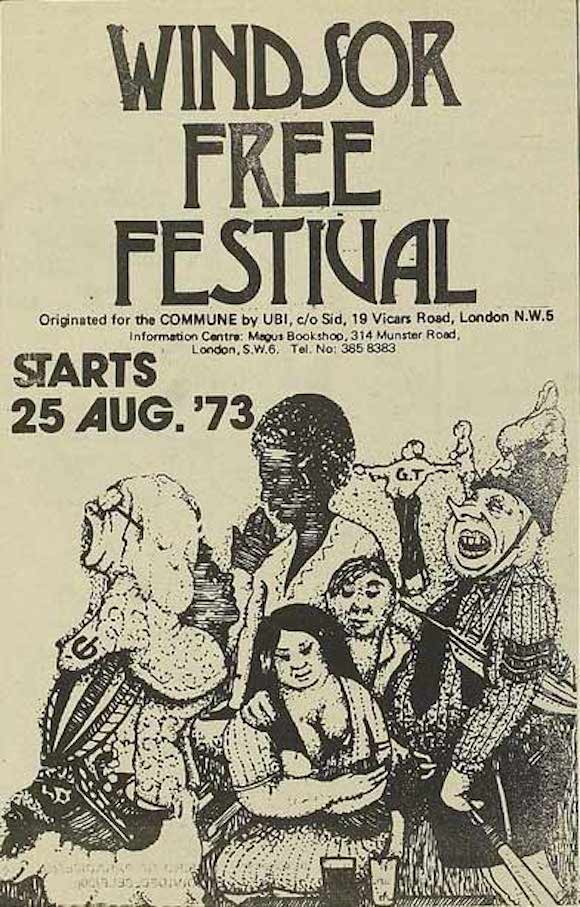 These and more of Anderson's photographs can be viewed at the excellent ukrockfestivals website here. The poster comes from the same page.
Thanks very much to Alun for giving me the permission to show these.
9 Responses to "The post-hippie/glam/space rock mix-up: Alun Anderson's beguiling photographs from the 1973 Windsor Free Festival"
Such fantastic and evocative photos, you can really feel the atmosphere, the heat haze and smell the grass (both types). I recognise a lot of the clothing, the blue crushed velvet outfit in photo 4 is from Bus Stop by Lee Bender. I have a dress version this colour in the shop and own a long skirt in different colour way. When I wear the skirt now it definitely evokes this era.

I know Deborah; I came across the site a few years ago and looking at the photos again just made me recall so much about that era which was great… Glad you appreciate the post. Alun's photos are magical.

Windsor '73? Reminds me of White Lightning – beautiful tabs that you could chew (unlike the microdots that split in a thousand directions when you wanted to cut off a cheeky half).

Oh, and 'liberating' an ice-cream van in the middle of the night, making off with dozens of cones and spending the next hour or so around a camp fire with other like-minded souls who had the tubs full of ice cream and peaches. Yum…

Hi Paul
I dont know whether Alun knows that in the second photo from the bottom he has captured a rare image of Wally Hope x
I look after Wallys ashbox and keep his stonehenge dreams alive
I would love to talk to Alun
Could you put us in touch

Fantastic memories of a wonderful time

Fab photos seems like yesterday I miss those days I didn't go to Windsor 73 – Windsor 74 was mois first Festie was a life changer to plug into all that wonderous energy and folk. Far out.

That's not DikMik in the 3rd photo, it's Del Dettmar at the controls.
Possibly Andy Dunkley in the background – can anyone confirm?

Thanks Axel – have inserted Del Dettmar's name and yes that is Andy D.

This brought back memories of a lovely summer when I was young and carefree have a look at my memories too http://www.ukrockfestivals.com/windsorfest1973-craigspix.html
[pinterest]