Eyes For Blowing Up Bridges catalogue published this Friday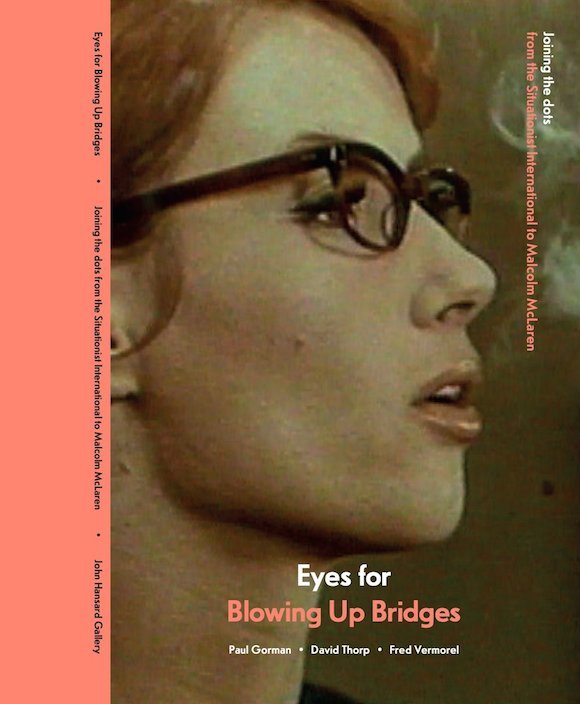 The catalogue for exhibition Eyes For Blowing Up Bridges: Joining The Dots From The Situationist International To Malcolm McLaren is published on Friday (November 13).
With a specially-commissioned memoir of McLaren by his art-school friend Fred Vermorel, the 100-page catalogue contains an introduction by me, a foreword by John Hansard Gallery's Ros Carter and Stephen Foster and an essay by co-curator David Thorp.
There are also images of the exhibits, many rare and not previously presented for public view.
The publication will be celebrated at an event at Southampton's John Hansard Gallery on Friday evening, which will include a panel discussion with contributions from Barry Martin, who taught McLaren at Goldsmith's art school in the late 60s, and Jane Tankard, senior lecturer at Westminster University.
Details here.
Order copies of the Eyes For Blowing Up Bridges catalogue by emailing info@hansardgallery.org.uk
Author:
Paul Gorman
/ Published:
Nov 10th, 2015
/ Category:
1950s
,
1960s
,
1970s
,
1980s
,
1990s
,
2010s
,
Archives
,
Art
,
Art Schools + Colleges
,
Catalogues
,
Curating
,
Exhibitions
,
Eyes For Blowing Up Bridges
,
Fashion Design
,
Galleries
,
T-shirt design
,
Vivienne Westwood
/ Comments:
5
5 Responses to "Eyes For Blowing Up Bridges catalogue published this Friday"
Do you want to check that link for ordering copies, Paul? I'm trying on our crappy PC at home, but nothing seems to be happening.

Works for me Steve but try emailing here to reserve a copy:

best

P

Brill, thanks Paul (it's probably this 'effin PC anyway. I'll try the link tomorrow at work).

[…] film, and countercultural entrepreneurialism. The exhibition's soon to close, but I recommend the catalogue, which includes an essay by Fred Vermorel with some prime King Mob […]

[…] film, and countercultural entrepreneurialism. The exhibition's soon to close, but I recommend the catalogue, which includes an essay by Fred Vermorel with some prime King Mob […]
[pinterest]