Blokes Of Britain: Jeff Dexter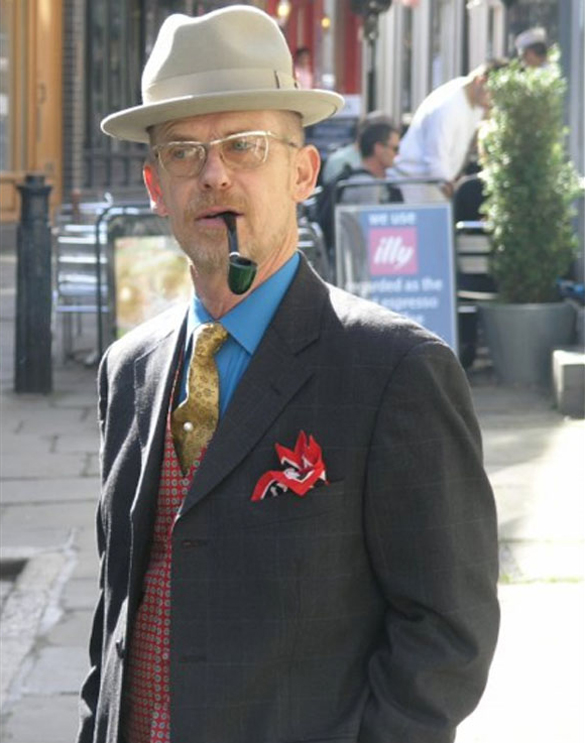 NAME: Jeff Dexter
RESIDES: North London
OCCUPATION: Man about town
Trace the progress of popular culture over the last six decades and you'll find Jeff Dexter at some of its crucial stages of development: demonstrating the twist to modernists at The Lyceum Ballroom and advising the Beatles on which boots to wear in the early 60s; DJing for the noonday underground at Tiles a few years later and then moving into London's counter-cultural underground as a mainman at Middle Earth and The Roundhouse, where his Implosion nights set the scene for the rise of such friends as Marc Bolan and David Bowie.
There's Jeff hanging out at Hung On You, booking bands for the first Glastonbury and Isle Of Wight festivals, managing chart-topping America, announcing The Clash at one of their early gigs and DJing for Paul Weller at the Shepherd's Bush Empire a couple of years back as part of the Island 50 celebrations.
And now he's answered the Blokes Of Britain questionnaire:
Hi Jeff. What's with your look these days?
Eclectic and vintage. I mix anything from the past, from another culture, with the standard look which has been ingrained in me since childhood. I looked at some photos today and realised I've been doing this since 1968!
It's an escape and a reassurance. When you were a young man you put on a suit and thought you were together, neat and tidy. This is more like dressing up, to make yourself feel good. It's an escape from fashion. Avoid fashion and go style every time. I've never been a slave to the fashion merry-go-round apart from that tight-arsed mod period from 1959 to 1962.
In what way has your look changed over the years?
It's changed with age, matured, age-appropriate, even though I'm only 29. I've been buying a lot of Trachten wear, picking up old pieces. But that's also been going on for a while; I wore a Tyrolean short jacket from a Trachten suit when I DJed at your first launch of The Look, with a Portuguese Homburg with a feather in it.
I look very hard for Tyrolean and Austrian clothes, on eBay and in charity shops.
I had a great conversation with David Bowie when he was doing a bunch of UK shows 10 years ago or so. I asked him if I could have his fuschia v-neck jumper when he was done with it. He told me that it was from Tom Ford, his favourite designer at that point.
David asked me: "Who's your favourite designer?"
I said: "Oxfam."
Who has influenced the way you dress?
Initially my Mum. She was a fine dressmaker, always making clothes, so my brother and I learned how to sew and adapt jeans and shirts from the age of 8. My brother, being older, was a bit of an influence because he was in one of those first groups of teenagers and was very clever with his hands. He got into making clothes, in leather mainly.
As a kid I was fascinated by the way people from different parts of the world looked and also by music – I played the trumpet and a little bit of piano and loved listening to brass bands as well as going to classical concerts where I would see people in black tie.
I joined the Sea Scouts, the Boys Brigade, all of them, mainly because they had marching bands and you'd get a uniform.
When did you first adopt the style you describe as "tight-arsed mod"?
I remember my brother came home  to our place in Walworth Road one day in 1958 with what the local barber called a Perry Como haircut; a "college boy". There were a couple of local hoods he hung around with who had the same haircut. They always had a lot of money and had this new look, like the younger generation of Maltese and Italian who had their clothes made in Rome.
It was coming from France as well, so was Continental mixed with Ivy League. The college boy was anti-quiff and anti-Brylcreem (so anti-Ted). You used styling gel and let it dry. I got a college boy instantly and was off.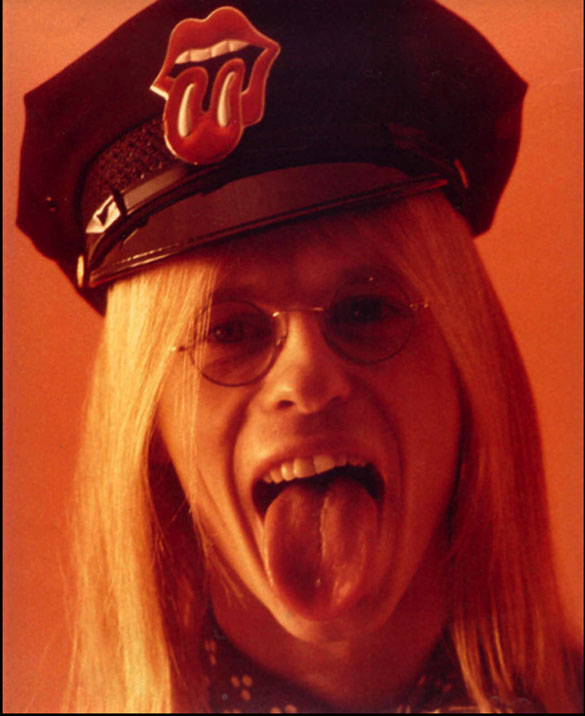 For me your image these days is very much tied to natty waistcoats, titfers and cravats. When did you start gathering these elements together and was it conscious?
It just kind of happened. I bought a couple of waistcoats but didn't wear them. Then some friends gave me them as presents and as soon as I put one on it felt right. The waistcoat is like the suit you wore as a kid; it ties the look together. Then one thing led to another and I started to wear the cravats.
Do you keep clothes/have you a big wardrobe?
I have too much in my wardrobe and too much in my loft.
What garment would you like to wear/have most in the whole wide world?
I would very much like the head of the fox-hunt's outfit, complete with his "pink" (which is, of course, a red coat with brass buttons). Not that I want to go hunting, but I'd like the whole lot, plain or check waistcoat, white shirt and cravat, cream or black britches and beautiful silk hat.
The head of the hunt has two sets of clothing. The pink for the daytime and another style of red jacket for evenings. I've been promised one. The daughter of one of the Leicestershire hunt-masters says she will donate his jacket to me. Protocol dictates that I would have to change the buttons, but what is correct? It's nice to be correct, but it's also nice to break the rules. That's the whole point of style.
Is there a period in fashion with which you align yourself?
The crossover between Mod and Dandy I like a lot. From the end of 1965 to the beginning of 1967 style went back on itself and exaggerated the past somewhat, a bit like Teddy Boy getting New Edwardianism wrong but creating a street look on a post-War budget.
It runs parallel with Hung On You in Cale Street; beautiful tailoring, palettes, shapes and fabrics – particularly velvets – with hippy-trippy stuff from the Far East. The quality, fit and attention to detail really appeal to me.
During that period, for example, the French sailor's trousers sold by Emmerton & Lambert – particularly the light woollen pairs – were beautiful, so well put together. When it comes to clothes I like military and I like religious, but only for aesthetic reasons. These are very potent forces, and without them half of the fashions of the last 50s years wouldn't have existed.
What's your style tip for this year?
Keep it neat.
Which person sums up the word "stylish" for you and why?
Bunny Roger. Take a look at a photograph of him; the way he dressed covers all the areas we've been talking about: a Teddy Boy, a Mod, a Dandy, a City gent – they could all wear what Bunny Roger wore.
He encapsulates the look of a perfect gentleman. Again he was influenced by the military. There would have been no John Steed without Bunny Roger. He was one of the architects of how men should look.
5 Responses to "Blokes Of Britain: Jeff Dexter"
Dear JD. a man of infinite style and a style of infinite man.. nice chap.

[…] blogs. Heroes, people I have collaborated with and personal friends pop up all over the place, from Jeff Dexter, Mark Powell and Lloyd Johnson to Nick Lowe, Tommy Roberts, Boy George and the sorely missed […]

Remember Jeff at Implosion at The Roundhouse. Sunday afternoon till late, loads of top bands, great music, stalls, food, chilled vibes and very cheap! What magical times they were!

[…] include Jeff Dexter, Robert Elms, Norman Jay, Lloyd Johnson and Peter […]

[…] to those with no money. We played the latest music of the era, put together on reel-to-reel tapes by DJ Jeff Dexter. I came out with a magazine that John supported with a great cartoon. It was […]
[pinterest]