What's it going to be then, eh? An 'unforgettable evening of typewriters, music, rough cider and poison-pen letters'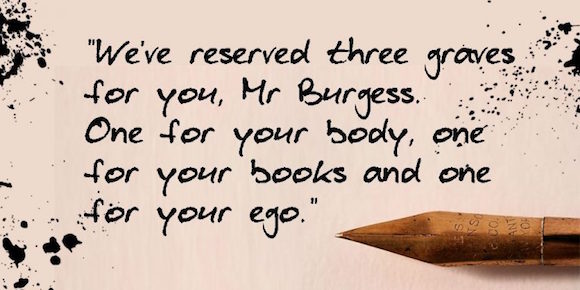 This will draw on the Foundation's archive of unpublished correspondence with Burgess's cast of friends and enemies including Angela Carter, Graham Greene, Stanley Kubrick and Hunter S. Thompson.
Tickets are £5 advance (plus booking fee) and £7 on the door. Tickets can be bought here and entitle each attendee to a free drink.
If you, like me, are not in the vicinity, at least spare a minute to read Graham Foster's very funny post on the IABF site about Burgess and his pets, which, during his time in Malaya with wife Lynne included 25 cats "controlled rigorously" by the "seal-pointed virgin matriarch" Burmese Lalage as well as a rooster named Regulus, a turtle and an otter "that whistled like a train when it wanted food".
[pinterest]