Photography: Kings Road summer 1976
Thanks to Neal Purvis for alerting me to these captivating photographs taken in London in the hot summer of 1976 by German holidaymaker Klaus Hiltscher.
As Neal points out, Hiltscher captures the mood of the city in that specific period; I don't believe my recall is playing tricks on me when I write that every day – from May through to September – was glorious in terms of the weather, and more often than not eventful in a variety of ways.
The summers of 1975 and 1977 were also unseasonably warm, but there is something about being alive and aware in London in 1976 which stays in the memory. Maybe that's explained by my age (I was 16), my circumstances (I was content in my first creative job) or the feelings of new possibilities with the coming of punk.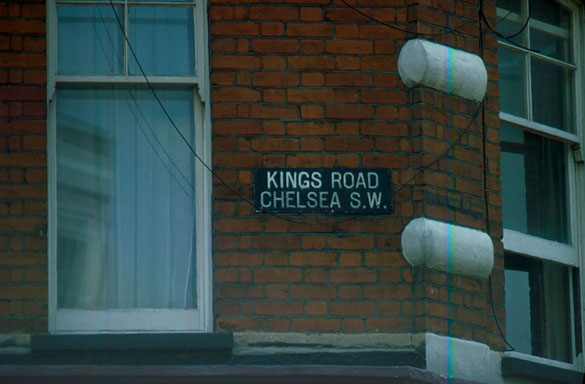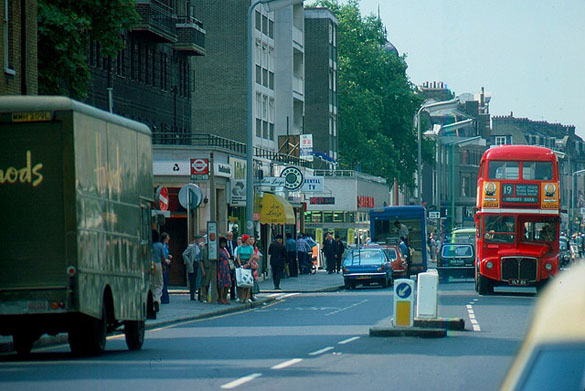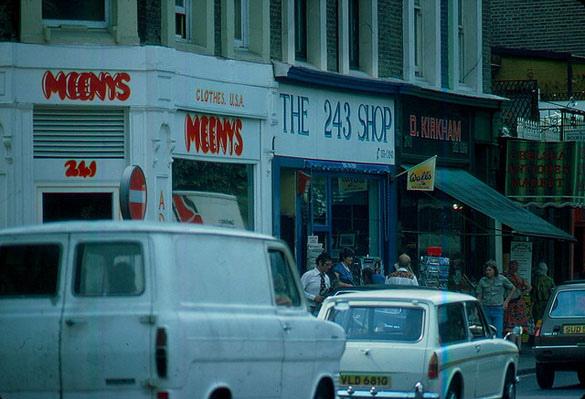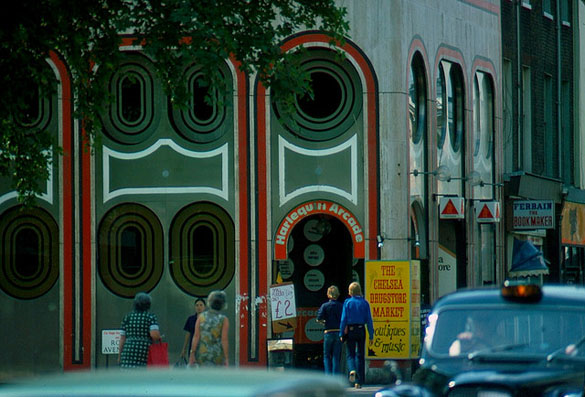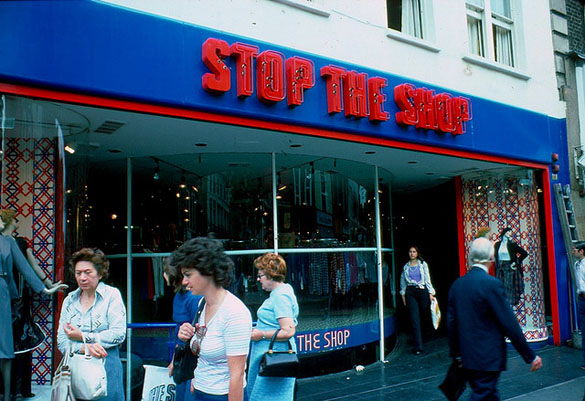 Whatever, these images evoke that happy time and place. My selection concentrates on the Kings Road; look out for:
• The Roebuck (where Johnny Rotten met Malcolm McLaren and the other Sex Pistols for the first time in August 1975)
• Gary Craze's children's clothing store Meeny's
• The Chelsea Drugstore
• The Bluebird Garage
• Stop The Shop (the split-level outlet which at one time had a revolving floor and was occupied in the 80s by Fiorucci)
• Tom Salter's Great Gear Trading Company
• Chelsea Antique Market
• Antiquarias (as featured on the manifesto shirt You're Gonna Wake Up)
• the Chelsea branch of John Simons and Jeff Kwintner's Squire Shop
• The Pheasantry facade
• The Man In The Moon (scene of early gigs by Adam & The Ants)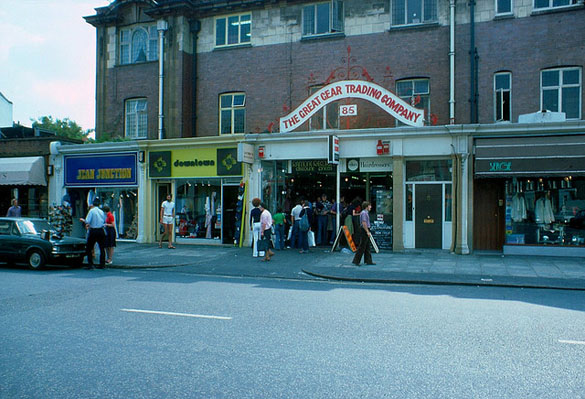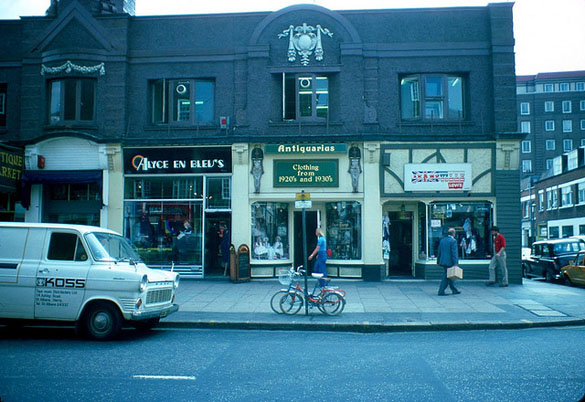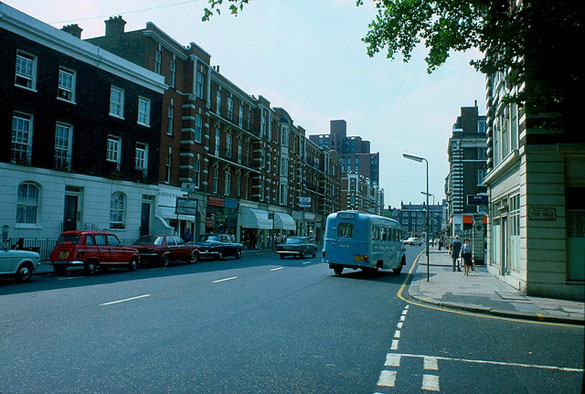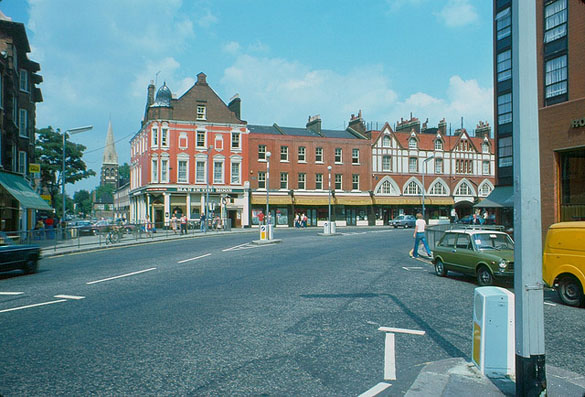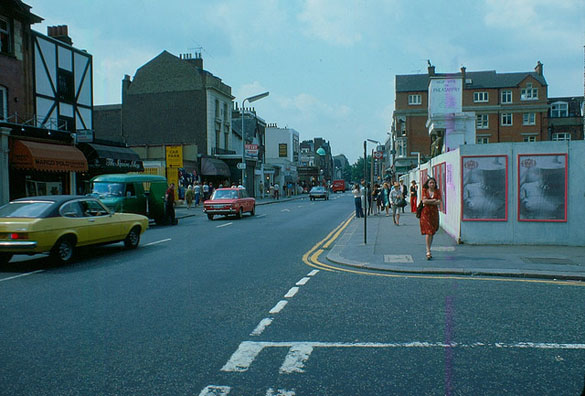 Visit Hiltscher's flickr set here for more wonderful images from his visit to the UK that year.
77 Responses to "Photography: Kings Road summer 1976"
These are truly incredible, and as you say capture that vibe of the time..(in a bizarre way so does Brian Clemen's Thriller series, which also has some fab street scenes of London around the same era)…

I can place every angle in these pics, and like you Paul, I've been obsessed since my first visit..but great to see the Safeways with the plaza later populated buy glue-sniffing squatter punks..and Dayvilles Ice Cream Parlour (32 flavours) in the top shot..

BTW my first visit was 16th Feb 1980 and documented here
http://planetmondo.blogspot.com/2011/02/dear-diary1980-february.html

Second visit was later that summer – photo here
http://planetmondo.blogspot.com/2008/09/from-punk-to-present.html

Thanks Dave.

I was only talking to someone about the gelateria popping up everywhere being the '10s version of Dayvilles etc.

Klaus Hitschler just wrote – he likes the blog and says that since he posted the London 76 photos two years ago barely a day has gone past without someone contacting him and expressing their appreciation.

Oh and he says the woman with the black curly hair in front of Stop The Shop is his wife Ruth.

A wonderful find.
Were there other branches of Meenys? I seem to recall a branch in Hampstead selling imported American clothes.

Yes and also one in Kensington (or possibly Knightsbridge).
Mr Craze also had the hairdressers Sweeney's in Beauchamp Place and Todd's in World's End. There was a Sweeney Todds at the top of perrin's walk in Hampstead, right? I guess they were all inter-related. Hopefully he will come and clarify.

I can remember driving through London to pick up the M2 to go down to Brighton, stopping in Chelsea and parking on the King's Rd! A swift pint in The Man In The Moon and away we went.

Now that's travelling in style.
Guess that was pre-meters John? Right into the end of the 80s I drove there every weekend or so, parking on the KIng's Road, in the scrappy car park behind the Great Gear Market or – a favourite this – St Leonard's Terrace/Redesdale Road where I don't remember meters arriving until the latter part of the decade.

Damn, why didn't he swivel round after taking his shot of Antiquarius and get a photo of the other side of the street?

My mum used to manage a burger joint there called The American Haven, which was a cool place to hang out (and the food wasn't bad either).

Great pictures, though, and not at all like the grimy images we normally associate with the Seventies.

I know. They really give the lie to allt hat stuff about London being really boring before 77 etc.

These are fantastic. Its not uncommon to see color photos from the 70's, but what I think is interesting about these is the color & brightness, and the high quality. Also, I guess, its somewhat odd to see such consistently sunny pictures taken in London.

I think that's why it was such an exciting time to be here; every experience was heightened.

Lovely photographs, everywhere looks less congested, or is this an illusion?

No it was that way back then wasn't it?

What surprises me is that they don't look hugely dated. Admittedly this will depend on where you've spent the larger proportion of your life. Inner City or 'Satellite' (yes…got one in haha) and North or South. Other than the vehicles and the lack of friendly locals there isn't a huge amount to indicate their age if you don't regularly venture down to London village to trade some pigs' and goats' milk. You could almost have told me these were taken recently somewhere in the UK and I wouldn't have batted an eyelid (unless they included the front of number 430) 🙂 As you look at The Roebuck image where was 430 by the way? I've probably been down Kings Road but not for at least 20 years and then probably not knowingly realising where I was.

Hi Trip Me Up.
Glad you like them.
430 is back along the road to the left of the pub in the photograph.
In reality,you exited right out of The Roebuck, keeping on the same side of the road walking east past The Man In the Moon and the Emperor Of Wyoming (which would have been 402 or summat – you can see the green awning in the Man In The Moon pic) around the curve in the road (where Johnson's was a few years later) and when it straightens out 430 is the first in the terrace which juts out.

I stumbled upon your site when looking up Gary Craze. I worked with Gary in '68 at Sweeney's, and then moved to Todd's in 1969. It was a great time, and I'm curious as to what happened to Gary.

I left Britain in 1970, and finally ended up in L.A.

It's good to see some old hang-outs from a great era.

Hi Paul,

A friend found your blog about the Kings Road in 1976 and noticed you had several questions about Meenys.

I opened Meenys on the Kings Road in 1972 and sold American adults and children's clothes like Levi's, Converse, Oshkosh, Gant, Topsiders, Bass, just to name a few.

The other branches were located at Draycott Avenue, which was the first Meenys in 1971 and was also a children's hair salon. I then opened on Kensington High Street and Hampstead.

Before Meenys I had Sweenys (opened 1966), a men's hair salon in Beauchamp Place, and Todds (opened 1968) at 478 Kings Road at the World's End.

Your photos of the time are fabulous and spot on.

I hope this answers your questions.

All the best,
Teddy Craze formerly known as Gary Craze

Dear Teddy

Thanks very much for contacting me + for the info.
I was only talking about you last week with Tommy Roberts; in his archive he has the "In Memorium" invite you sent out for one of the salon openings (Todd's).
Would you be up for me running a piece on you + your salons + shops?

Hi Paul,

Sounds good. You can contact me on my personal email and we can arrange how to get in touch.

Say "Hi" to Tommy.

Teddy

Are you the same Gary Craze who worked as manager of 'Austen Gerard' ladies hairdresser in Hampstead Garden Suburb, had a flat at Henlys Corner?

Yes, that was a while back. Teddy

Hi Teddy, I'm doing some research into the King's Road in 1974. Any chance I could email you directly? It's about something that happened in November that year…how could I get in touch with you? Best, Paddy Maguire

Hi Paul, Ive just come across this website whilst thinking about the fashions of the 60's and the Squire Shop in Soho. I was interested in your mention of Tommy Roberts!!! I was always in Mr Freedom in Church Street Kensington. I bought two items of knitwear there, a turquoise sweater with a collar that had egg and peas on the front knitted in, and also a shetland sweater in pink and blue with a collar also, great items that always had strangers asking me where I got them!!! i remember also the shop in WC2, near to Centre point where he sold some great furniture and things. im glad to hear he is still around, I hope he is well, where does he live these days?

Tommy's on the coast Andy; the shop you are thinking of is Practical Styling (succeeded a few years later by Tom-Tom).

Lovelyenpty streets, not so populated!

Hi
Worked for Ted @ meenys as a window dresser an jeff kwintner @ squire shop
That's me outside meenys with green shirt on taken about 76
Still with Christine who managed meenys & worked at todds& grannies
Ted if you read this send us your email lived to catch up

hi ted
dont know if you remeber me i worked with you in 1970 for about 6 years i worked with you denni barry woods dougie at sweeneys sue dennis ect… hoe lifes been good to you just to let you know they were the best working years of my life take of yourself.
Billy

ps.I was a 17 year old boy from the worlds end when you took me on I had nothing thanks to you I went on to own my own salon

Those are amazing pictures, which bring back all kinds of memories for me. Of course, as I was 11 in 1976, the thing that stands out most clearly is probably the Dayville's Ice Cream shop, but still …

Your memory of the weather during the summer of '76 is correct; 1976 was a drought year, with the hottest summer temperatures on record.

After spending 4 and a half weeks in the southern part
of England on July and August 76, (we drove along the coast from Dover
to near Cardiff and staying a week in London where
I took that pics) I can't remember seeing not one smallest little
cloud in England. Everywhere we saw signs which says Do Not wasting water. Cornwall looks pretty brown not green. The garden of Windsor Castle was complete brown. When we were back home end of August I saw on the TV that England is complete under water. It starts raining and raining and raining.

Your photography captures a magical time in London Klaus and have amde for one of the most-visited posts on this blog.

Thanks Paul. I never realized what happened when I loaded up
5 pics from our London visit. Almost immediatly a guy
called Roll The Dice mailed and asked for more. He is using my pics
for now and then compositions. He choosed the exact same
place now, where I did the pics in 76 and put them together
in one pic. He did a lot of them. To me it looks that this London
which I had phographed has completely sunken. Not one shop or café or restaurant has survived. They even killed the Astoria Theatre. It's a shame.

These are fantastic, I grew up on the kings rd from 1971 and spent most of my life there,these really captured it's esscence from that time,brought back some great memories!!

Worked down the Vale in 1974 great days, photos capture the time perfectly, miss them daysxxx

Hey, great photo's I was there from 69-76, lived in Edith Grove, married to David who worked at both Sweenys and Todds with Teddy (Gary) and the gang, we shared with a guy called Peter, who also worked there, he doubled as a roadie to – newcomer – Elton John.
David went to work in Marbella and I stayed on with girl friends. We had a great time, the World's End was magic, spent some happy hours in the Magpie pub. The photo's bought back good memories. Thanks.

I worked at Meenys on High St Ken & King's Rd….(not a high point) in the early 80s. Teddy Craze's daughter used to work there on Saturdays. They were the first people to bring Converse All Stars to London. In 1977, when I was 14, I remember Teddy showing me how to wear them with the new thing… straight legged jeans!

Meenys was also, for a while, in a sort of arcade shop on the corner of King's Road & Sydney St, where now you have Heal's. I think it was called Arcade. One of those fun shops like Great Gear or the Kensington Hyper Market, made up of lots of little shops. It never quite caught on though, there were always empty units.

Fantastic stuff. Nice to see a picture of old Roebuck pub (top pic). Used score my sulphate upstairs by the Pool table. And Sue Catwoman told me to fuck off there.

I was at Chelsea Art School in Manresa Road from '74-'78, so this brings back memories!

Yes there were many delights available in that upstairs room, which wasn't heavily frequented/populated until 1976/7 in my memory, right Mark?
Then suddenly it was packed out, partic on Friday and Saturday nights…

Hi does anyone remember the great gear store , i think it was on kensington high st . My mate and i wouldnoten visit in the summer of 1983 . Inside was full of stalls and shops . At the very back was a hairdressers called sparks . I had my first flat top done there ..Next door was a stall run by the robot duo , called tick and tock . Any info would be great .

I think you mean Tom Salter's Great Gear Market at 85 King's Road Simon – there's a photo here: http://www.paulgormanis.com/?p=1942 and it's mentioned as the venue for the first Kansai Yamamoto show here: http://www.paulgormanis.com/?p=1942
By the 80s it had all sorts of stalls including Rusty Egan DJing behind the wire and the great menswear shop Marx. And there was a BOy outlet there as well around 84. best PG

Hi Paul. Great photos. I lived just off Kings Road in the Fall of 1978. One time early in my stay I was walking home from somewhere east on Kings Road when I ran into a huge commotion: cops were chucking kids into paddy wagons while music blared from a rooftop. Turned out Public Image, Ltd. was playing on the rooftop, and the kids in the streets had gotten a little overexcited.

God, I was just a kid myself, and I loved Chelsea.

Anyway, a question for you and your readers: does anyone remember a hostel at the time called "the Bakehouse"? It was maybe a block north of the Easternish end of Kings Road, a completely undistinguished, not to say dilapidated, structure that nevertheless was home to many an otherwise homeless not-exactly-waif. It's long gone, but I thought perhaps I could find out something about it on the internet. Nothing. Well, at least the search led me here. Again, great stuff. Thanks.

Hi John

Great story.

Around that time I used to walk from where I lived across Cromwell Road through Earl's Court to the KR in the areas you are talking about (Fulham Road/Finborough Road/Hortensia Road/Edith Terrace?) but have no memories of The Bakehouse. Anybody?

That's the area, all right. Well, since this thread is three years old and still active, maybe somebody will turn up who remembers, or even stayed there. Thanks, Paul.

Hi Paul, a couple of years ago I commented on Teddy (Gary) Craze's two hair salons and that I worked there back in the day (1968/9). I wonder if Teddy would be kind enough to respond to a request I have. Granted, he probably doesn't remember me, but I have fond memories of Sweeny's and Todd's — not to mention Sophie and Tripper (their dog), and of course, Teddy himself. He had a huge influence on me and was a mentor of sorts to a young 17-year-old. I can honestly say that Teddy is one person I've never forgotten. So many wonderful memories, and very generous to this (at the time) young man.

My request has to do with a photo shoot we did for a German magazine (either Stern or Der Spiegel). I have tried to find this online, but never had any luck. Any referrals would be very much appreciated.

Thanks.

Hi Stephen

Will pass on yr message to Gary. Best, P.

Thanks, Paul.

Hi, this is to John, I used to live temporarily at the bakehouse, it was half homeless hostel, also backpacker accomodation and also a halfway house for ex cons, junkies etc….I lived there around 1979/80 and vaguely recall it being somewhere nr the man in the moon pub in a road leading down towards the river, definitely one of those roads before you reached the worlds end/ cremorne estate.

I recall a couple working there called Tom and Sue Kepple and my friends dave and christine who both worked at the man in the moon pub, bizarely an Mp had rooms there

Carol – i think the bakehouse was at 497 kings road, almost at the junction with Ashburnham road.. there were two houses knocked into one…. I was born and grew up in that area of chelsea, and remember going to a new years eve party at the "bakehouse"..

Great to see the Roebuck brings back memories of the people the old couple that lived behind the door on the landing upstairs, aide, frenchie, kier, angel, jim and the bikers I would just stand at the top of the stairs popping blues staring at everything like watching a movie

my dad worked in the man in the moon late 60s early 70s tony rip owner was chris I think any one remember them

Hey I am a 43 year old chelsea resident
My mum just died does anyone remember her Jeannie tipi used to live "the sinking tower" Moravian corner above the water rat pub for years!
Just curious
What's up
Tamara
X

Hi there!

I´ve read that Bernard Rhodes sort of started the whole punk-movement and that Kings Road and especially the Roebuck pub was an important meeting place during that time. When I and a pal was going back from a drinking tour in Spain – just saying hellow to the apes on the Gibbs – to Stockholm by train in ´86, we were chatting to a guy who was a paratrooper and was going home to London and he said – speaking about punk – that he remembered seeing a guy with green hair on King´s Road in ´75. I wonder who that was… Could it have been Sir (sorry) John Lydon?

Regards, Valiant Dunkeldaeld, Sweden.

Hi just found your website and memories flooded back from my first visit to London from Canada and arriving at the Bakehouse hostel on Millman's Street (off the King's Road). What an eye opener! We settled into our hostel environment which was near Cheyne Walk in early 1978/79. I worked at the Man in the Moon Pub and my girlfriend worked at King's Arms (which is no longer there). The milkman used to tell us where the celebrities lived – Jack Nicolson was filming in London and lived next door on the Embankment. We tried to crash one of his parties but chickened out at the last minute – security guards who invited us in but we felt a little underdressed in our jeans! The Rolling Stones also had an apartment at Cheyne Walk although we never spotted them. It was such an exciting time for music and travel. A pub on every corner – how they survived I don't know! If anyone has any information on the Bakehouse that would be great. I visited the area a couple of years ago and none of those pubs survived – such a shame. Regards Colleen Holliday, Australia

Hi Carol and John. I was also a backpacker at the Bakehouse aka "Home for the Homeless" in the fall of 79/80. I was one of a large number of Canadians there at the time. I worked at the King Arms Pub. I met lifelong friends while living there. Loved Chelsea and the vib. Carol, are you American? I remember a group of you. Someone named Neil?

I know quite a bit about "The Bakehouse" in Milman Street

Wow pictures tell a story, pub crawls hand and flower, man in the moon ,drug store and Chelsea birds nest on the pull if not up all night for a burger ,posh if you had a thousand islands dressing with relish. Great times loads of friends barneys soon resolved happiest days of my life

Hello–I visited the King's Road in 1984, 1986 and 1987 and had a wonderful time. I am from the U.S. I had a couple of acquaintances at that time who worked somewhere called the Common Market. I think the address was 121 King's Road. Is this possibly the same place as the Great Gear market? It had a sign that arched over the place much the same as the one in the photo.

I also remember BOY very well, and Ad Hoc was next to the Worlds End shop. Now I understand Ad Hoc is in BOY's old location.

My mum bought stuff for me at Meeny's. Did you also sell varsity jackets, craze ? I had oshkosh dungarees, converse sneakers, varsity jacket …

Found a great picture of John from the Walker Brothers having his hair done by (Gary) Craze at Sweenys 1967…

the chelsea drug store became a macdonalds..wouldn t you know it. not one music related shop down the kings road anymore. i loved rock dreams for records.

My father was Richard "Rikki" Foster. At age 26, he passed away just 2 months before my birth in 1979. My mum always told me about him working as a stylist in Chelsea at one of your salons. Please if anyone remembers him I would love to find out more. Thank you.

Great memories and photos. Does anyone remember Anschel? Almost opposite Chelsea Kitchen. We bought my wedding ring and engagement ring from this lovely shop. Know that the owner used to give Art students an outlet for their designs. Didn't think at the time to ask the name of the individual designer of my rings……would love to find out. Purchased in Nov 1975.

I have fond memories as an electrical apprentice many years ago.We were upgrading the electrics in the Chelsea antique market.There were many stalls vendors & artists.It was a a great place.Out on the verrander I would drink coffee.The tables were old sewing machine treadle tables very chic.Great atmosphere loved going to work.The installation ran for about 3 months.

All this talk of the Kings Road and no mention of the Trafalgar pub

I mentioned it in a piece I wrote about the early 70s – had a stripper at lunchtime, right?

I worked during the1970s for the kwintner and Simons group although john Simons had departed by then.started in Thackeray's then managed cassidy.got married in the old building in kings road..got some great photos of the wedding. Still together with my darling wife Sue.two daughters three grand children..I remember great people working in the road..the village gate also the squire shop..great times..later managed quincy..happy days….love and peace.kc

Ken
I use to work with robert reed and steve doing the windows for cassidy, VG, thackerays, squire shop,then worked for phillip at woodhouse ,do you ever run into anyone ? great times !

Hi John – thanks for your comment – I see Richard Young every so often and have bumped into Philip a couple of times over the last year (we have mutual friends). He continues to thrive with a shop in the East End – shall pass on your best to him next time I see him. PG

Jenny tidman….I too bought a wedding ring from Anchel,still have it.A three coloured gold Russian wedding ring.
Love the picture of Downtown in 1976.I was the general manager there ,another two branches in Oxford St and one in high St Ken.Our office was above the shop.
Also met my second husband during this period…he had Rock Dreams record shops,also in Kings Road.Happy days

Hi, I've been reading all your stories around tjhe Kings Road, I also worked for Jeff Kwintner in the 1970"s at Cassidy, he was probably the best guy I ever worked for, A cool dude. Great times!

Hello,
I started to live in the Bakehouse hostel when Tent City closed. It was 1979-1980. It was very nice, young men and women from many countries, Chile, Italy, Ireland, France, Israel … Happy, happy days

Its been a while since I have made a comment on your website.I have been trying to find a couple of good friends I used to work with at the Thackeray's and village gate shops in the k road during the 1970s..Peter Farrel. And Robert Masters.if anyone knows them it would be great catch up..message for John Bishop..I do remember you and Rob Read.I think he moved to Canada.and I think a guy called Kevin..great memories of those days..thanks Paul for keeping us alive.anyone knows me be great to catchup.sueandkencreed@hotmail.co.uk TAKE CARE ALL.

Super pictures! From 1974 I was at Central School of Art (in Holborn… now part of Central St Martin's but we don't talk about that…) and walked down the Kings Road every day to catch the tube at Sloane Square. Many memories brought back – thank you!

Does anyone remember the frock exchange in Kings Road I bought my dresses there in 1974 was living in Fulham and used to walk up there and shop great memories and the denim shop can't remember the name

Can anyone remember the name of that trendy shop on the corner of Fulham Rd opposite the Queens Elm that sold small decorative items such as Perspex cigarette boxes ? It began with 'Z' I think.

Name of the shop was Zarach, 110 Fulham Road, SW3.
[pinterest]