Audacious early 70s Hipgnosis fashion shoots for Club International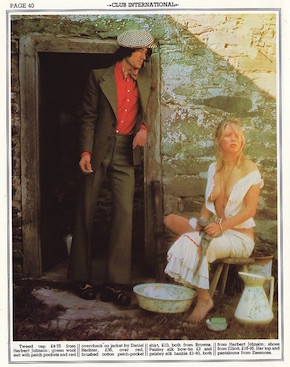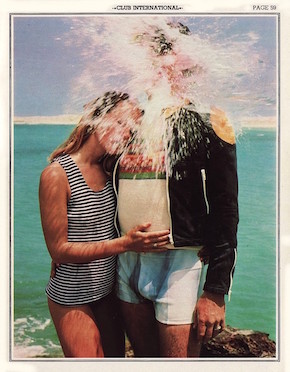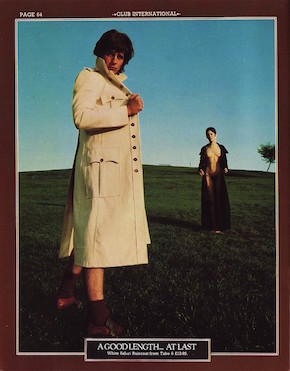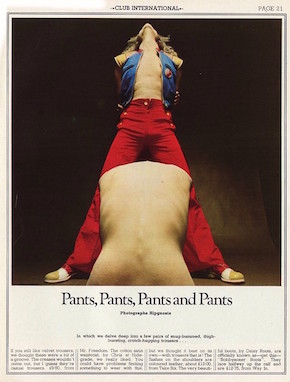 When innovatory British men's magazine Club International was launched in 1972, editor Tony Power and art director Steve Ridgeway assembled a diverse pool of contributors, including jazzer, art critic and cultural commentator George Melly, the Stately Homo Quentin Crisp, Rocky Horror Show founder Richard O'Brien, former White Panther Mick Farren, photographers David Parkinson, Mick Rock and Karl Stoecker, illustrators Bush Hollyhead and Brian Grimwood and the design studio Hipgnosis.
Best known for its heavyweight music designs, Hipgnosis, led by Aubrey "Po" Powell and the late Storm Thorgesen, was tasked by Ridgeway with providing a series of audacious fashion stories over the course of the first run of issues.
Because I have featured a couple of images from the Hipgnosis shoots here as part of my research into Club International's fashion editor David Parkinson, I was recently contacted by Stian Brekke of hipgnosiscovers.com, and talked him through the CI issues in which the studio's work appeared.
Brekke has scanned and posted the Hipgnosis fashion shoots here.  In a couple of instances there are also pointers to where art direction ideas were later used in designs for musical projects.
Enjoy.
[pinterest]