Was it The Fool or Alexander Trocchi? The mystery of Warhol Waking at Kensington Town Hall in May 1971
Graphic artist, musician, fashion and interiors designer and all-round all-rounder Ian Harris has granted me access to more items from his amazing archive; this is in the intriguing category –  a flyer for a most unusual art project he visited in the early 1970s.
Warhol Waking was staged over one day in the foyer of Kensington Town Hall in west London in the spring of 1971. This tumultuous period of creative experimentation in public and private spaces was later described as representing either "the immense variety and talent of the London arts scene or its condition of cultural confusion" by artist and art historian John A. Walker.
The installation/intervention proved challenging for visitors: it comprised a typical domestic bed with sheets and blanket drawn back to reveal excrement juxtaposed with a towering orchid which drooped as the day passed and flies gathered.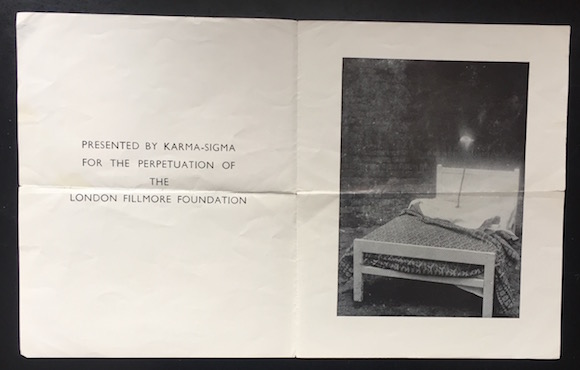 Was this meant to represent the American Pop artist as well as a commentary on his five-hour filmwork Sleep or even his masturbatory tendencies?
Harris doesn't know for sure; the only information was provided by the flyer's statement: "Presented by Karma-Sigma for the perpetuation of the London Fillmore Foundation".
Says Harris: "There was no explanation, nothing. I had – and have – no idea who was behind it."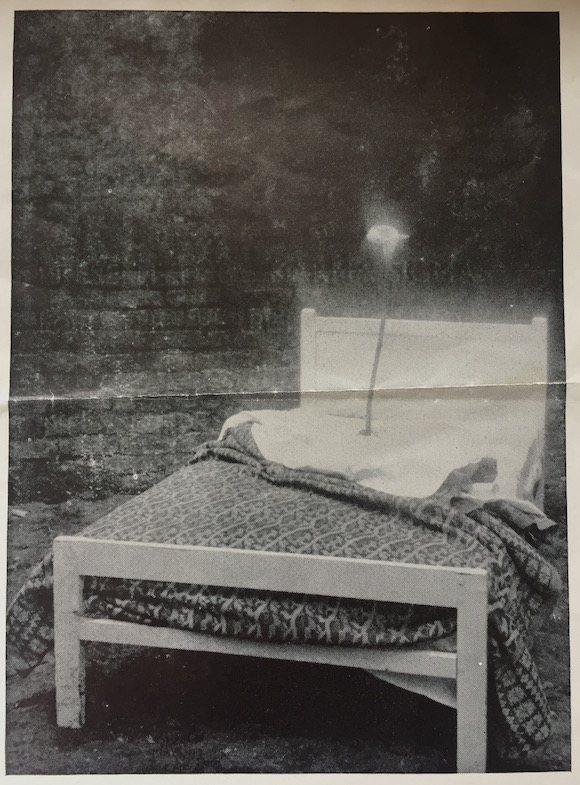 A few years earlier, Karma-Sigma – named after a US college fraternity house – had sprung from Karma, the head-shop/boutique established in Gosfield Street, Fitzrovia, by Simon Posthuma and Marijke Koger of the Beatles-sponsored Dutch art collective The Fool.
According to a 1967 issue of Studio International, Karma-Sigma set up the "shop, puppet theatre and and clubroom" in Gosfield Street as well as a gallery and showroom in Stratford Place (in central London, not far from The Fool-decorated Apple Boutique), a studio/workshop in Maida Vale and an arts centre in Cheshire.
Karma-Sigma also staged performances on bills with such groups as Pink Floyd and the beat writer Alexander Trocchi.
I can't find links to Trocchi's Project Sigma but expect he crossed paths with Kroger and Posthuma. It's worth noting that when Warhol Waking was staged, Trocchi had been living in Kensington for several years.
I wonder whether Warhol Waking was a later work of the Kroger/Posthuma-related collective, though the content does not click with The Fool's hippie tendencies, as displayed in this film of them action painting the following year:

The London Fillmore Foundation rings a vague bell with me. Anyone out there have any more info on that body, Waking Warhol and Karma-Sigma in the 70s? Speculation and theories are also welcome.
Meantime, I'll be dipping back into Harris's archive over the next few weeks.
Read about Project Sigma here.
Buy John Walker's indispensable Left Shift: Radical Art In 1970s Britain here.
One Response to "Was it The Fool or Alexander Trocchi? The mystery of Warhol Waking at Kensington Town Hall in May 1971"
The plot thickens Paul…it's a real chin scratcher and you would make a great detective!
[pinterest]