Champs, chumps + charlatans: No time like the present for John Claridge's Soho Faces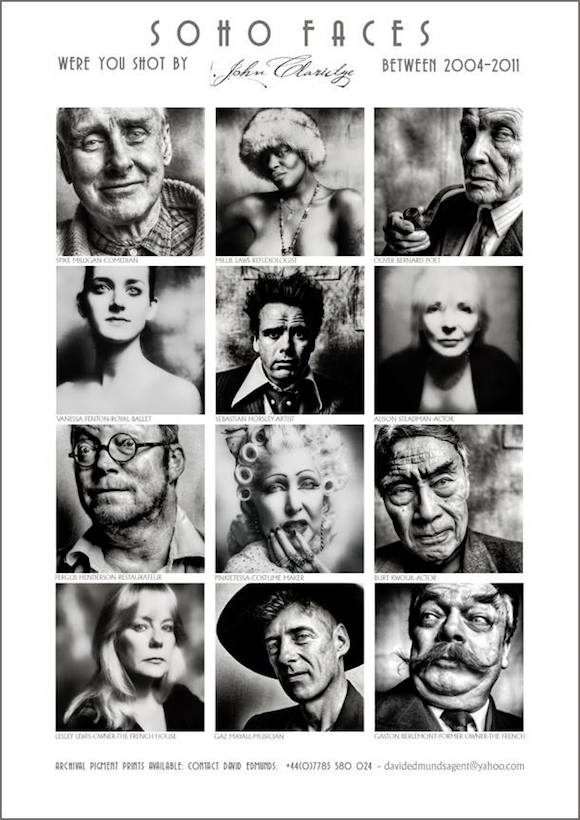 "I started taking portraits of people at The French House in the 70s when I took a picture of Gaston Berlemont. Then, while taking Spike Milligan's portrait, we got to talking about Soho. At the time, I was living in Frith St, so Ronnie Scott's and The French were both very familiar to us and, even then, both of us voiced our sadness at changes we saw – lovely delicatessens, independent restaurants and specialists shops closing down, all of which had been there for years.
"In 2004, I decided to document the customers at The French in earnest. For me, it was the one place in Soho that still held its Bohemian character, where people truly chose to share time and conversation, and I became aware that many I had once chinked glasses with were no longer around.
"These portraits of the regulars are a cross-section of those who sat for me, but there is no rhyme or reason to my selection."
John Claridge, 2017
There is no time like the present for a project documenting the champs, chumps and charlatans* who have imbued Soho with its gamey character over the decades; dreaded "gentrification" in the form of drastic changes being wrought by property developers is steadily defanging the central London area.
As he explains above, Dean Street pub The French was chosen by photographer John Claridge as the base for a rolling portraiture exercise which has become a record of this disappearing world.
I am among Claridge's subjects; he took my photograph in a room at the top of a teetering staircase above The French on a Saturday afternoon a dozen or so years ago. Claridge is currently looking to identify other such lesser knowns who sat for him between 2004 and 2011.
While by no means "a Soho character" myself, I have frequented the area and its watering holes since working north of Oxford Street in 1976, when one of my brothers toiled at offices in Broadwick Street and the others haunted such places as The Coach & Horses (beyond a couple of restaurants, the only Soho venue I attend with any regularity these days).
With the aid of Soho flaneur and subject David Edmunds, Claridge is seeking funding for a Soho Faces book. Benefactors and supporters can contact Edmunds here.
Read more about Soho Faces here.
Find out more about The French here.
The Coach & Horses has an excellent vegetarian menu. Visit its Facebook page here.
For an idea of the scale of the depressingly high-end development of the neighbourhood check out the Soho Estates site – which details a 350,000 sq ft mixed usage project linking Greek Street to Charing Cross Road with a "walkway of restaurants and shops" – here and also Soho Ltd's residential schemes here.
• Thanks to Charles Shaar Murray, who coined this collective description in another context in the intro to my book In Their Own Write.
[pinterest]