Jasper: Memories of the London fashion label and a Barney Bubbles connection
I've dug into collector and graphic artist Ian Harris's rich archive again and turned up a brace of t-shirts he designed in the late 70s for Jasper, the eponymous London-based fashion label operated by entrepreneur Jasper Hamilton Holmes from showrooms in central London.
Harris reveals that the entrance to the space at 78 Chiltern Street was decorated with a mural by none other than the late graphics genius Barney Bubbles, who was of course better known for his association with music via designs for a host of artists from Hawkwind, Ian Dury and The Damned to Elvis Costello and Nick Lowe. Harris recalls a cricket match between a Jasper team and representatives from Stiff Records, where Bubbles had been art director and was at that time still a contributor.
"That must have been the connection to Barney painting the mural," says Harris. "I remember the cricket match was fun but I was disappointed that Elvis and Nick weren't on the Stiff team; of course they'd long since flown the coop."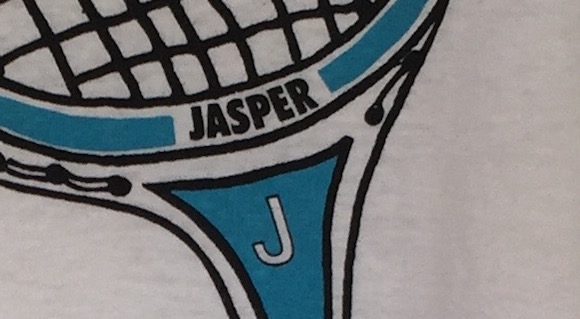 Jasper was set up by Hamilton Holmes after his involvement in the Stirling Cooper business operated out of an exotic boutique at 26 Wigmore Street in the West End; customers entered via a doorway fashioned as a dragon's mouth. Among the prominent designers who worked at Ronnie Stirling and Geoff Cooper's company were Jane Whiteside and Antony Price, famous for his collaborations with Roxy Music and in particular their leader Bryan Ferry.
Jasper Menswear wholesaled through various leading retailers and is also notable for having been an outlet for the talents of designer Georgina Godley, who went on to cut a swathe through the fashion world with her influential and experimental work at Brown's and in particular Crolla.
Holmes opted out of fashion after a few years and the premises then became the headquarters of the burgeoning Whistles empire. Harris remembers Jasper and its owner fondly: "It was a great little brand and he was always an interesting fellow."
2 Responses to "Jasper: Memories of the London fashion label and a Barney Bubbles connection"
Jasper was a very interesting character who left the London fashion world in 1980 to open a wine bar in the West Country. He wanted me to be the manager but I wasn't ready to leave the smoke! Thankyou Paul.

I have 2 more t shirts that jasper gave me New balls please and deckchair wiith sign Jasper.
We ran wine business in Wiltshire for many years and now retired but have not forgotten the 70s
[pinterest]