The Oui connection: Michael J. Pollard, Uschi Obermaier, Granny Takes A Trip + Greasy Truckers Live At Dingwalls Dancehall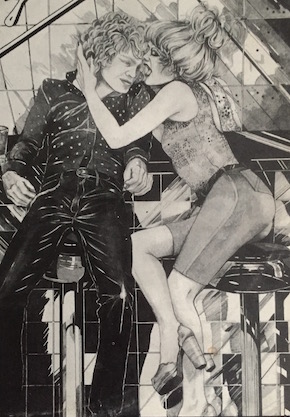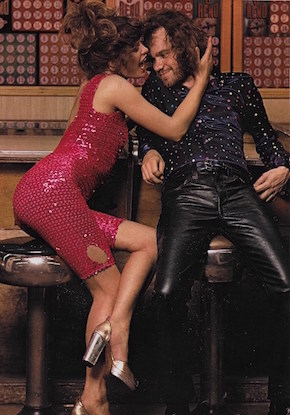 //Left: detail, outer gatefold illustration by Holly Hollington, Greasy Truckers At Dingwalls Dancehall, Greasy Truckers Records, 1973; right: Uschi Obermaier and Michael J. Pollard, Oui, October 1973. Photo: Chris von Wangenheim//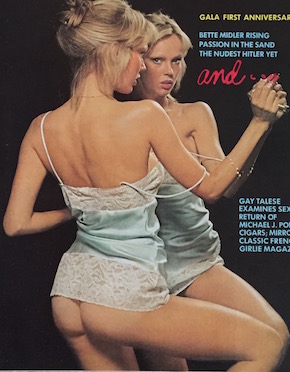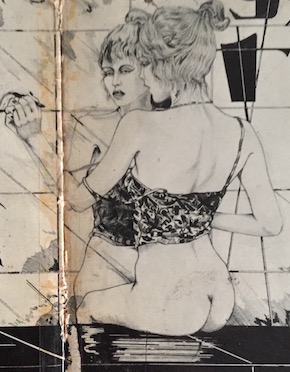 //Left: Detail, uncredited cover photo, Oui, Oct 1973. Art director: Don Menell; right: detail; Greasy Truckers sleeve//
Recently I obtained a pristine copy of the October 1973 issue of American men's magazine Oui, which contains a Chris von Wangenheim fashion shoot featuring actors Michael J. Pollard and Uschi Obermaier .
I'd seen clipped pages from the shoot before, in the scrapbook which belonged to the late Freddie Hornik, the owner of Granny Takes A Trip who made the Kings Road boutique's mark in the US with outlets in New York and Los Angeles in the early 1970s.
For the fashion spreads Obermaier and Pollard wore Granny's own-brand designs as well as labels sold through Hornik's outlet – including Terry de Havilland – and clothing from fabric specialist Jan Girard,  LA's The Leatherman and The Pleasure Chest and shirts by the US company Jizz.
And I've been particularly struck by the similarity in Pollard and Obermaier's Oui pose in a full bleed portrait by Chris von Wangenheim to that of a couple in the gatefold drawing on the cover of the 1974 British double live LP Greasy Truckers At Dingwalls Dancehall.
It's clear illustrator Holly Hollington – whose credits include fashion drawings for Vogue and Tatler in the 80s – cleverly incorporated this rendition into the Greasy Truckers cover, as well as a simulation of the unnamed cover star from this particular issue of Oui, using the lipstick-on-mirrored glass effect to deliver the band names.
I have long loved Hollington's drawing, having purchased the record on release. This, the second Greasy Truckers album, featured four groups, some of whom were recorded in performance at the north London venue on a night in the same month of Oui's publication, October 1973. By the time I bought it I had seen them all live and while my interest in their music wavered, the sleeve continues to intrigue me.
Perhaps that's because Hollington's decadent depiction of Dingwalls denizens was far more glam and sexier than the early 70s north London reality. I knew that much, since I lived and went to school just a couple of miles away from Dingwalls. However, when I finally gained access to the Regent Canal-side premises a couple of years later I was nevertheless impressed by the American style bar-restaurant-venue, particularly its late licence…
See some of Holly Hollington's other music credits here.
Uschi Obermaier is these days a California-based jewellery designer, having been a darling of the left as the face of the German student revolts of 1968, a member of Amon Düül, paramour of  Keith Richards and an electrifying film actress. Her 2007 memoir was the basis for the biopic Eight Miles High. She gave an interview to Süddeutsche Zeitung last summer – see here.
Michael J. Pollard lives in Los Angeles. Here he talks about playing CW Moss in Arthur Penn's Bonnie & Clyde.
Chris von Wangenheim died in a car crash at the age of 39 in 1982. A retrospective of his work, Gloss, was published in 2015. Copies are available here.
[pinterest]