Print! Tearing It Up: My exhibition on the power of independent magazines at Somerset House this summer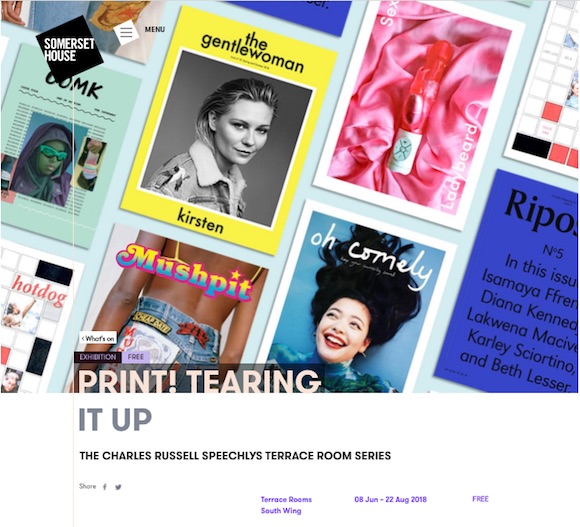 This summer I am staging PRINT! Tearing It Up, an exhibition at central London's Somerset House which investigates and celebrates the power of independently produced British magazines and journals.
I'm working with Somerset House senior curator Claire Catterall on PRINT!, which traces the lineage back to such forebears as BLAST, the Vorticist journal produced in June 1914, the pacifist Peace News and satirical Private Eye (first published in the 1960s and still Britain's best-selling current affairs magazine).
We're also looking at the underground press of the 60s and 70s out of which came such seminal titles as Spare Rib, Time Out and Gay News, the 80s and 90s lifestyle phenomenon of such publications as The Face, i-D and Sleazenation and the D.I.Y zines created by teenage feminist collectives into the new millennium.
But the emphasis of PRINT! is firmly on the contemporary, showing how today's booming indie mags address such issues as diversity, gender, sexuality, tolerance and media manipulation, from Gal-dem, Mushpit and THIIRD to Hotdog, Orlando, Homesick and The Gentlewoman.
PRINT! examines today's publishing pioneers, gauges the demand for print in the digital era and envisages the future of independence.
There will be a host of activities and events accompanying PRINT! over the summer; will update as soon as scheduling is complete.
PRINT! Tearing It Up runs from June 8 to August 22, 2018. More details here.
[pinterest]