Bowie Boys by Tommy Roberts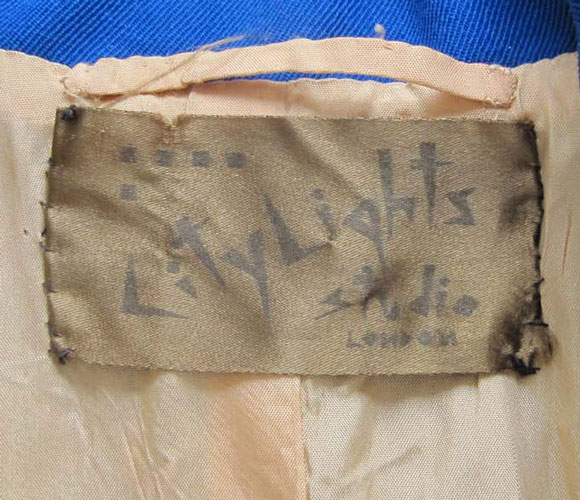 I am currently working with Tommy Roberts on a book about his life and career in fashion. Tommy has been assembling a selection of anecdotes and stories which will feature as occasional tasters here over the coming months.

This reminiscence stems from the period in the early 70s when Tommy operated City Lights Studio. Situated at 54 Shorts Gardens WC2 with a darkly glamorous interior design realised by Electric Colour Company's Andrew Greaves + Jeffrey Pine, City Lights was the first fashion store in London's Covent Garden, the neighbourhood then dominated by the capital's fruit and veg market.

City Lights Studio, which came into being at the end of 1972, was a fashion emporium I created in tandem with Willy Daly, a colleague and friend since we had worked together at Mr Freedom.
City Lights was situated in an imposing high-ceilinged loft atop a building in Covent Garden. Our studio designed, wholesaled and retailed an extremely stylish and tasty array of men's and women's wear, shoes, hats, jewellery and other fashion accessories.
For this story I'm concentrating on the menswear.
Willy discovered Derek Morton, an ex-Royal College Of Art student who designed a range of men's clothes for us which was absolutely spot-on due to Derek's innate feeling for what was right in terms of shape, fit and cut. Later, I believe, Derek worked with Paul Smith for many years.
By late 1972 Roxy Music had made the charts and David Bowie had taken off into mega-stardom. They were customers.
Sporting our wide-lapel blouson jackets, Kandinsky print shirts and glitter fabric creepers in concert, Andy Mackay and Phil Manzanera were regular punters, as was Bryan Ferry, though to a lesser extent since Antony Price designed his stage gear. Brian Eno was hardly ever at City Lights as, at the time, he was a committed satin cat-suit and platform boots man.
David Bowie's fire-cracker wife Angela would breeze into City Lights at least once a week and gather up a selection of dresses, tops, hats, gloves and shoes for herself and pick out a selection of suits, jackets and trousers for her husband.
She had a sharp eye for what would look good on a rock star and items that didn't were returned the following week.
As word percolated out a new breed of clientele appeared at the loft on Saturday mornings: fanatical male followers of Roxy, Bowie and clothes. I knew they were keen; locating City Lights was no easy task since we were in a side street in a building which had done previous service as banana storeroom.
The entrance was so obscure that Francoise, a Juno-esque French lady who worked for us, would put on her cartwheel hat  on a Saturday morning, stand in the middle of Shorts Gardens and, waving like a traffic policeman, direct smart lads clutching A-Zs up the stairs.
My pal Malcolm McLaren at Let It Rock in World's End, Chelsea, became so irritated at being asked for the address of City Lights he began charging ten bob before he gave out the info.
These young fellows had good jobs as carpet-fitters, electrician's mates and such like, which meant they didn't turn a hair at splashing out fifty quid on clothes to wear at the next Bowie concert.
When a photograph of David Bowie wearing one of our square=shouldered, chest-hugging, tailored linen suits appeared in a newspaper, the half dozen left in stock were sold by the following Saturday. And this was repeated when David bought  one of our snappy close-fitting, slash-pocketed bolero jackets. I must confess, whenever I was asked , "Has Bowie bought one of these?", I would look up at the ceiling for a nano second and say, "Yes".
But I don't want ayone to get the wrong impression. Selling to these guys was no walkover. The fit had to be just right. Purchasing a pair of pale peach-coloured pleated trousers was a serious business. Detailed alterations to the length and waist had to be undertaken, pleats had to hang right, then a final contemplation in front of the fitting room mirror before money was handed over.
To us in the loft in Covent Garden they were always known as the Bowie Boys, producing a buzz in the studio on a Saturday when they came round to see if any fresh gear had been put on the racks.
Mister Freedom, Dover, Kent, 13-2-11.
Thanks to Lloyd Johnson for the photograph of the City Lights Studio label.
14 Responses to "Bowie Boys by Tommy Roberts"
Fabulous to read the inside story on one of my favourite shops. I remember visiting and marvelling at not only the merchandise, but the shop as well. Once again Tommy, you were way ahead of the times!

Thanks Ian

I just spoke to Derek Morton, who confirmed that he designed the clothes worn by Bowie. A really nice unassuming guy. Am going to be interviewing him for the book. Also confirmed participation by other very tasty individuals.

Thankyou Paul, looking forward to this long overdue book on Tommy, a National Treasure!!

I use to go to City Lights and bought the same suit as Bowie but it was done in a pale green colour. In addition I bought a suit which was dark blue and white fleck and on a Monday night at the Lyceum they had "Great Gatsby" competition and I won first prize. Tommy was a genius!..

Chris

[…] Logan – wife of sculptor Peter, mother of fashion illustrator Blue and sister-in-law of AMW host & hostess Andrew – is wearing a satin bathing suit with one of her own hats (from Logan's Chiltern Street shop) and sandals from Tommy Roberts' Covent Garden boutique City Lights Studio. […]

[…] A thoroughly nice chap, Morton is also self-deprecating and reserved, as I discovered when I interviewed him recently for the Tommy Roberts book (he designed menswear for Roberts' extraordinary Covent Garden outlet City Lights Studio). […]

Circa 1972/73, I purchased from City Lights Studio during the Bowie era. I had begged to buy a one-off jacket that had not been finished, as in no lining! It was a dinner jacket shape, half black, half white with contrasting lapels. Very androgynous for the time! So unique and wowed the London underground club scene I frequented. Many friends went to shop there also. Alas, that unique piece has had its day, otherwise I would contribute it to the V&A! Very worthy! I wore it with shocking pink leggings (Angie Bowie style) and Terry De Havilland, 6″ Glitter platforms! Those were the dayz, my friend!

They certainly were. Thanks for contributing. Any photos?

At the time I worked at a small Tailoring factory in Shoreditch and actually cut those Bowie short DB jackets.

You did Alan? To Derek's pattern?

Newly arrived in London from up North, I remember being taken to City Lights by Willy Daly.
I have never forgotten it.
Does anyone know if/how I can contact him?

I was of similar physique to Bowie in 73 and loved Tommy's city lights style in clothes. I bought a beige coloured double breasted suit, some greenish linen trousers and a greenish camel hair coat which I wore all the time.
Recently saw the Bowie/V&A show in Tokyo and disappointed that city lights doesn't get a mention regarding attire.
Various other designers get all the publicity yet I believe that either Tommy or his designer deserves more credit.
I am now 69 and hoping to remain alive longer than Bowie.

Great to hear from you Chris. Keep on keeping on. I too was disappointed that City Lights didn't get the credit it deserved, particularly in enabling Bowie to make a move in a new stylistic direction enabled by Freddie Buretti. Buit then I didn't much enjoy the show and found the curation to be wanting…

[…] Logan – wife of sculptor Peter, mother of fashion illustrator Blue and sister-in-law of AMW host & hostess Andrew – is wearing a satin bathing suit with one of her own hats (from Logan's Chiltern Street shop) and sandals from Tommy Roberts' Covent Garden boutique City Lights Studio. […]
[pinterest]