Roots of the Cowboys t-shirt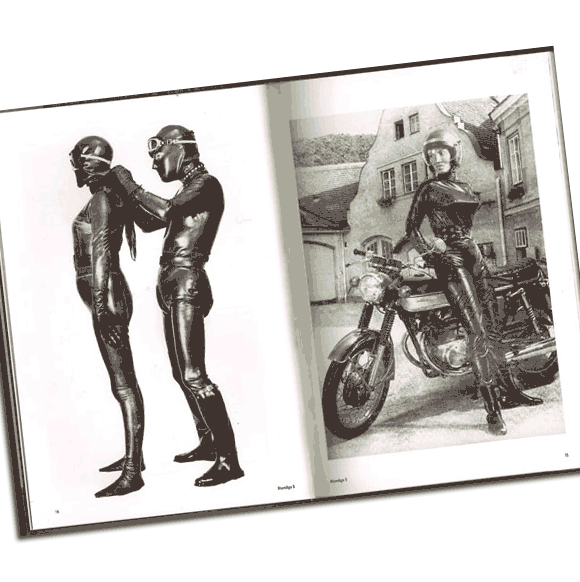 The late Malcolm McLaren said he could never remember the origins of one of the most potent designs to emanate from 430 King's Road in its six-decade history as a fashion emporium: the Cowboys t-shirt.
This depicts two behatted cowpokes in profile, naked from the waist down except for their boots, genitalia almost touching, one fixing the other's neckerchief and engaging in the following exchange:
Bill: "ello Joe been anywhere lately"
Joe: "Nah its all played aht Bill Gettin too straight"
From the first appearance in SEX – when it sparked a prosecution for obscene exhibition in August 1975 – the shirt has achieved punk ubiquity via Vivienne Westwood's £90 extrapolations and the market in £9 repro knock-offs.
Now I believe I have uncovered at least some of the roots of this striking act of collage, buried deep in fetish literature, radical philosophy and Swinging London imagery.
A year or so before his death, McLaren told me: "I can never remember where this image came from. I didn't draw it, but added the word 'dance' in the background and the little caption which talked about the frustration and boredom I felt at the time."
Some have posited that the cowboys came from a Tom Of Finland illustration, yet they are not the artist's style, as McLaren confirmed: "No they weren't his. I didn't even know of the existence of Tom Of Finland at that time. I don't think anybody really did unless you were deeply in gay culture."
On the publication of Dressing For Pleasure, Johnny Trunk's tribute to the fetish-wear and published material produced by John Sutcliffe in the 70s, I was struck by the similarity in the stance of a couple in a tableau which appeared in issue 6 of Sutcliffe's magazine AtomAge (issued summer 1974).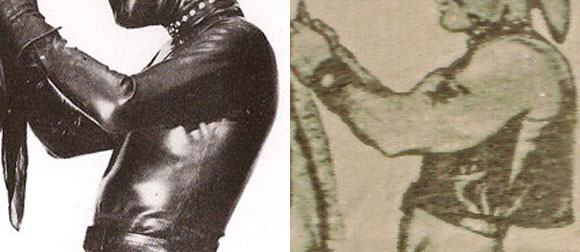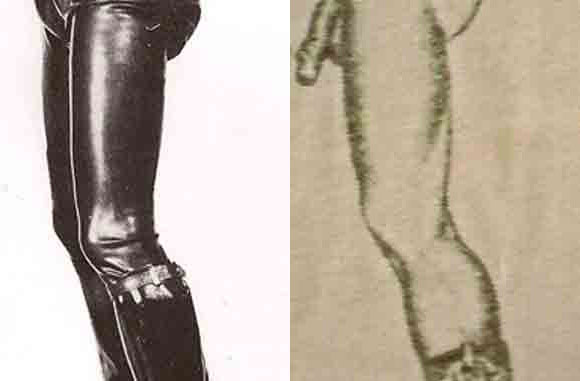 The line of the male's left flank, the bend in his knee, the curve in his posture and the splayed legs and straight back of the female resemble those of McLaren's cowboys.
Of course, by the time of the t-shirt's emergence, McLaren was well acquainted with Sutcliffe and his activities. Copies of the AtomAge magazine were scattered around SEX, and the store sold AtomAge clothes; Chrissie Hynde wore a black + red rubber number during the infamous Forum shoot.
And McLaren, SEX assistant Jordan and friend Helen Wellington Lloyd appeared in the documentary about Sutcliffe and his associates from which Trunk's book obtained its name.
It wouldn't have taken much for the former art student McLaren to collage a fresh image by horizontally flipping the Atomage 6 female, tracing around the outlines of the couple and embellishing them with Wild West paraphernalia (and male genitalia).
The cowboys' heads look to have been added from other sources; "Bill"'s (on the left) appears to be too small for his body, while the that of "Joe" was, I believe, taken from a 1968 portrait of actor Michael J. Pollard reading a copy of underground mag IT outside the London boutique Granny Takes A Trip.
Pollard's head appears to have been screened and tilted, while his snub-nosed profile and hairline look to have been elaborated to provide Joe's cartoonish features.
The angle of Pollard's right arm, hooked to the side with hand clutching sunglasses, is mirrored by Bill's hand grasping his gun belt.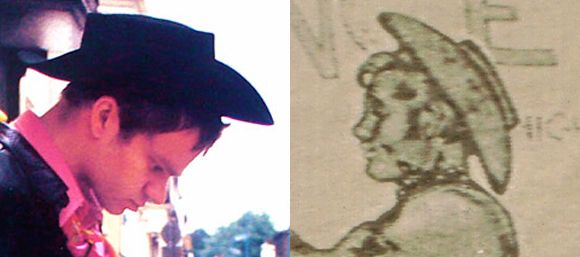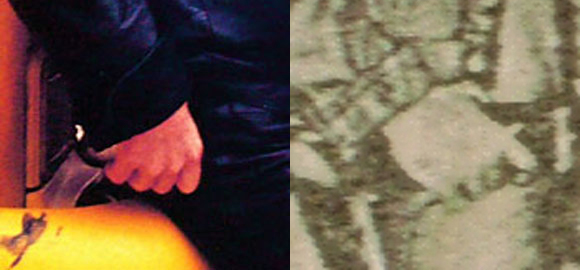 Did McLaren craftily take a scalpel to this photograph from the heyday of Granny's  – which was despised by the SEX set – and incorporate elements in the screen-print to further load the image?
There is, however, a more clear-cut connection between McLaren's "little caption" on the Cowboys shirt and a panel in Le Retour de la Colonne Durutti , a four-page Situationist "comic" circulated by André Bertrand at Strasbourg University in October 1966 *.
In this Bertrand imposed speech bubbles (using dialogue from a novel by the Situationist International's Michelle Bernstein) on a photograph of two cowboys on horseback:
Cowboy A: "What's your scene, man?"
Cowboy B: "Realisation"
Cowboy A: "Yeah? I guess that means pretty hard work with big books and piles of paper on a big table."
Cowboy B: "Nope. I drift. Mostly I just drift."
Using détournement (the juxtaposition of pre-existing elements), Bertrand highlighted the SI themes the dérive (the drift, where individuals allow themselves to wander urban landscapes and are either repelled or enchanted by what they find) and realisation (SI's chief theorist Guy Debord believed art should be "realised" so that creative acts become part of daily life).
McLaren said of Situationism: "You have to take the notion into your heart and redesign it accordingly with your soul."

The Cowboys shirt marks not only McLaren's alignment with the SI aim of challenging the passivity and doubt of everyday life with acts of playful affirmation, but also a triumph in the delivery of a powerful artistic statement via provocative design.

* This connection was explored by Tom Vague + Derek Harris in King Mob Echo: From 1780 Gordon Riots  To Situationists Sex Pistols + Beyond (Dark Star 2000).
The Michael J. Pollard portrait is from Hippie by Miles, where it is credited to Pictorial Press (Cassell 2003).
The Durutti Column poster is from Gianna Motti Assistant's flickr pages.

Thanks to Hiroshi Fujiwara for supplying images of the Cowboys shirts from his collection.

MY SPECULATION SPARKED A TRAIL TO THE TRUE SOURCE OF THE MAIN IMAGE: THE ARTIST/PHOTOGRAPHER JIM FRENCH, WHO DREW THE COWBOYS FOR A SERIES CALLED LONGHORNS IN 1969. SEE HERE FOR THE FULL STORY.
20 Responses to "Roots of the Cowboys t-shirt"
This is a superb piece of research. I buy all the elements. The knowledge that Michael Pollard was a model makes it even better, as far as I'm concerned (that was a film career that ended all too quickly).

The "cowboys" t-shirt was the first item of clothing I bought from Seditionaries, a matter of days after it had re-opened after changing over from Sex. The t-shirt, which I still have, is printed inside out and in back-to-front in black & white, with a label above the picture. Brilliant.

I wore it endlessly, and was never arrested, but my mum used to turn it inside out when she was kind enough to be doing my washing!

Thanks JB.
Your Mum was kinder than most. Glen Matlock told me his mum turned his Sex Pistols Smoking Boy shirt into rags for his dad to clean the car!
There is footage of MJP on Youtube from the set of Hannibal Brooks wearing the same clothes as in the Granny's pic. Very cool look.
You're welcome to send us a pic of your shirt to feature here if you like.

best

PG

A masterclass in sleuthery. You ARE the dark knight detective of pop culture – incredible. If only McLaren was here to give this find top marks (or is that Marx) – which he would.

I'm sure you're aware – but there's book and expo in these Roots of Revolution pieces you know. Guarantee it.

On the subject of recycled classics – my mum used all my Sue Clowes Foundry tees for wearing when gardening or as polishing rags

Thanks Dave
I am investigating opportunities and have a great hook-up which, if it comes off, will really lift the whole project. Any/all suggestions gratefully received.

Happy to share the whole collection Paul, about ten items in all, dating from 76,77 and early 78. Wish I'd kept more.

Will be in touch when I next get them all out of storage!

Regards
J

Terrific work as usual Paul.

Was the documentary on the Situationists broadcast to coincide with the 1989 exhibition at the ICA?

If so, where was it shown?

Thanks Steve.

At the Boston ICA – the doc was shown in the US I believe; looks like a PBS or local cable station production.

Look forward to it JB.

Cheers Paul

I'll try and watch all three parts once the kids have gone to bed.

By the way, did you get my email about whether yoo know the exact location of Malcolm and Vivienne's council flat in Nightingale Lane?

Didn't get your mail Steve but will mail you anyway.

I'd appreciate that Paul.

This is a fascinating study. Did McLaren have the graphic chops to draw that well? If it wasn't Tom of Finland, the style resembles that of a number of other gay illustrators.

Hi Mike

Watch this space.

Hello Paul!

The name of the guy who made the cowboy drawing is "Rip Colt/ Jim French". If you google his name you will find similar illustrations. I think he is a photographer now. I have a book called "The Colt Album". It contains the Cowboy illustration.

Dominik

Hi Dominik

Thanks for your comment. See the latest post – http://www.paulgormanis.com/?p=2935

Oh, i'm sorry!

I haven't seen the last post. Anyway, the colt book is still available if anyone here is interested in his artwork.

http://www.timeless-shop.com/description.php?lang=2&path=4&sort=Article&page=120&id=374

Thanks for the link Dominik – have included it in the post with a tip of the hat to you.

Yes the drawing is from a series done by Rip Colt/Jim French of Colt Studios called 'LongHorns' It was published in Colt magazine in 1969

Hi Myles – see the link at the bottom of the piece. It was in Manpower! in 1972. Got to that post for the full story.
[pinterest]