RIP Gustaf Kjellvander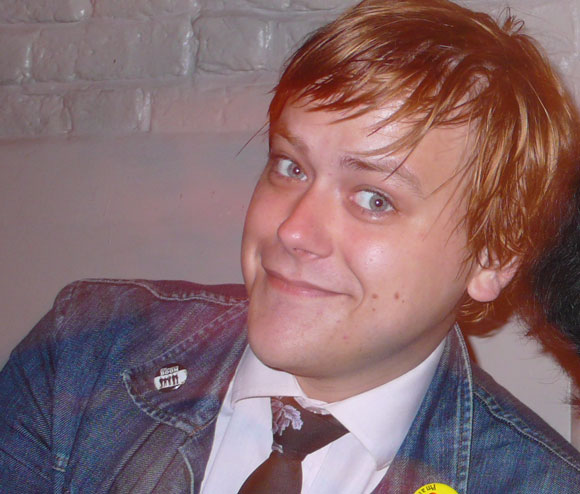 While I was writing an obituary for Clarence Clemons today, my friend Yuki Yoshioka texted me with the information that our mutual acquaintance the Swedish musician Gustaf Kjellvander died suddenly in his sleep on Saturday. He was 31.
Yuki says Gustaf popped into his thoughts this morning. On a whim, Google led him to Gustaf's Wikipedia entry, which had been updated with this sad news.
Yuki and I met Gustaf in 2007 through the producer Joe Foster, who was at one time considering licensing records by both of them to his Poppydisc label; Yuki's Control Freak!! release Best From The Worst and Gustaf's album Radiola by The Fine Arts Showcase.
I put them on the bill of THE LOOK club-night in July that year (along with another potential Poppydisc signee, Molly Jean, who was visiting from Detroit).
They were all excellent; Gustaf's blissful song Chemical Girl has remained a favourite of mine due to his awesome rendition of it that night.
There is an obituary/career overview for Gustaf here (pop it into translate to get the strength of it).
Gustaf's was an idiosyncratic talent which deserved a much wider audience. I guess the irony is that maybe now he will receive that.
From our limited contact – after he returned to Sweden from London in 2008 we kept in sporadic contact via email and Facebook – I was able to form the impression of a thoughtful and eccentric gentleman with a mischievous edge. It seemed set that we would reconnect further on down the road, but that's not to be.
Sayonara, Gustaf.
2 Responses to "RIP Gustaf Kjellvander"
Paul, this is awful. We're both devastated here. We last spoke to Gustaf via email on Friday, discussing a new compilation of his work. Gustaf had all the details planned out…down to how many vinyls and cds he thought we should press in order to maximise impact without losing money on it. He sent over a tracklisting and everything….eerie. He was a marvellous and talented fellow, we talked all the time about loads of different things and spent time together in London, Malmo, and Glasow…working on lots of projects that were sadly peripheral to both our careers, but fun things we wanted to do together. We just don't know what to say. Joe/Tuesday xx

It is all very sad. Will be at the front of the queue for that comp. PG.
[pinterest]