Fred Astaire in his Johnson & Johnson Fred Astaire jacket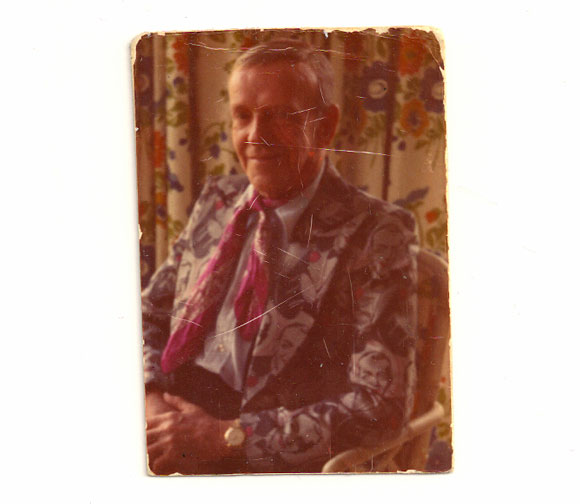 Curatorial work today on the Lloyd Johnson exhibition (coming to London gallery Chelsea Space in the New Year) was a joy.
By honing the exhibits and focusing on a narrative, Jill and Lloyd Johnson and I introduced an exciting new element: a wall selection of dazzling print artwork for garments from the 70s to the 00s.
Maneouevres such as this should make the whole show pop.
Just a few items are still to arrive (fingers crossed for the gold leather suit from Stephen Linard in Australia).
The collected clothes, print material, artwork, personal items and ephemera are taking shape and conveying Lloyd's journey in design and music from the 60s to the present day.
From time to time I'll be reporting on progress and dipping into the exhibits.
Today, my favourite is one of the smallest: a snapshot sent to Lloyd in 1973 by Fred Astaire, wearing one of Lloyd's designs: a Johnson & Johnson jacket with a Top Hat repeat print.
Lloyd Johnson: The Modern Outfitter opens late January 2012. Keep checking the Chelsea Space blog for details.
11 Responses to "Fred Astaire in his Johnson & Johnson Fred Astaire jacket"
Kev would LOVE this. I will email to him today. XXX

[…] to Lloyd Johnson for the loan of the City Lights […]

how the fuck did a know-nowt like you ever get on? words fail me.

By putting capital letters at the beginning of sentences. Hope this helps.

[…] as well as significant performers, so our c ranged from Barney Bubbles, Tommy Roberts, Lloyd Johnson, Charles Shaar Murray and Malcolm McLaren to Peter Blake, Hapshash & The Coloured Coat, David […]

@ Comment 3. Why are you being so rude?… Paul has an EXTREMELY fine knowledge of the History of London Fashion/Style through out the years and I am very proud to say he is one of my best friends!..Please !..don't be so rude…

Thanks Lloyd – yr a pal. PGx

It's typical that the rude one hides behind a nickname. Does anyone know or care who 'muzz' is? Or what he 'knows'?

Well I like Muz Murray (Gandalf;'s Garden). He seems a very nice chap.
This one is kind of a schlemiel, bit of a schnorrer, sort of a schlub.
Know what I mean Will?

Johnson's maintained me on the cutting edge of good and bad taste throughout the '80s and '90s. Still have and wear some of their suits and a magnificent Cowboy fringed leather jacket. It was from Lloyd's inspirational work that I came to the motto "It's better to have Bad Taste than to taste bad"

Hope you can come along to the show Hank.
[pinterest]