Cover of Mr Freedom – Tommy Roberts: British Design Hero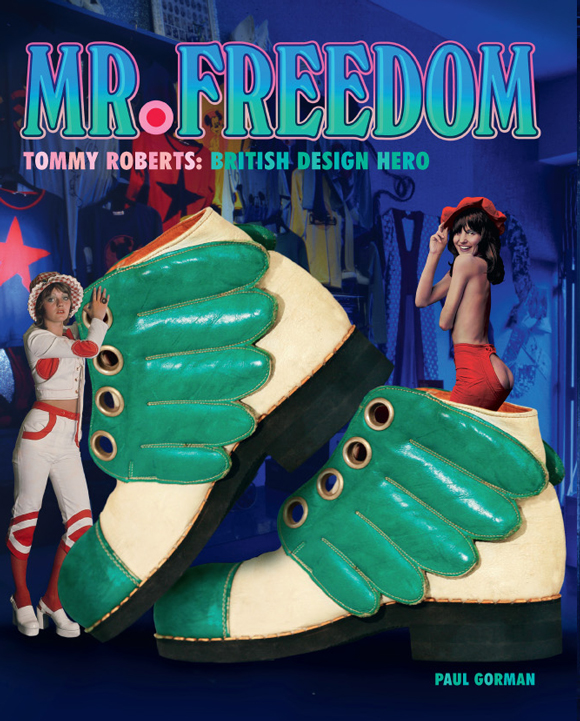 This is the front of the jacket of my new book Mr Freedom – Tommy Roberts: British Design Hero.

I'm very pleased with the design by Trevor Mill, who worked closely with publisher Jen Ross on communicating the vitality, humour and charm of Roberts' aesthetic. The winged boots were designed by Jim O'Connor and sold at the second Mr Freedom store in Kensington Church Street in 1971 (and were also an onstage favourite of Elton John's).
The photograph of Jane Maudsley on the right, sporting "bummer" jeans (designed by Diana Crawshaw with a cut-out revealing the buttock cleft) and a baker's boy cap was taken the same year by Stephen Markeson, as was the photograph of the model in Crawshaw's "baseball suit" by interiors architect and furniture designer Jon Wealleans.
In the background is a t-shirt display from the first Mr Freedom, at 430 King's Road. That interior was designed by Electric Colour Company.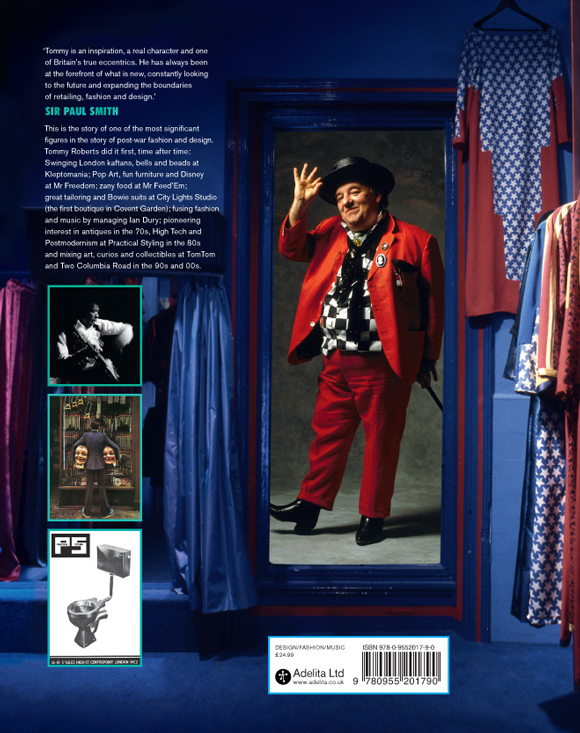 Roberts appears on the back in a dandy Brian Aris photograph; also on display are Jimi Hendrix in a white ruffled-front lace shirt designed by Paul Reeves and bought from Roberts' Swinging London store Kleptomania, as well as a Derek Morton corduroy suit for Roberts' Covent Garden outlet City Lights Studio and a card for the home-wares shop he ran with Paul Jones, Practical Styling.
Paul Smith has contributed the foreword, in which he says: "Tommy Roberts is an inspiration, a real character and one of Britain's true eccentrics. He has always been at the forefront of what is new, constantly looking to the future and expanding the boundaries of retailing, fashion and design."
And on one of the jacket flaps we've posted a handwritten list of the things which make Roberts tick. He supplied this to a project developed by Eve Ferret and Mark Summerfield – we're extremely grateful to them for allowing us to reproduce it.
Mr Freedom is out in June – you may order your copy here.
16 Responses to "Cover of Mr Freedom – Tommy Roberts: British Design Hero"
Great to see the mastro is still firing on all cylinders- what an innovator! That word Genius sits so easily upon he's shoulders – Alan Card

Hi Alan
Made sure you received a mention in the book. Look forward to meeting you one of these days soon.
Best

PG

Strangely your link to Amazon.co.uk indicates that they're not stocking the book. However Amazon.com in the USA are. How mad is that!!
If you see Tommy give him my best as we spent many mad times together in Hastings, Sevenoaks and London. His ability to pull gorgeous women was legendry.

Hi Chris

It is available to order – will be in stock in a week or so. Spent a lot of time with Tommy of late; will make sure I pass on yr best. PG

Loved the book we have some great pictures if you do another one

Very glad you liked it and would like to include your photos in the next edition.
PG

I wonder why you call Tommy a Design Hero. Can you imagine how upsetting it is to me to see my boots as the main attraction on the cover of a book promoting Tommy as a designer. He never designed anything, but always eagerly took the credit for the work of those of us who did design the clothes. I'd like to see inside the book, but I can't get a copy here in Los Angeles. Amazon report an indefinite delay in obtaining copies. Perhaps you could send me copy as a minor salve to my disappointment at seeing my boots being used yet again to promote Tommy.

See my response above. That you are so ready to leap to the wrong conclusion without even reading the book speaks volumes. Oh and the British Design Hero title applies to his career over five decades, from opening Kleptomania in 1966 to retiring from Two Columbia Road in 2006, not just the mere matter of months (year tops, right?) when you were happy to take design commissions from him.

Tommy has conned you into touting him as the creative innovator that he never was. That "list of the things that make Roberts tick." is classic Tommy usurpation. That list was typical of his bowdlerized versions of all the things he used to hear us talk about and would then regurgitate them as if they were his own thoughts. It was like hearing him repeat a joke you'd told him the day before, but then getting the punch line wrong.

There were two things that made Tommy tick. One was money. The other was getting a vicarious thrill out of claiming to be responsible for all the clothing and imagery that his employees created. He made a lot of money from Mr. Freedom, while those of us who created the clothes struggled to survive, and he couldn't bear it when any of us got attention from the media.

"You just want to do your own thing, don't you." he said to me when I first met him. This was very true, and I naively thought that Mr. Freedom was a place where I could create and design and get my clothes made without having to worry about how to survive in a business world that couldn't see the marketability of my designs. Tommy did see that there was money to be made from my clothes, but that was not enough for him. He wanted the glory too.

I was already receiving a lot of publicity in the fashion magazines before I went and worked for Tommy. However, it soon became clear that he was jealous of the attention I was receiving and was determined to have it for himself. I discovered he was intercepting the media interest and presenting himself as the sole creator of everything at Mr. Freedom. I don't think any of us minded Tommy wallowing in a bit of reflected glory, it was his company, but he contributed nothing to its creativity. It was ungracious of him to simply plagiarize everything with abandon and usurp the efforts of all around him.

You haven't done your research, Paul, or if you did, you simply chose to ignore it. It's a pity you didn't tell the true and exciting story of the people who really created the Mr. Freedom phenomenon. In particular, I hope you give Pamla Motown the credit she deserves inside the book – I see no mention of her above, just a tedious repeat of the "Tommy the genius" nonsense we've heard before.

Dear Jim

You are being unnecessarily rude and revealing yourself as bitter beyond reason. I recommend you read the book before you make judgments about me or my book let alone Tommy. Pamla, like everyone else who responded politely to my requests for interviews so they could assure that the depiction of their part in the story was accurate (unlike you who ignored my emails and approaches) is given full credit and is more than happy with the book.
Once you have read the book you will find out that you also receive full recognition for your work (and I also cover the fact that you received coverage prior to the association with Mr Freedom).
Finally – and feel quite free to take this as personally as you like: go fuck yourself.

This book cover uses one my designs to allege that Tommy Roberts was a designer and that is blatant intellectual property theft.

You have misused the image of my boots without consulting me, and now you have the effrontery to say I'm being rude. I have never heard of you before, and you've never contacted me. I don't care what silly puerile insults you fling at me, but I do consider the misappropriation of my boots as deeply offensive.

If you had requested my permission to feature a design of mine to bolster this bogus claim of Tommy's, I would have suggested you select a design of his instead.

I would be interested to see inside the book, but so far I have been unable to obtain a copy. However, I don't care what disclaimers you may have put inside the book, the damage has been done on the cover.

Jim

Let's take the heat out of this dialogue:

1. I apologise for the intemperate end to my first response to you; you got me on a bad day.

2. My book does not allege that Tommy Roberts was or is a designer. It states clearly, in the very first sentence in my introduction, that he is "a design enterpreneur and retailer" and maintains that throughout.
All the designs he sold in the book are credited to the originators, yourself included. The subtitle British Design Hero refers to his championing of great design, sometimes British in origin, over decades – you have wrongly interpreted it to mean he is a designER.
The main title – Mr Freedom – refers to his liberated and liberating influence over the sphere of British post-war decor. To someone who hasn't read it,this may give the impression it is just about the shop of the same name he operated between Sept 1969 and March 1972. Not so. It is about his life and career from late summer 1966 to date.

3. I did try to contact you several times and have the emails to prove it.

This from Aug 18 2011:

Dear Jim

I trust all is good with you + that you are well.

I am cracking on with my book about Tommy Roberts and would like to interview you for it.

We could do this via email or, preferably, by phone. I could send you the list of questions + then call at an appointed time; it need not take long.

All best

PG

There are others – in fcat we corresponded in 2009 when Romulus von Stezelberger of South Paradiso hooked us up regarding your Bad clothing.

I also have correspondence with Pamla Motown checking your email address since I hadn't head back regarding my requests to interview you for this book (she confirmed it was correct as it is the one you are using to post these comments).

4. One of the emails I sent to you notified you we intended to use a photograph of the boots you designed for Mr Freedom on the cover (along with designs by Diana Crawshaw, Peter Denmark, Derek Morton and the interior by Electric Colour Company).
This was sent to you out of courtesy. I do not need your permission to produce a photograph of your boots since the publisher commissioned that photograph and has the permission of the owner of the boots to use it. That you designed the photographed article is neither here nor there, and any case you might think you have would be undercut by:

a) the fact that the book credits you with the design no less than five times
b) you were paid for the design by Mr Freedom so they have legitimate call on the ownership of the design.

You will be hard put to depict me as someone who seeks to infringe your copyright or deny your contribution to Mr Freedom since I have a published track record of crediting you as the designer of the boots going back a number of years. See for example:

http://rockpopfashion.com/blog/?p=57
http://rockpopfashion.com/blog/?p=181
http://rockpopfashion.com/blog/?p=1508

I trust that this ends our correspondence and that I have answered any issues you might have. I also wonder what your reaction might be once you have actually read my book but do not wish to further this dialogue so – in contrast to my previous sign off and in the spirit of goodwill – wish you luck.

I think the cover does very clearly allege that Tommy was a designer and what's more my boots are there giving the clear impression that they are an example of his design. And daisydot's review of the book on Amazon.co.uk seems to have got the same "wrong" impression that I did from seeing the cover and subtitle. So much so did she get the "wrong" impression that in the review by daisydot it says, "Robert's designs were worn on stage and film by Elton John, Mick Jagger, David Bowie and Marc Bolan and his famous T shirts were snapped up almost as soon as they went on sale." It was my boots that Elton John wore on stage. Robert's designs! How's that for getting the "wrong" impression. I've been reading silly things like that about Tommy on and off for years, and now this book comes along and adds fuel to the fire.

I wonder if daisydot actually read the book (something I'm still unable to do.) Her review shows that she clearly thinks that Tommy *was* a designER and that everything at Mr. Freedom (she's referring to the store, not the sphere of British post-war decor) were his designs! Nothing she read in the book seems to have corrected the "wrong" impression she got from the cover.

I can just see people thinking, "Oh yes, the title of the book – Mr. Freedom – obviously it means that this guy Tommy Roberts was a liberating influence over the sphere of British post-war decor. Why are some silly people saying it's referring to the famous store of the same name?" I'm afraid I'm having a hard time accepting that one.

We all know that the title refers to the store Mr. Freedom. And the use of my boots, and Diana's clothes, and the background of T-shirts in the world's End location kind of adds to that impression. My boots are one of the most iconic items associated with Mr. Freedom. Obviously, the reason that you have featured the boots so prominently is that there presence there will sell a lot of books. However most people will probably never read the content – daisydot didn't seem to, and she's someone claiming to have reviewed the book. If you had put an heroic design (?) of Tommy's on the cover… well, I think it's clear why you didn't.

You wonder what my reaction will be once I've actually read the book – how am I supposed to do that? I can't buy a copy. You won't send me a copy. Amazon here in the USA can't get hold of a copy. And I'm still waiting for a copy that I ordered from Amazon.co.uk.

Jim

I'm done on this. The book is out in the US in November.

Anyone (say daisydot?) who has read the book care to tell Jim that a) he gets credit, b) it doesn't say Tommy was/is a designer but was/is a champion of interesting design and c) it is not just about Mr Freedom?

Have I caught you on another bad day?

Oh I just caught this. Not in the least. Everything is tickety-boo. Obviously not with you but there we go.
[pinterest]