Vinyl: Love It To Death + Killer + School's Out + Billion Dollar Babies = Alice Cooper's quadruple whammy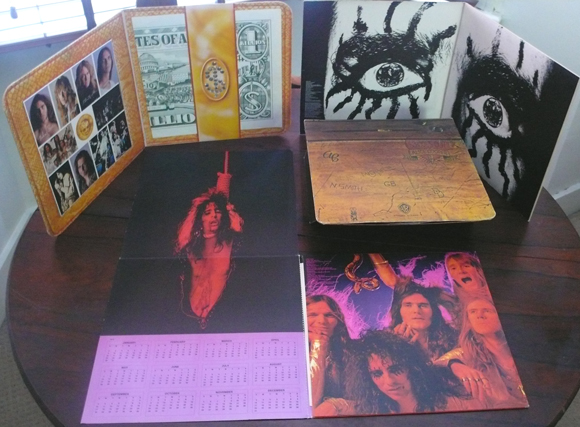 The four albums released by Alice Cooper between 1971 and 1973 propelled the band's international ascendance and the frontman into enduring superstardom.
Cooper and his bandmates never again attained the quality level of the dumb-but-delicious Detroit garage-glam they punched out with such aplomb on these records, enhanced as they were by the crystal-hard production of wunderkind Bob Ezrin.
What is it about the excellence of LP quartets by major artists in this period?
In my vinyl pantheon, the Cooper releases align with those comprising largely original material issued by Rod Stewart (in consecutive years from 1969: An Old Raincoat Won't Let You Down; Gasoline Alley; Every Picture Tells A Story; and Never A Dull Moment), David Bowie (from 1971: Hunky Dory; The Rise & Fall Of Ziggy Stardust And The Spiders From Mars; Aladdin Sane; and Diamond Dogs), Roxy Music (from 1972: Roxy Music; For Your Pleasure…; Stranded; and Country Life), Stevie Wonder (from 1972: Music Of My Mind; Talking Book; Innervisions; and Fulfillingness First Finale) and The Wailers (from 1972: Catch A Fire; Burnin'; Natty Dread; Live At The Lyceum).
Of course the musical merits of all of these are indisputable. And as series, they were delivered in often extraordinary and thematically coherent design packages. When it comes to sustained audacity and invention, however, Alice's sleeves have the rest beat.
Love It To Death (Released January 1971)
The band's breakthrough album was originally released on Frank Zappa's Straight before distributor Warner snapped it up and made a subtle change to the cover photograph by Richard Avedon's former student Roger Prigent – Alice's thumb poking through his fly was excised.
The most formal of these packages, the gatefold with right-hand envelope provided a startling introduction to the frontman's spidery make-up via David Griffith's bleached close up. Cooper and his manager Shep Gordon conceived the design.
Killer (November 1971)
Another Cooper concept, maximum use of colour conveys photographer Pete Turner's cover portrait of Alice's boa constrictor Kachina adorned with scrawled "maniac" title lettering. The sleeve contravenes formal packaging rules by opening right-to-left, revealing the gatefold of purple-screen overlaid band portrait opposite neatly arranged pink on purple credits.
This panel is perforated along the edge, and opens vertically to reveal the hanged Alice The Killer (this was the controversial finale of the band's live show at the time) as an ironic calendar pin-up. On the back cover, Turner's band portrait is repeated with a contrasting green filter.
School's Out (June 1972)
The timing of this release couldn't have been better; joy it was to be a 12-year-old fresh out of school and hollering along to Alice wielding his cutlass on Top Of The Pops.
The breathtaking sleeve solution was conceived by Sound Packaging Corp (who also produced the following year's Stone Gon' for Barry White) and brought to life by Wilkes & Braun – partner Tom Wilkes had been art director of the Monterey Pop Festival and A&M Records and produced such designs as the Stones' Beggar's Banquet, George Harrison's All Things Must Pass and Neil Young's Harvest.
The entire package summoned up out-of-control adolescence as snarled on such tracks as the outstanding Public Animal Number 9, from the paper panties wrapped around the record and the fold-out school desk construction made from Greenwich Village documentarist Robert Otter's photography to the Roger Prigent portrait of the wasted alley cat Cooper band and the final and much-appreciated flourish: the image of chewing gum stuck to the underside of the "desk".
Billion Dollar Babies (February 1973)
On the back of worldwide notoriety and million-selling success, budget considerations were flung out of the window for the Billion Dollar Babies blowout. Design studio Pacific Eye & Ear –  whose Ernie Cefalu was a partner of Craig Braun from School's Out Wilkes & Braun – produced the lurid snakeskin wallet-style sleeve with embossed diamonds surrounding the band's new gold coin logo.
On the right-hand of the inner gatefold, the billfold (embossed with a dollar sign) was created by incisions into the card; this held a 10″ x 20″ billion dollar bill with band portrait and illustrations alluding to Cooper's fantasies of assuming the US presidency as essayed in the album's big hit Elected.
The left inner framed an insert of 11 perforated images, including signed band portraits. This card lifted to reveal the inner sleeve David Bailey portrait of the group in white satin suits surrounded by cash. Each clutched a white rabbit, while the lead singer presented a mewling infant adorned with his trademark eye make-up.
And here endeth the band's golden run. Later the same year the Cooper band released the uneven Muscle Of Love in hokey corrugated cardboard packaging, again by Pacific Eye & Ear. Crucially, Ezrin wasn't at the faders, so the musical quality control had irretrievably slipped. Soon the band split and Alice gave up the hell-raising for golf, celebrity and the mock-horror stylings of Welcome To My Nightmare and such.
But for a while there, he was our Public Animal No 1, and these four sleeves continue to convey the sheer irreverence and unholy attitude of the music they house.
8 Responses to "Vinyl: Love It To Death + Killer + School's Out + Billion Dollar Babies = Alice Cooper's quadruple whammy"
Well done you, for not trying on the panties.
Mine split, big time.

Madame Pickwick's Art Blog pointed to the similarities between the School's Out packaging, design and use of photgraphy and that for 1970's Hotlegs album. No panties though Steve. See here: http://madamepickwickartblog.com/2012/02/all-one-needs-is-to-be-able-to-see/

Also gone are the days when an artist would put out four albums in less than three years.

All of 'em top-notch – like Costello 77-79 and Can 70-73, but none can beat Bowie if you count his full role in The Idiot and Lust For Life – four in 77 alone.

Ooooh!..Those were the days,feel very nostalgic indeed!I was at the promo party for School's Out,at Chessington Zoo!1972…The Stooges,Alice,Roxy Music:delicious stuff!I love this blog….

Great post. The beginning of my corruption right there in those four albums! From there it was a small step to the Dolls and on to punk. They still sound great and the packaging is still a high water mark. Interesting thought too about so many artists of that era having a run of four classics in a row. Although beginning a bit earlier, don't forget the Stones career peak: Beggars Banquet, Let It Bleed, Sticky Fingers, Exile On Main Street. Thanks yet again Paul, continually glad I found your page!

Damn right Brian – glad you included those. 24 albums which make up a young person's education – I'd add Everybody Knows This Is Nowhere to On The Beach and Ladies Of the Canyon to Court + Spark n all…

Damn right Brian – glad you included those. 24 albums which make up a young person's education – I'd add Everybody Knows This Is Nowhere – On The Beach and Ladies Of the Canyon – Court + Spark n all.
[pinterest]