Glam comes into focus: Karl Stoecker's fashion shoot for Club International October 1972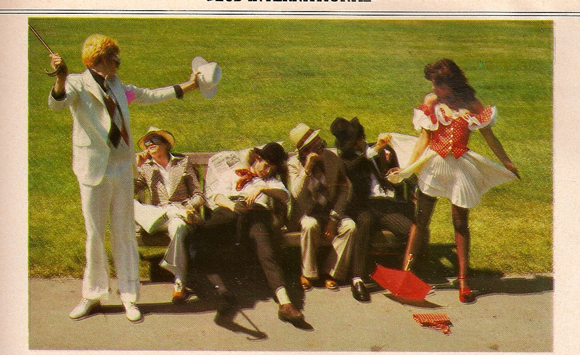 Tucked away at the back of an issue of British soft-porn magazine Club International was a fashion shoot featuring clothing elements which denoted the crystallisation of the new art-directed glam aesthetic inaugurated by the release of Roxy Music's first album a couple of months previously.
The photographer was Karl Stoecker, the New Yorker who had been resident in the UK since the mid-60s and was coming into his own with important contributions to Roxy's visual identity across that LP and its successors For Your Pleasure and Stranded.
The feature consisted of just two shots, the first of which was printed out of register and is at the top of this post, while the spread has been cropped into two here,  better to show the clothes. Styled by Club's first fashion editor Gwenda Saar, the men's apparel comes in the main from such classy post-Ivy London stores as The Squire Shop, Quincy, Village Gate and Stanley Adams.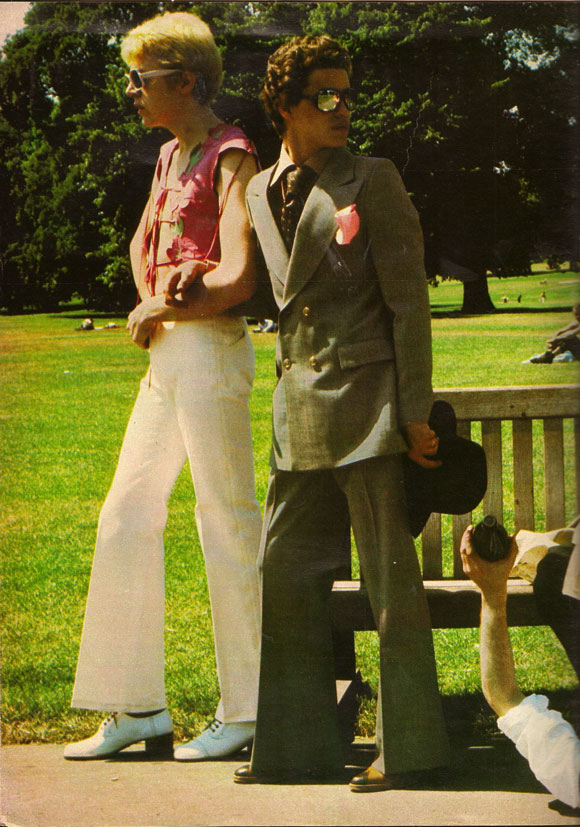 In contrast the female model exudes the 40s/futuristic sexiness captured by Stoecker on the Roxy sleeves, in a red polka dot fluted-collar top designed by Roxy's visual mainman Antony Price for Kensington store Che Guevara.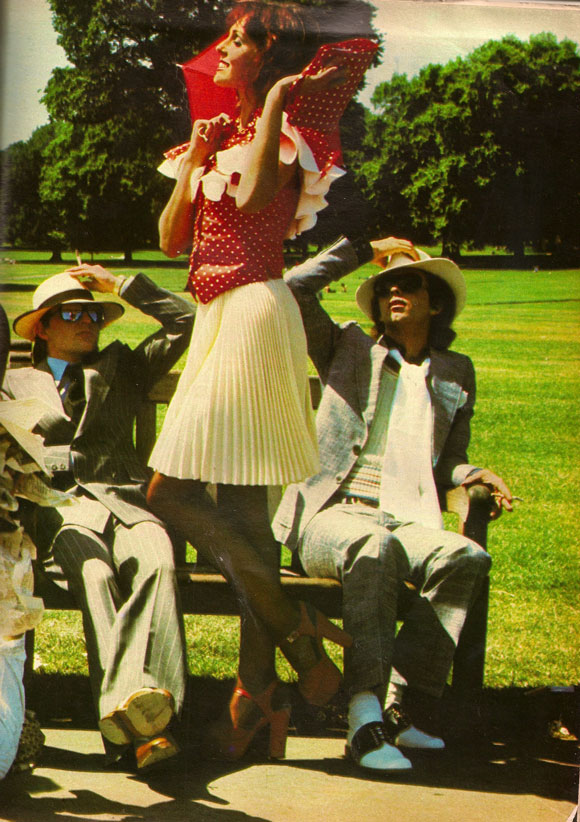 Her strappy red platforms are from Chelsea cobbler Zapata, where Manolo Blahnik made his name. Blahnik also designed the blue/white saddle shoes worn by the seated model on the right in the photo above. This design was favoured by Mick Jagger, as noted by another Zapata customer, DJ Norman B, who has written about the fascination these particular shoes held for him here.
Stoecker is these days based in Miami. See here.
Over at THE LOOK you can read about how Price, Blahnik, Stoecker and others ruled mid-70s London style, design and art circles as "Them" here, and how Che Guevara was one of the most extraordinary adventures in rock and pop fashion here.
[pinterest]