Blessed & Blasted: You're Gonna Wake Up One Morning And Know What Side Of The Bed You've Been Lying On! 10.1974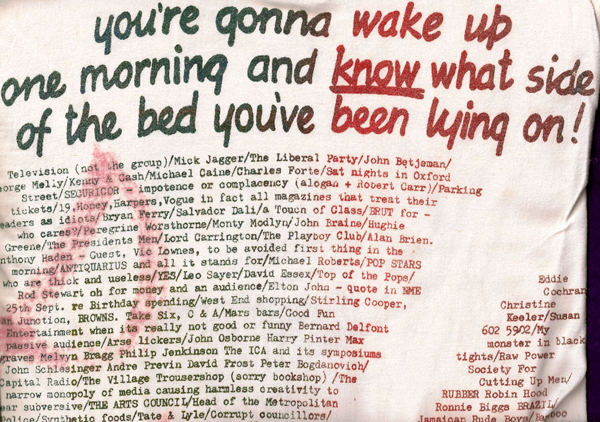 Sixty years after Blast, the You're Gonna Wake Up t-shirt adopted the same truculent tone and diffuse dialectic to ring the alarms amid a culture rendered flaccid by the failure of the 60s dream.
You're Gonna Wake Up – which went on sale in SEX in the late autumn of 1974 – was conceived by Bernie Rhodes and realised with contributions from friends Malcolm McLaren (who wrote the slogan) and Gerry Goldstein.
Of course, it is best known for carrying the following band name: "Kutie Jones and his SEX PISTOLS".
I investigated its history in THE LOOK and also here. By publishing the list with links today I aim to dive deeper to demonstrate the tract's range beyond popular culture.
Hence the references to artists David Holmes, Mel Ramos and Patrick Heron (and his campaign against The Tate), the literature of Alfred Bester, David Cooper, George Dangerfield, Konstantin Paustovsky and Bernard Wolfe, the work of  radical journalists Alexander Cockburn and Mervin Jones and the campaigning of political activists Pat Arrowsmith and Marian and Doloures Price.
Such content dates the compilation to October 1974: The Guardian published Heron's 14,000-word Tate critique over consecutive days between the 12th and 14th of that month; the shirt itself mentions a piece by Jones in the New Statesman on October 4 and also an Elton John interview in the NME on September 25 (in fact the issue was dated September 28).
Alongside the call-girl phone number taken from local newsagents there are such quizzical references as that for former Playboy Club UK head Victor Lownes: "To be avoided first thing in the morning".
Is this because one of the contributors had encountered him leaving his club Stocks, just a few hundred yards from SEX along the King's Road?
It's worth pointing out Lownes was to earn the soubriquet "Disgusting" from Private Eye (whose distribution problems with WH Smith at that time are described as "censorship").
Is "D.H." DH Lawrence?  Who was Mal Huff? And why did automotive manufacturer GKN come in for a kicking? Was this down to foreign investments or had Rhodes had a run-in with the company as a result of operating his Renault dealership in Camden Town? Undoubtedly it was he who contributed the reference to the UK's long-established French car dealer Arthur Prince.
It is only right that questions remain about this multi-layered slice of invective; 37 years after the fact, You're Gonna Wake Up retains a certain amount of mystery yet declaims some kind of truth.
Enjoy the links below. These unravel to complete a portrait of a divided country and fragmented culture.
First up are the "blasted", followed by the "blessed". NOTE: spelling mistakes etc have been retained.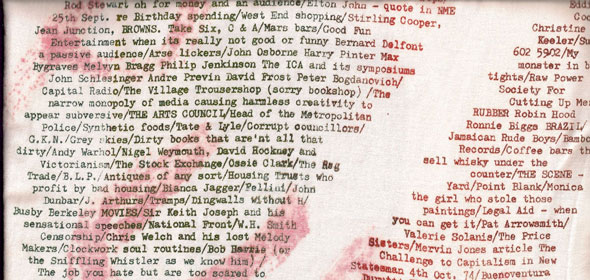 Television (not the group)/Mick Jagger/The Liberal Party/John Betjeman/
George Melly /Kenny & Cash/Michael Caine/Charles Forte/Sat nights in Oxford
Street/SECURICOR impotence or complacency (slogan & Robert Carr)/Parking
tickets/19, Honey, Harpers, Vogue in fact all magazines that treat their
readers as idiots/Bryan Ferry/Salvador Dali/A Touch of Class/BRUT for –
who cares?/Peregrine Worsthorne, Monty Modlyn, John Braine, Hughie
Greene/The Presidents Men/Lord Carrington/The Playboy Club/Alan Brien/
Anthony Haden-Guest, Vic Lownes, to be avoided first thing in the
morning/ANTIQUARIUS and all it stands for/Michael Roberts/POP STARS
who are thick and useless/YES/Leo Sayer/David Essex/Top Of The Pops/
Rod Stewart oh for money and an audience/Elton John – quote in NME
25 Sept re birthday spending/West End shopping/Stirling Cooper,
Jean Junction, BROWNS, Take Six, C&A/Mars bars/Good Fun
entertainment when it's really not good or not funny Bernard Delfont
a passive audience/arse lickers/John Osborne Harry Pinter Max
Bygraves Melvyn Bragg Philip Jenkinson the ICA and its symposiums
John Schlesinger Andre Previn David Frost Peter Bogdanovich/
Capital Radio/The Village Trousershop (sorry bookshop)/The
narrow monopoly of media causing harmless creativity to
appear subversive/THE ARTS COUNCIL/Head of the Metropolitan
Police/Synthetic foods/Tate & Lyle/Corrupt councillors/
G.K.N./Grey skies/Dirty books that aren't all that
dirty/Andy Warhol/Nigel Waymouth David Hockney and
Victorianism/The Stock Exchange/Ossie Clark/The Rag
Trade/E.L.P./Antiques of any sort/Housing Trusts who
profit by bad housing/Bianca Jagger/Fellini/John
Dunbar/J. Arthur's/Tramps/Dingwalls without H/
Busby Berkeley MOVIES/Sir Keith Joseph and his
sensational speeches/National Front/ W. H. Smith
Censorship/Chris Welch and his lost Melody
Makers/Clockwork soul routines/Bob Harris (or
the sniffling Whistler as we know him) /
The job you hate but are too scared to
pack in/Interview magazine–Peter
Lester/rich boys dressed as poor boys/
Chelita Secunda, Nicky Weymouth, June Bolan, Pauline Fordham halitosis/Rose
& Anne Lambton Chinless people/Antonia Frazer/Derek Marlow/Anne
Scott-James/Sydney Edwards/Christopher Logue/Osbert
Lancaster/Shaw Taylor whispering
grass/The Archers/BIBAS/Old
clothes old ideas and all this resting in the country business/The
Light Mission/All those
fucking saints.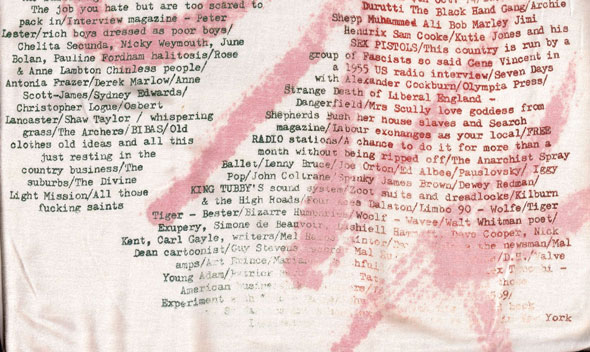 Eddie
Cochran/
Keeler/Susan
602 2509/My
tights/Raw Power
Jamaican Rude Boys/Bamboo
Records/Coffee bars that
sell whiskey under the
counter/THE SCENE – Ham
the girl who stole those paintings/
Legal Aid – when
you can get it/Pat Arrowsmith/
Sisters/Mervin Jones article The
Challenge To Capitalism in New
Statesman 4th Oct. 74/Buenoventura
Durutti The Black Hand Gang/Archie
Shepp Muhammed Ali Bob Marley Jimi
Hendrix Sam Cooke/Kutie Jones and his
SEX PISTOLS/This country is run by a group of fascists so said Gene Vincent in
a 1955 US radio interview/Seven Days
with Alexander Cockburn/Olympia Press/
Strange Death of Liberal England –
Dangerfield/Mrs Scully love goddess from Shepherds Bush her house slaves and Search
magazine/Labour Exchanges as your local/FREE
RADIO stations/A chance to do it for more than a
month without being ripped off/The Anarchist Spray
Ballet/Lenny Bruce/Joe Orton/Ed Albee/Paustovsky/ Iggy
Pop/John Coltrane/Spunky James Brown/Dewey Redman/
KING TUBBY'S sound system/Zoot suits and dreadlocks/Kilburn
& the High Roads/Four Aces Dalston/Limbo 90 -Wolfe/Tiger
Tiger–Bester/Bizarre Humphries/Woolf -Wavee/Walt Whitman poet/
Exupery, Simone de Beauvoir, Dashiell Hammett, Dave Cooper, Nick
Kent, Carl Gayle writers/Mel Ramos painter/David Holmes the newsman/Mal
Dean cartoonist/Guy Stevens records/Mal Huff funny stories/D.H./Valve
amps/Art Prince/Marianne Faithfull/Jim Morrison/Alex Trocchi –
Young Adam/Patrick Heron v. The Tate Gallery and all those
American businesslike painters/Lady Sinthia 908 5569/
Experiment with Time – Dunne/John Lacey and his boiled book v. St Martin's Art School experiment to be seen in New York.
Imagination…
*
Author:
Paul Gorman
/ Published:
Feb 3rd, 2011
/ Category:
1970s
,
430 King's Road
,
Activism
,
Art Schools + Colleges
,
Blessed and Blasted
,
Chelsea
,
Clothing
,
Conceptual art
,
Culture
,
Dadaism
,
King's Road
,
Malcolm McLaren
,
T-Shirts
/ Comments:
17
17 Responses to "Blessed & Blasted: You're Gonna Wake Up One Morning And Know What Side Of The Bed You've Been Lying On! 10.1974"
All the pieces fall into place right there don't they. I'd never noticed Whispering Bob, Shaw Taylor and Kilburn and The High Roads references before..

I'm reading David Sheppard's Brian Eno bio at the mo'., there's a mention of a similar Eno generated list of good and bad around 73 (ish). Also plenty of bondage and 'deviant' references in his 73 interviews. I'm surprised he never made the blessed side of the bed..

Hi dave

There's plenty of Eno's lists – I was thinking about featuring the one with just one word either side of the equation.
I figure that he was too aligned with Thems (though there is a story about him buying a hood/mask from SEX in 75).

Speechless. This is astounding Paul…You've really outdone yourself.

Why thanks Tim. Glad you appreciate it. took a bit of work.

Upon further thought, you should do a book about this t-shirt. There's so much there…I think it would be fascinating. I'm reminded of the book "I Swear I Was There" (http://www.amazon.co.uk/Swear-Was-There-Changed-World/dp/0954970497) about the first Sex Pistols show in Manchester. On the surface, a book about a single gig that barely anyone was at really, but changed the world in its own way. The same could be said about this t-shirt – it's noteriety, fame & influence have completely surpassed the status of the original.

There's an idea…
I guess that's because it is so rich, so full of content, as VW used to say about traditional British clothes.
What's great about it is that it bears the weight of continuing scrutiny nearly four decades later.

Do you think this is where Mad Men got the name Stirling Cooper?

I don't know – don't think they're that hip. It gets people like me and Lloyd johnson all the time because we associate Stirling Cooper with Antony P etc. Bryan F used to buy his stuff there. Don't think Brian E did.

Hi Paul,
wasn't 'Point Blank' a reference to the San Francisco Situationist group rather than the movie?
BG

I don't know but feel you must be correct Bud – shall amend the link accordingly.

Thanks for pointing that out.

PG

[…] The subject was the 1974 t-shirt You're Gonna Wake Up One Of These Days And Know Which Side Of The Bed You've Been Lying …. […]

From hanging out with Malcolm, Boogie and all in '76 I would put Point Blank as the film. Lee Marvin was an admired actor and the nihilism of the film sat perfectly with everyone's tastes. But if there's also a SF Situationist group, it's a good play on words.

[…] my complete history of the You're Gonna Wake Up t-shirt here. Related PostsWhen Kilburn + The High Roads played the King's Road Theatre 1974: Ian Dury […]

[…] Here is my dissection of the references compiled in the You're Gonna Wake Up t-shirt. […]

[…] was a touchstone for the radical theorists of punk, receiving a mention on the You're Gonna Wake Up manifesto t-shirt created by Malcolm McLaren, Bernie Rhodes and others in 1974 (Reid was not […]

[…] Roland Barthes' "anarchic foam of tastes and distastes" is contemporaneous with You're Gonna Wake Up. No surprise then that J'aime, je n'aime pas became the starting point for updates and […]

[…] 1915 – 26 March 1980) "anarchic foam of tastes and distastes" is contemporaneous with You're Gonna Wake Up. No surprise then that J'aime, je n'aime pas became the starting point for updates and personal […]
[pinterest]