Keith Allen's Breakfast Pirate Radio featuring 'Northern Industrial Gay' Jerry Arkwright + Boots Sex Dread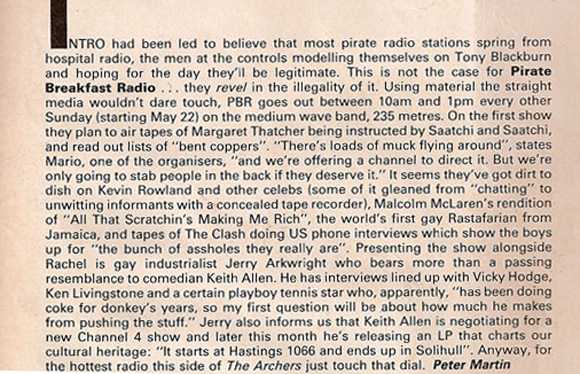 Plus ca change…
Tucked away in the June 1983 edition of The Face was this news story about a brave broadcasting venture, the scabrous and short-lived Breakfast Pirate Radio.
BPR was a vehicle for comedian Keith Allen to go batshit crazy across a range of subjects, taking the mickey out of The Clash and Tory-supporting celebrities, naming and claiming bent copper status for a number of serving officers in London, spreading nasty tales about Malcolm McLaren and Kevin Rowland, and, most successfully, adopting the personae of self-proclaimed "Northern Industrial Gay" Jerry Arkwright, rastafarian musician Boots Sex Dread and gossip-monger Timmy X. The fact that all of these characters were "gay" still grates, but when Allen was on form, the results were funny.
By the time he created BPR, Allen had propelled himself out of the alternative comedy scene and made his name on the recently launched Channel 4; in fact Arkwright put in an appearance in matching leather cap and briefs on the network's opening night in November 1982.
With the aid of music biz maverick Glen Colson, Allen engineered one Sunday broadcast of BPR from a church in Islington, under the auspices of the authentic pirate station Dread Broadcasting Company (whose Lepke was interviewed by Allen for C4), and together they almost pulled off the album release Programme 1 via another short-lived entity, Peter Jenner's independent label Utility label (whose only release was Billy Bragg's debut).
A sleeve was commissioned from and conceived by Utility art director Barney Bubbles but the album was struck from the schedules at the eleventh hour by aghast executives at Virgin, which had purchased Utility when it took over parent label Charisma during the making of the record.
Sex Boots Dread released the single Tickle Tune/Pentel on Allen's Rinka Records (named for the Alsatian shot in the Jeremy Thorpe affair) and Allen of course went onto fame and infamy in a variety of guises, among them as pop-star Lily's dad, but it's interesting to note that his trouble-making tendencies and capacity to offend have not dulled.
Allen's next appearance on Channel 4 – consuming ecstasy and MDMA in a documentary to be broadcast this autumn – currently has the national media's knickers in a knot, while the Mohammed Al-Fayed-funded film about the deaths of his son Dodi and Princess Diana looks like it will now never be screened because Allen cannot obtain insurance against libel. Read, if you must, the Daily Mail's account here.
Make up your own mind about BPR: the counter-culture legend Joly MacFie posted a downloadable broadcast here.
I snaffled the video links and background info on Sex Boots Dread from John Eden's Uncarved – read more here (including the tale of Tickle Tune ending up on the soundtrack to Larry Clark's 2001 movie Bully with a co-write credit for Free Kitten's Julia Cafritz).
Visit the Barney Bubbles site for more views of the fabulous BPR1 sleeve.
2 Responses to "Keith Allen's Breakfast Pirate Radio featuring 'Northern Industrial Gay' Jerry Arkwright + Boots Sex Dread"
Keith Allen is a national treasure. I met him only the once, queuing up to see Indiana Jones and the Temple of Doom, if I recall, but he was a sweetie. Nice looking kids, too.

He is fascinating though actually I find him objectionable a lot of the time, but I guess that's the point.
He's an anomaly these days – a person in the public eye who does a lot of mainstream work but has a non-mainstream agenda and is a social irritant. Bit like Ken Campbell appearing in Til Death, etc, or probably the best parallel is with Kenneth Griffiths. Maybe it's Welsh non-conformity.
There's also a constancy undimmed by fame and (doubtless) fortune – you can see the line from Jerry Arkwright to the Di documentary.
[pinterest]