'Because of the economic crisis, people are trying to consume as fast as possible. Ideas are dead; there aren't any to express the mood. Fashion is irrelevant': Malcolm McLaren + SEX, November 1975
It's unlikely that cities will shake or nations start to rock under the impact of Malcolm McLaren's sexual revolution. A few people might die though.
Malcolm McLaren, at 30, is a mixture of entrepreneurial cultist, sexual evangelist, businessman, artist, fetishist and political philosopher; a psychotic visionary in the ephemeral subculture of the fashion world.
David May, Gallery International Vol 1 no 4.
In November 1975 – by which time his charges the Sex Pistols had just embarked on live performances – Malcolm McLaren was interviewed by journalist David May at 430 King's Road, then in full bloom as radical retail venture SEX.
May had emerged from the underground press and local paper the Kensington News to build a reputation as a fearless investigative reporter for (and co-editor of) Time Out and then a reporter for (and news editor of) The Sunday Times; in fact he had been arrested and cautioned for a series of stories in Time Out, and was heading for hot water in a high profile court case over an article on the kidnapping of a French banker by Spanish anarchists.
The McLaren interview was a freelance undertaking for the soft-porn mag Gallery International, published by New English Library.
In response to a request from GI editrix Jo Buckley for "edgy" ideas, May proposed covering SEX after his girlfriend became a customer.
"I'd been in (earlier incarnation) Let It Rock, but one night in 1975 my girlfriend was wearing a beautiful black calf-length thin latex mac, her red hair permed and cut to a bob and red lipstick," says May.
"She looked stunning; wherever we went that night people were amazed because her dramatic look was in stark contrast to the velvet jackets and the hippie, floaty silks that so many people on the King's Road were dressed in."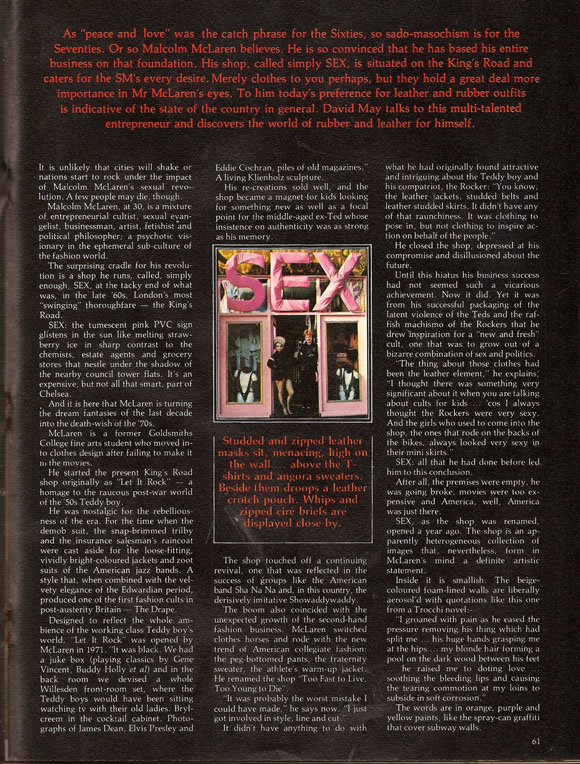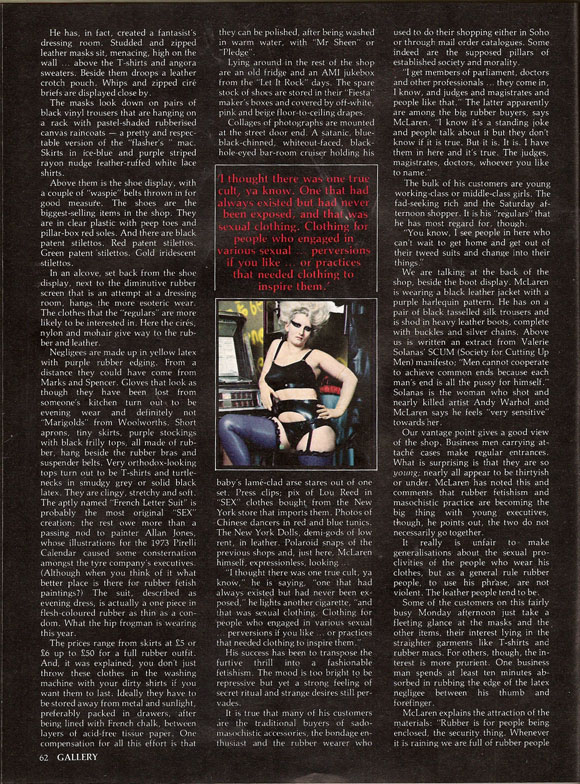 At this time, McLaren and his partner Vivienne Westwood's work received next to no media coverage. A rare example of their designs infiltrating the mainstream was Michael Roberts' matching of SEX's text-based t-shirt "I groaned with pain…" with a Biba gold plastic workman's helmet in a Sunday Times story, while photographer David Parkinson made more substantial use of the shop's clothing in the series of fashion shoots he styled for Paul Raymond's porn magazine Club International.
May was aware of the mild consternation caused that autumn by the police prosecution over assistant/customer Alan Jones wearing McLaren's Naked Cowboys t-shirt in public (the article confirms that the staff called it the Saturday Shirt after the signage behind the two semi-naked Longhorns), so the boldness of the SEX project, and in particular McLaren's provocative discourse, served to impress.
"The entire enterprise seemed loaded with danger; these were difficult and controversial ideas McLaren was pushing into the open," says May, flicking through the article for the first time in 36 years over tea in the Chelsea Arts Club garden.
McLaren revealed that he had been disillusioned with fashion after initially investigating second-hand clothing in 1972 when Let It Rock become Too Fast To Live Too Young To Die. May summed up the style as "American collegiate… the peg-bottomed pants, the fraternity sweater, the athlete's warm-up jacket".
McLaren told May: "It was probably the worst mistake I could have made. I just got involved in style, line and cut." Then the possibilities offered by the archetypal garb of the early 60s British rocker re-energised his outlook. "He drew inspiration for 'a new and fresh' cult, one that grew out of a bizarre combination of sex and politics," wrote May.
Combined with McLaren's sojourn among the demi-monde in New York's Lower East Side in winter 1974-75 – and in particular his encounters with S&M aficionados and relationship with the New York Dolls – the vision for SEX crystallised.
In the article, though McLaren discussed Britain's subterranean network of fetishists and essayed the theories of radical psychoanalyst Wilhelm Reich, there were already signs of disenchantment with the constituency of the "rubber duckie club", since they were predominantly middle-aged and middle-class.
"The shop is an apparently heterogenous collection of images that, nevertheless, form in McLaren's mind a definite artistic statement," wrote May, who detailed customers ("young working class or middle class girls, the fad-seeking rich and the Saturday shopper"), prices (£5 to £50), decor and stock, including the so-called French Letter Suit and the best-selling lines, the shoes ("In clear plastic with peep-toes and pillar-box red soles. Red patent stilettos. Green patent stilettos. Gold iridiscent stilettos") and t-shirts ("Not the sort you would buy in boutique land… little more than two scraps of material sewn together with holes left for the arms and neck").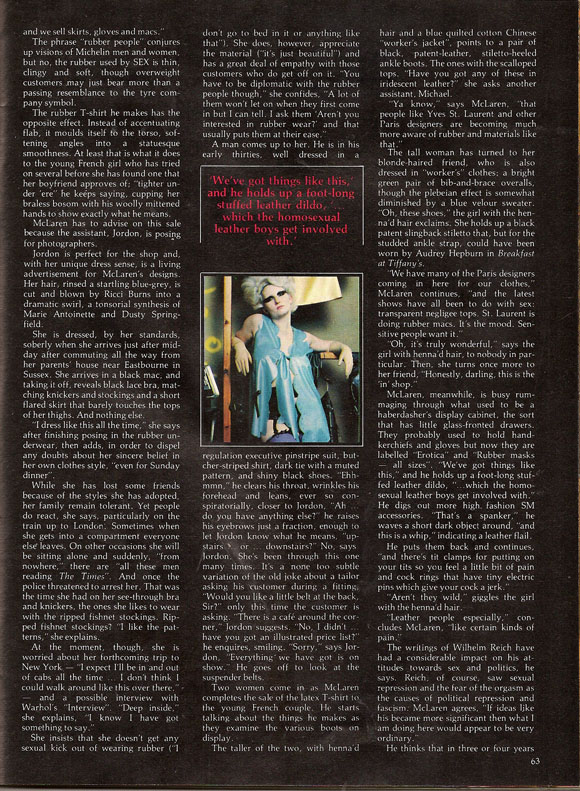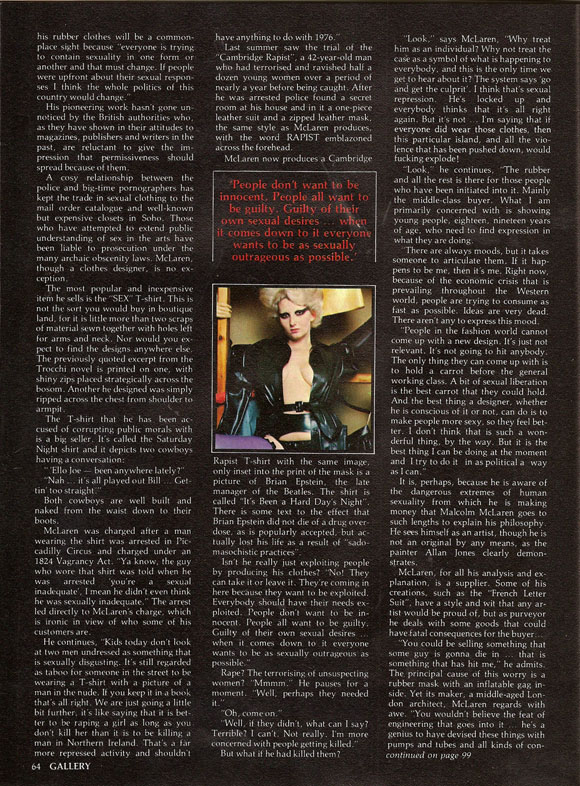 During the interview May challenged McLaren ("Oh come on…") on his insouciance regarding the victims of the Cambridge Rapist, the mid-70s leather-hooded and violent sex attacker Peter Cook who was the subject of a controversial t-shirt sold in the shop. McLaren's answer revealed the underlying strength of his critique of British social and sexual repression as embodied not just by SEX, but also the Sex Pistols:
"Look, why treat him as an individual?" urged McLaren. "Why not treat him as a symbol of what is happening to everybody…I'm saying that if everyone did wear these clothes then this particular island, and all the violence that has been pushed down, would fucking explode!
"Right now, because of the economic crisis that is prevailing throughout the Western world, people are trying to consume as fast as possible. Ideas are very dead. There aren't any to express this mood. People in the fashion world cannot come up with a new design. It's just not relevant.
"What I am primarily concerned with is showing young people, eighteen, nineteen years of age, who need to find expression in what they are doing.
"There are always moods, but it takes someone to articulate them. If it happens to be me, then it's me."
Once done with the interview, McLaren mentioned he was managing a new band and invited May to catch a concert a couple of weeks later at Ravensbourne College in Chislehurst, Kent.  Among attendees at the Sex Pistols gig there on December 9 was young local Simon Barker, who alerted his friends. Together they helped spread the word as the group's first fanbase, the Bromley Contingent.
May didn't make it to Ravensbourne, but witnessed the group when they played Middlesex Polytechnic in Hendon, north-west London, a year later. "I covered them for the Sunday Times," he says. "They were incredible, everything that McLaren had talked about and more."
Meantime Gallery International dedicated six pages to May's feature in February 1976, decorated with shots of assistant superstar Jordan in fetish-wear. For one, she posed at 430's front door with colleague Michael Collins.
Headlined Sado Sex For The Seventies, May's article ended thus:
McLaren ponders whether he will be able to to continue with his extraordinary combination of perversion, decadence and commercial high fashion. He is suitably apocalyptic about the possible outcome:-
"They can only condemn me. If they do, or have to run me out of town, they have to do it…If I take my fantasies to the extreme it is because extremity is where it's at. Anything that is extreme has to be far more important, and I must go to those ends to find out exactly what it means."
Assuming, that is, that he lives to tell the tale.
Read about the genesis and history of the Naked Cowboys shirt here and writer Len Richmond's concurrent visit to SEX for Forum magazine here.
Here is my interview with William English, who photographed Vivienne Westwood in SEX (and in the French Letter Suit) in 1975.
Among David May's books is The Brotherhood Of Eternal Love: From Flower Power to Hippie Mafia (with Stewart Tendler) and Jeremy Thorpe: A Secret Life (with Magnus Linklater and Lewis Chester).
Author:
Paul Gorman
/ Published:
Aug 13th, 2012
/ Category:
430 King's Road
,
Boutiques
,
Chelsea
,
Journalism
,
King's Road
,
London
,
Magazines
,
Malcolm McLaren
,
New York
,
Punk
,
T-Shirts
/ Comments:
2
2 Responses to "'Because of the economic crisis, people are trying to consume as fast as possible. Ideas are dead; there aren't any to express the mood. Fashion is irrelevant': Malcolm McLaren + SEX, November 1975"
[…] 'Because of the economic crisis, people are trying to consume as … […]

[…] Read journalists David May's memories of interviewing Malcolm McLaren for Gallery International here. […]
[pinterest]