The King's Road Music + Fashion Trail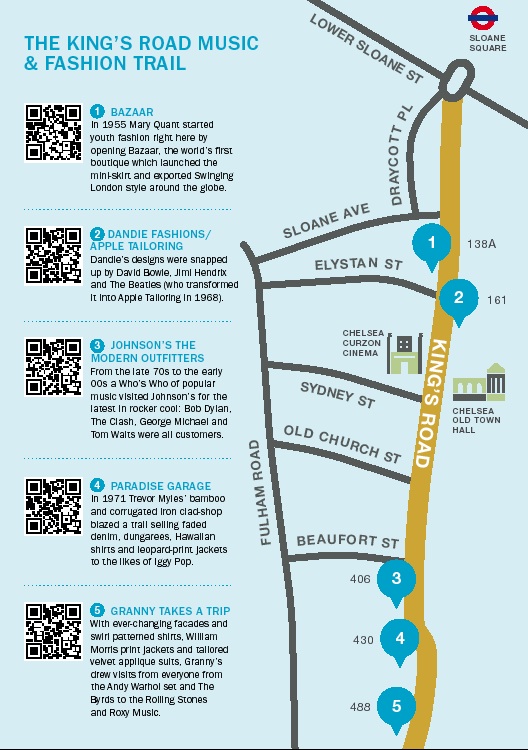 These are the first five downloadable clips in the King's Road Music + Fashion Trail, a celebration of landmark boutiques I am making for the culture section of Royal Borough Of Kensington + Chelsea Council.
1. 138a King's Road  – Mary Quant, husband Alexander Plunkett Green and partner Archie Nairn opened the world's first store dedicated to youth fashions here in 1955. Features: fashion historian/DJ Amber Butchart.
2. 161 King's Road – home to Neil Winterbottom and John Crittle's Dandie Fashions from 1967 to 1968, when it briefly became The Beatles' bespoke business Apple Tailoring. Features: Dandie shop manager Alan Holston.
3. 406 King's Road – Lloyd Johnson ran Johnson's The Modern Outfitter here from 1978 to 2000. Features: Lloyd Johnson.
4. 430 King's Road – one of the many incarnations of this crucible of cool was Trevor Myles' incredible 1971 retail venture Paradise Garage. Features: Paradise Garage designer Diana Crawshaw.
5. 488 King's Road – Granny Takes A Trip was opened here in 1966 by Sheila Cohen, John Pearse and Nigel Waymouth. In 1969 they sold to Freddie Hornik, who brought in Marty Breslau and Gene Krell. They ran the store until 1974. Features: founder Nigel Waymouth.
For more info on the films go here.
One Response to "The King's Road Music + Fashion Trail"
Hi Paul – guess it WAS you on the mobile – asking about the 70's boutiques we supplied ……The first was COUNTDOWN,(the BREASTS t-shirt and the PAINLESS TATTOO collection) 137 Kings Road. Then PARADISE GARAGE (after Diana Crawshaw left, we worked with Dinah Adams making Rock&Roll clothes including IGGY POP'S JACKET and MARC BOLANS WILD THING T-shirt . Later we were with GRANNY TAKES A TRIP (Rock&Roll clothes including THE STRAWBERRY JACKET and MICK JAGGER'S MARILYN T-SHIRT). We supplied Rock&Roll Shirts and T-shirts to LLOYD JOHNSON in 1970 when he was a men's outfitters called COCKLE & JOHNSON in Kensington.

Seeyousoon

J&Mx
[pinterest]