For the first time in 36 years the whole article: Forum June 1976 featuring SEX + Incognito Leather
As a follow-up to my recent post about the rarely seen 1975 interview with Malcolm McLaren in soft porn mag Gallery International, here is another exclusive: for the first time since publication in June 1976, the full article featuring McLaren and Vivienne Westwood's shop SEX in British sex guide Forum.
Last year I ran an interview with journalist Len Richmond and photographer David Dagley, who produced the text and images for the "guide to the newest, newsiest and some say nauseous sex shops"  (they also visited Earl's Court gay emporium Icognito).
According to Richmond and Dagley, the material was gathered some months prior to publication; the visits to, and interviews in, 430 King's Road likely took place in the early spring of 1976. This is confirmed by the presence in the photos of aficionado Chrissie Hynde, who returned to the UK around that time after a sojourn in Paris.
By this time the Sex Pistols had played their first gigs, yet, as in the Gallery International piece and the contemporary interview with McLaren conducted by Rick Szymanski for an April 1976 issue of rock magazine Street Life, there was no mention of the group (despite the fact that guitarist Steve Jones appeared in one of the shots in his infamous Tits t-shirt).
Instead the shop operators concentrated with near-missionary zeal on the sexual, social and political intentions framing the creation of their extraordinary retail outlet. Richmond recalls McLaren taking the backseat ("I remember him being around because I thought he was cute," says Richmond) as "Vivian" Westwood made such statements as:
"We want to inspire other people to live out their fantasies and to change. We are really making a political statement with our shop by attempting to attack the system. We want to demystify sex, to make it fun and free people of their sexual inhibitions."
And there was a neat crossover with Incognito: SEX assistant Michael Collins posed as a customer for Dagley's shoot at that shop. Incognito's operator Bryan Derbyshire – no less daring a retailer than McLaren and Westwood at that time – was a significant figure on London's then largely underground gay leather scene; he was also involved in the Zipper store in Camden Town and the King's Road club Country Cousins.
Read Memories Of SEX In Forum Magazine – my first post on this article – here.
Read David May's memories of interviewing Malcolm McLaren for Gallery International here.
The Tits tee: The 40-year odyssey of a design classic.
Part 1: It came from Rhode Island
Part 2: Wonder Workshop's wonderful breasts
Read about Bryan Derbyshire here.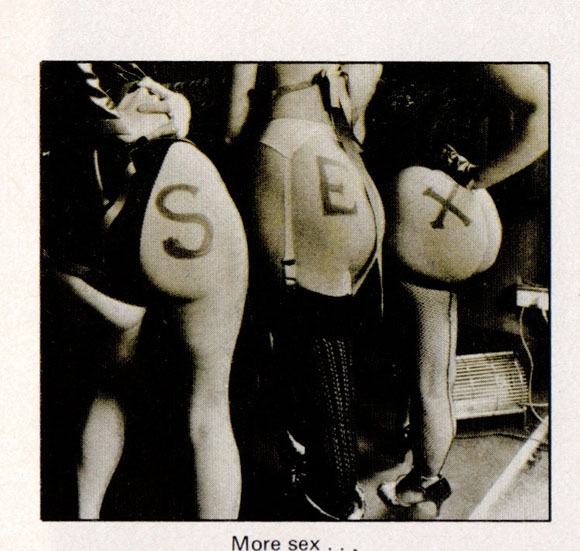 9 Responses to "For the first time in 36 years the whole article: Forum June 1976 featuring SEX + Incognito Leather"
Marvellous stuff, as always Paul.

I've added a link to a facebook page – I hope you don't mind. I just want more people to read this stuff. By the way, can you come along to this?

Hi Steve

Thanks again for yr kind words. I got this invite – may do – will give you a shout once I know. PG

[…] Gormanis' blog has complete (albeit low-res) scans of a feature from a 1976 Forum (a UK adult magazine) which profiled the proto-kink store SEX founded by punk leaders Malcolm McLaren and Vivienne Westwood. Photo detail (from left): SEX […]

Always wondered who Danielle was. In color photos she's a redhead. She was absolutely GORGEOUS!

Anyone know what here real name was and maybe what happened to her?

[…] Chrissie Hynde with Vivienne Westwood and friends. "For the first time in 36 years the whole article: Forum June 1976 featuring SEX + Incognito Leather" […]

[…] 1976 Forum (a UK adult magazine) which … – Paul Gorman is… – For the first time in 36 years the whole article: Forum June 1976 featuring SEX + Incognito Leather //Photo … scans of a feature from a 1976 Forum (a UK adult … […]

@ Pink Cave Splunker. I've always thought it was Danielle Dax. Certainly looks like her in the face, not that thats where the old male mince pies are drawn to.. Great reprint, excellent article thanks very muchly

Good theory but she isn't Danielle Dax.

OK Paul. Thanks for taking the time to reply and for writing, publishing and sharing all this 'istorical blighty at the vanguard of summits or other shpizzle. Wickedly done ta very muchly. Anarchy and Peace
[pinterest]