At Johnny Rotten's pad in Malcolm McLaren's leather jeans 1978: The story behind the photograph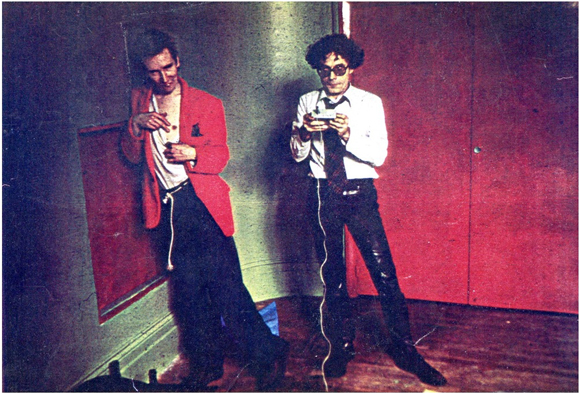 This just in from Joe Stevens, following yesterday's post about his new website: the story behind the photo with Johnny Rotten above, taken in London in 1978.
We were at his Gunter Grove digs in Fulham. Malcolm (McLaren) had left his grotty leathers in my flat in NYC during the Sid and Nancy murder doings. I had them dry cleaned. Never got the $90 for that one.
He had Glitterbest problems in London. So did Rotten. I was over there to do pictures of Public Image Limited.
He made a nice curry. I crashed there with him and Nora (Forster). Ari (Up, Forster's daughter) would pop by often.
We watched her and The Slits record Heard It Thru The Grapevine and Chrissie (Hynde) rehearsing with her new Pretenders.
Yeah, he's holding up his trousers with a strand of white cord.
I was later a witness at the High Court trial involving the band versus Glitterbest.
I tried on Malcolm's leather trousers. Fell in love. It was a first. Went to London in them. Never took them off. Returned two weeks later to NYC wearing them.
Had them cleaned again. This time they didn't survive. All I got back was swatches of leather in a bag.
Stevens' new website is here.
[pinterest]