Starting work on my new book – Legacy: The Story Of The Face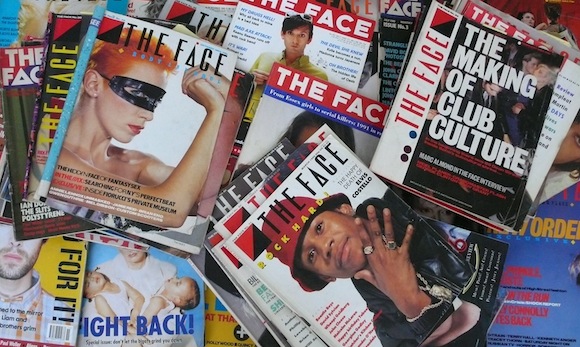 I am now starting work on a new book.
Legacy: The Story Of The Face is to be published by Thames & Hudson in 2015 and has the support and involvement of Nick Logan, the owner and founder of what became one of the most important and influential publications of recent times.
In its approach to popular culture, The Face was a media game-changer, not just capturing successive waves of creativity by chronicling those making the moves but making an impact itself by shifting the intelligence.
In this way it was part of a fine lineage which includes important titles such as Playboy and Saturday Review in the 50s and Rolling Stone and New York (in the US) and The Sunday Times Magazine, Twen and Paris Match (in Europe) in the 60s and 70s.
I'm covering the story of the magazine from Logan's launch with £3,500 savings in 1980 to the sale to Emap (now Bauer) in 1999. During this period The Face became the taste-making focus for excellence across many disciplines, spawning dozens of glossy "lifestyle" imitators around the world and paving the way for the digital delivery of visual culture in the 21st century.
Over the coming weeks and months I'll be contacting and interviewing the individuals who made a difference at The Face as staff members and contributors, from art directors, designers, photographers and stylists to editors, critics and writers. It's a testament to Logan's stewardship that the majority continue to operate at the cutting edge of their chosen fields today.
8 Responses to "Starting work on my new book – Legacy: The Story Of The Face"
Great idea, Paul.

Make sure you big up Neville Brody…

Thanks Steve. We are already in contact…

Great. About time someone did this. and you're just the fella.

Used to have the first 100 issues until my mum chucked them out, now all I've got is the first issue and the Hard Times one.

Ah cheers Lee. Looking forward to doing it justice. Best PG

LondonLee – you could always buy my collection (which is gathering dust in the loft).
I'll chuck in the first decade's worth of Arena, too.

I'd happily settle instead for Paul's book, which – hopefully – should have all the best bits!

[...] Gorman, who wrote the Barney Bubbles book, is working on a book about The Face with full co-operation from founder Nick [...]

Wow! Loved the Bubbles book and look forward to your new book. Can't wait till 2015!

I'm so pleased that this book is going to exist! I googled 'story of the face' as I thought there should be a book about the history of the magazine and if there wasn't I wanted to write one – never mind, you've beaten me to it…Really looking forward to when it comes out!
[pinterest]