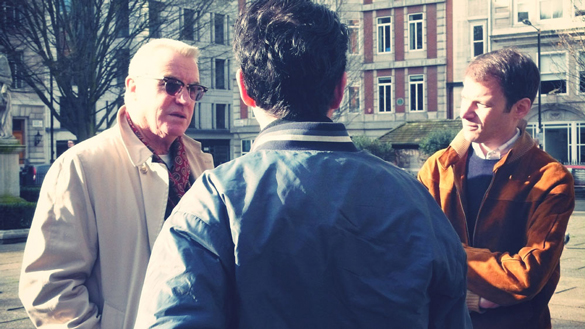 Place: Golden Square, London W1.
Time: 1pm
Coffee: Nordic Bakery Soho

Lloyd Johnson, Ben Olins and I met on a sunny Saturday for a chat about Rowan Joffe's recently-released film Brighton Rock. The transposition of the storyline to 1964 has resulted in marketing which leans heavily on the backdrop of the Mods vs Rockers "riots" in British coastal resorts that year.
Pretty Green and Merc are among promotional partners; there lingers the distinct impression of an attempt to reach out to cinemagoers by creating a British version of the Mad Men buzz.
In fact the mod content is a gloss overlaying this stodgy interpretation of the 1947 film classic rather than Grahame Greene's 1939 novel (despite claims to the contrary; Joffe even chose the first film's climactic cop-out, against the author's wish for an unremittingly bleak ending).
An original modernist raised in neighbouring Hastings, Lloyd has considerable first-hand knowledge of the subject and worked on the film which is a primary visual influence: Quadrophenia.

Ben's fascination for the period is manifested in such activities as the club-night The Fabulous Cellar and certain aspects of his media company Herb Lester Associates.
As a cradle Catholic my heart sank when I heard the word on this; one of the great literary investigations into good and evil recast as a mod rite of passage. Mod really is the mainstream option these days isn't? So codified as to be meaningless and square beyond belief: all those "rules", all that conformity. For that, and many other reasons, the film lived down to my low expectations.

What do you reckon?