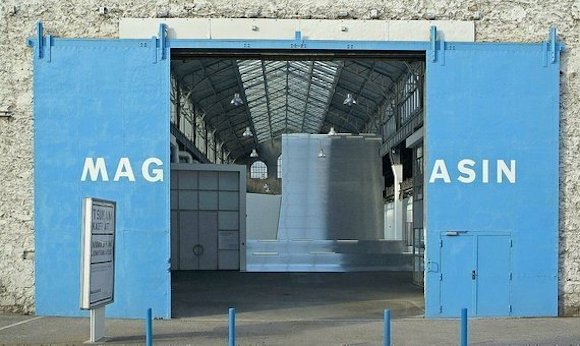 'Black is the most exciting colour' (Goya). Black when used in different ways appears the most infinite and mysterious, the most spatial and loose.
Malcolm McLaren, essay for course at Croydon Art School, 1967
It's exciting. Work is underway on building the Art In Pop group exhibition which opens next month at Le Magasin, France's National Centre for Contemporary Art in Grenoble.
Featuring artworks by musicians such as Don Van Vliet and Daniel Johnstone as well as musical ventures by artists including John Armleder and John Miller, Art In Pop incorporates the sizeable space dedicated to Let It Rock, the show exploring the work of the late Malcolm McLaren.
This will focus on McLaren's investigations into the visual arts from the 60s to his death in 2010 along with the engagements with commercial media such as fashion, film and music for which he is best known.
In line with Let It Rock's manifestation at the Copenhagen International Fashion Fair this summer, the pink-on-black Let It Rock sign will be recreated, this time at the entrance to the Malcolm McLaren room.
For Art In Pop the sign is being matched by a giant reproduction of the shop logo which followed Let It Rock at 430 King's Road: Too Fast To Live Too Young To Die.
The dominant use of black behind these logos riffs on McLaren's repeated use of the colour in his work and should make for an impactful introduction to the show, which will feature hundreds of exhibits from throughout the cultural iconoclast's artistic life.
Art In Pop – which is curated by Magasin's Yves Aupetitallot with John Armleder, Young Kim of the Malcolm McLaren Estate, John Miller and I – runs from Oct 11 to January 4, 2015 at Le Magasin, 8 esplanade Andry Farcy, 38028 Grenoble.
More info here.